The Takeaway
For Standing Rock, a Small Victory in a Long Battle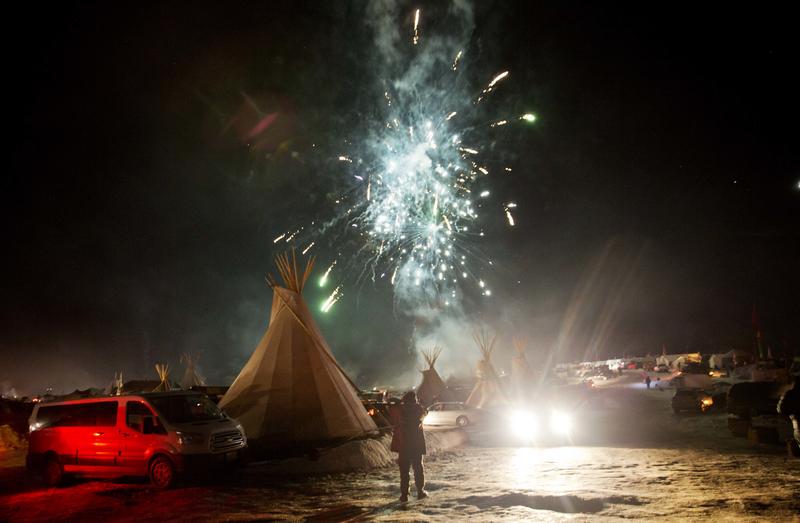 Click on the 'Listen' button above to hear this interview.
Last week, North Dakota Governor Jack Dalyrmple and the U.S. Army Corps of Engineers issued an order to Dakota Access Pipeline protesters to evacuate campsites near the Standing Rock Indian Reservation by December 5th.
But on Sunday, the Army Corps said that the pipeline will be re-routed to come no where near indigenous land, adding that a full environmental impact statement will be done, something that suggests that the pipeline may never be built at all. 
Filmmaker Josh Fox just returned from his second trip to Standing Rock, where he was recording the protests. He's director of "GASLAND," "GASLAND II," and most recently, "How to Let Go of the World and Love All the Things Climate Can't Change." He explains how people at Standing Rock are reacting to the news. 
---
The company building the Dakota Access Pipeline issued the following statement in regards to the easement:
Energy Transfer Partners, L.P. (NYSE: ETP) and Sunoco Logistics Partners L.P. (NYSE: SXL) announced that the Administration's statement today that it would not at this time issue an "easement" to Dakota Access Pipeline is a purely political action – which the Administration concedes when it states it has made a "policy decision" – Washington code for a political decision. This is nothing new from this Administration, since over the last four months the Administration has demonstrated by its action and inaction that it intended to delay a decision in this matter until President Obama is out of office.

For more than three years now, Dakota Access Pipeline has done nothing but play by the rules. The Army Corps of Engineers agrees, and has said so publicly and in federal court filings. The Corps' review process and its decisions have been ratified by two federal courts. The Army Corps confirmed this again today when it stated its "policy decision" does "not alter the Army's position that the Corps' prior reviews and actions have comported with legal requirements."

In spite of consistently stating at every turn that the permit for the crossing of the Missouri River at Lake Oahe granted in July 2016, comported with all legal requirements, including the use of an environmental assessment, rather than an environmental impact statement, the Army Corps now seeks to engage in additional review and analysis of alternative locations for the pipeline.

The White House's directive today to the Corps for further delay is just the latest in a series of overt and transparent political actions by an administration which has abandoned the rule of law in favor of currying favor with a narrow and extreme political constituency.

As stated all along, ETP and SXL are fully committed to ensuring that this vital project is brought to completion and fully expect to complete construction of the pipeline without any additional rerouting in and around Lake Oahe. Nothing this Administration has done today changes that in any way.
A coalition supporting the pipeline also issued this statement:
Following the Obama Administration's decision to not grant an easement for the Dakota Access Pipeline at Lake Oahe, MAIN Coalition spokesman Craig Stevens issued the following statement:

"This purely political decision flies in the face of common sense and the rule of law.  Unfortunately, it's not surprising that the President would, again, use executive fiat in an attempt to enhance his legacy among the extreme Left.  That the President continues to believe that he is above the law is simply un-American and it is this arrogance that working class Americans soundly rejected on November 8.  For millions of hard-working people across the heartland, January 20 cannot come soon enough.

"President Obama's decision not to issue the final easement is a rejection of the entire regulatory and judicial system, as well as the scores of Army Corps of Engineers and civil servants who toiled for more than 800 days to ensure the process was followed correctly, in accordance with the law.

"The pipeline – at no point – crosses the Standing Rock Sioux tribe's reservation, is collocated with a three-decades old natural gas pipeline, and has received all requisite state and federal approvals.  The only remaining piece of the 1,172-mile puzzle was the final easement for a 1,000 foot portion abutting Lake Oahe.  There is no reasonable logical, factual, environmental, or scientific reason for this not to be issued – in fact the Army Corps of Engineers had already recommended the approval of the easement.

"With President-elect Trump set to take office in just a few weeks, we are hopeful that this is not the final word on the Dakota Access Pipeline."