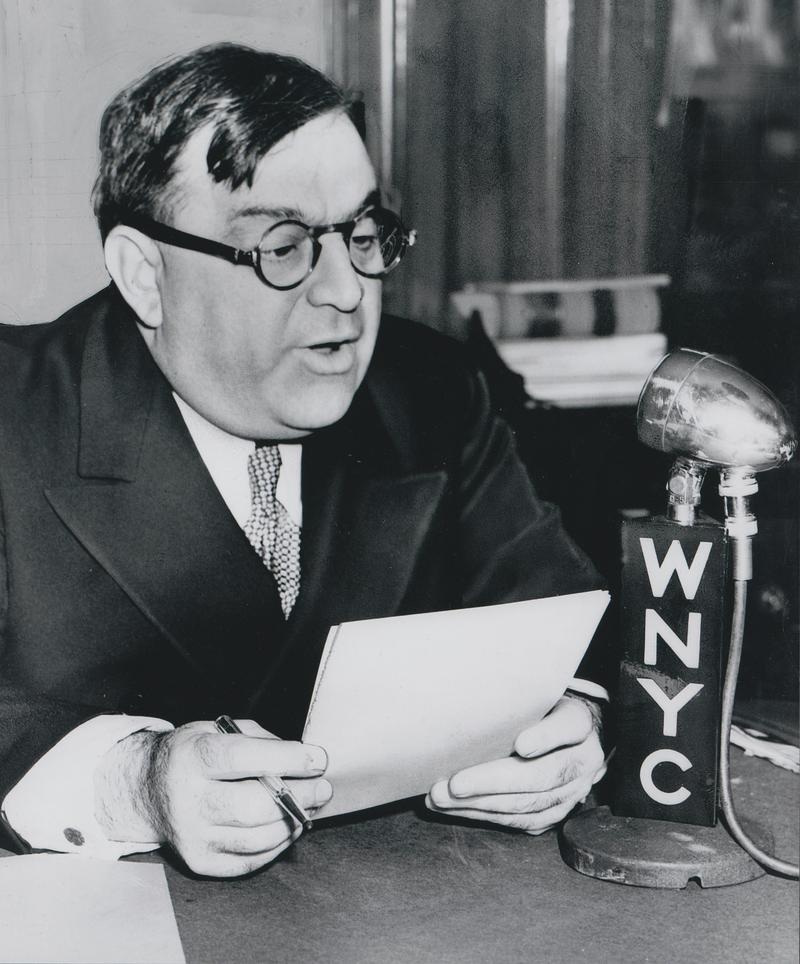 Summary
This episode is from the WNYC archives. It may contain language which is no longer politically or socially appropriate.
Fiorello La Guardia talk to the people. Includes a discussion of current food prices, convictions of OPA price violators, a discussion of clothes prices and supply, a word of caution to tavern and hotel owners about minors, progress of students at New York City College, letters to the mayor about gambling, public service messages, the retirement of Admiral Marquart, and the life of Harry T. Burleigh.

Audio courtesy of the NYC Municipal Archives WNYC Collection
WNYC archives id: 58367
Municipal archives id: LT4038
Transcript
The original text of the WNYC radio broadcasts are the property of the New York City Department of Records/Municipal Archives. This digital edition is made available for research purposes only. The text may not be duplicated or reproduced without the written permission of the New York City Department of Records/Municipal Archives 31 Chambers Street New York, NY 10007

FOR IMMEDIATE RELEASE SUNDAY, APRIL 2, 1944

CITY OF NEW YORK OFFICE OF THE MAYOR

TEXT OF MAYOR F. H. LA GUARDIA'S SUNDAY BROADCAST TO THE PEOPLE OF NEW YORK FROM HIS OFFICE AT CITY HALL, APRIL 2, 1944, BROADCAST OVER WNYC AT 1:00 P.M. FOLLOWS:


Patience and Fortitude.

BUDGET MESSAGE

In response to the many requests for the Mayor's message on the budget, I want to say that the New York Times will publish it in full tomorrow, Monday. It can be obtained in that way. We have printed only a limited number of copies this year in keeping with the paper conservation program. I am very grateful to the New York Times for this very splendid and generous cooperation.


POULTRY AND MEAT

Last week I did not talk much about food as most of the time was taken up with the budget - in fact, all of the time. So I guess today we had better have a review.

This is the chicken season of the year and I want to notify every one that live broilers and fryers are 40 cents a pound, and fowl, 36 cents Please do not pay more. Dressed broilers and fryers are 46 cents a pound, and fowl, 41 cents. We are holding the line very well, but because it is the Easter season, I am appealing to all consumers and housewives not to pay more.

Beef, as I anticipated, is scarce. We have 1,600,000 lbs. less this week in New York City than we had in corresponding weeks a year ago.

We finally got the piece chicken retail price straightened out. Do not pay more for necks and backs than 19 cents a pound. You know, the necks and backs are not very good to look at, but with good soup bone they make very good soup stock for the children. We advise putting a generous amount of vegetables in it. The wings are 38 cents, legs and breasts 77 cents. Of course, piece chicken is not recommended for large families. It is very good for individuals who do their own cooking after coming home from work, but the backs and necks, as I say, at 19 cents, give a very fine flavor and provide nutrition in soups.


FISH

Cod, haddock, butterfish, porgies, flounders, lemon sole and striped bass are good buys. The supply is plentiful and at reasonable prices. I want to express my thanks to the consumers who have cooperated rather well. When the price gets high, don't buy the fish. You know they cannot keep fish very long and all our storage facilities are pretty well filled, so you can control the price.

There is great demand at this time of the year for whitefish and yellow pike. The maximum price should be 75 cents a pound retail. Now, do not pay more. Attempts may be made next week to get $1 and $1.25 for whitefish and yellow pike, but 75 cents is the price that should be charged. Live carp will be obtainable at 55 cents a pound. Do not pay more.


BUTTER

We have a little more butter now. We have 600,000 pounds more butter this week than we had the corresponding week a year ago. Retailers are a little disappointed that O.P.A. did not let up on the coupons or the point value now that the supply is a little better. I am still hopeful that we can do something about it.


CEILING PRICE ENFORCEMENT

You remember, two weeks ago I think it was, I told you about the butter and egg people going to court seeking to enjoin the city from enforcing O.P.A. price ceilings. Well, it is all right with me, but we are going to continue to protect the consumers of this City, no matter what happens.

If the butter and egg people can get any comfort out of Federal enforcement, let me tell you that J & N Quinn, of 157 Reade Street - that is Jacob and Nathan Quinn - were fined $5,000, and sentenced to 50 days in jail for violation of the ceiling prices on butter, and the President of the Ace Butter & Egg Co., of 20 Tenth Avenue, Manhattan, was fined $500 and sentenced to 50 days in jail. The sentence was suspended in this case, but don't do it again, Mr. Ace Butter Co., or you will get those 50 days, plus. Again thanks and congratulations to United states Attorney Jumes B. McNally, who was quick to give these butter and egg men who were violating the law a taste of Federal enforcement. That is what we need. It is very helpful.

Last week 322 summonses were issued in the Magistrates' Courts by the Department of Markets as a result of the violation of price ceilings and 678 warnings issued.


FRESH VEGETABLE COMMUNITY PRICES

The second of the weekly fresh vegetable community price ceilings was issued, effective March 30th, 1944. The purpose of these weekly vegetable prices is to give the consumers the benefit of abundant supply and low prices. We will keep you informed, if at any time we feel that the price is higher than it should be. I am pretty sure that Mr. Woolley, the O.P.A. Administrator, is watching it very carefully.


CLOTHING CONSERVATION

This is the season of the year when you think about getting new clothes. You know I have been talking for over a year as to the necessity of getting a larger supply of inexpensive clothes for children and dresses for girls and women and even inexpensive clothes for men. It doesn't look very hopeful. Therefore the smart thing to do is to just keep on patching your clothes, even if they do look like a crazy quilt, and even if your clothes get shiny. Now, children, you must cooperate with mother and not ask for new clothes, because the supply of inexpensive clothes is very, very short.

I was going to tell you about a $1.03 shirt, I have here in my hand - I was going to tell you all to go out and buy it - but I got the sample and have the price, but there is no supply on hand, so that does not do us much good, does it? I will have to wait and tell you about it some other time. A supply of these cheap or inexpensive working clothes simply is not available.


ILLEGAL ADMITTANCE OF CHILDREN

We started some three weeks ago, I think it was, and I served notice, you will remember, that any licensed place that violated the law in admitting minors would have its license suspended, then be given a trial and, if found guilty, the license would be revoked. The other day the Bureau of Attendance of the Department of Education, under Superintendent O'Leary, made a survey throughout the city and some 120 or 130 youngsters who should have been in their classes in schools, were found around town, in moving picture houses, and in other places. Summonses were issued where there were violations in admission to moving picture houses.


LICENSE REVOKED FOR STRAND BILLIARD ACADEMY

One case was rather flagrant. We found four boys under 16, in the Strand Billiard Academy of 1579 Broadway. Two of the boys were employed there, working all night, and the other two were just hanging around and sleeping there. All four boys were unkempt and underfed. The license was immediately suspended and yesterday, Commissioner Moss of the Department of Licenses informed me that the license was revoked for the Strand Billiard Academy which has 25 pool and billiard tables and seven bowling alleys - rather a large establishment. Now others, take heed. We are not fooling about this.


GIRL RUNAWAYS

In this survey, I was going to say roundup, but it is not a roundup, it is a survey, we found a pathetic case of two girls under age coming from a small town in Pennsylvania. They were brought here, given a lift by a truck, and brought to a tavern in Queens County. There they were taken to another place. One arrest has been made, on a very serious charge, of the bartender of this grill. The police are out looking for a business man who has become connected with this case. The FBI is interviewing and questioning the driver of the truck. This is a rather serious case, but with the splendid cooperation of Mr. O'Leary's Bureau of Attendance and the Police Department, I believe these people will be brought to swift and well merited justice.


WARNING TO HOTELS

I want to serve warning to hotels, I do not care how large you may be, or hew small you may be, every case will be prosecuted where there is a violation or where there is negligence providing rooms to minors and particularly under circumstances that would warrant inquiry. Police Officers have been placed in the hotels involved in these cases as raided premises. There is no excuse and the law will be very vigorously enforced. In the cases of children from out of town, we seek to bring the parents here for their children.

Now I do not want to leave the idea that the whole 130 children were deliquents. They were on their way - they were out of school when they should have been in school, but I would say that the majority of them, after having been met by their parents, (we send for the parents in every case) will not repeat the indiscretion. There are about 10 or 12 cases that are rather serious, but the police is working on each of these cases and I believe very drastic action will be taken. Of course, as I say, we also have some good news about our children. I keep referring to these cases because I think it is very important that licenses places and people who in any way acquiesce or take part in the misconduct of these children, should have notice that there will be no letup as far as I am concerned or as far as the Department of Education or the Police Department is concerned.


SPECIAL HONORS FOR FORMER CCNY STUDENTS

Now let me give you some good news about children. I have just learned, and I am rather proud, that in a special Japanese language course given by the United States Army at one of the big colleges, 16 former students of the College of the City of New York were among the students passing with the highest marks. In another college, another CCNY boy, taking the Army Meteorolgy Course in a class of 138, stood at the head of his class.

ADVICE FROM WILLIAM H. MATTHEWS

Speaking about children, I received a very encouraging note from the Dean of all Social Workers of New York City, Mr. William H. Matthews, who, for over 40 years has been a pioneer in bringing about better conditions for the underprivileged, and who is now Director of the Community Service Sooiety of New York City. He agrees with my views, that after all the training must start in the home and must be continued in the home. He sends this advice in free verse:


JUVENILE DELINQUENCY
By W. H. Matthews

Of Juvenile Deliquency there is much said,
On what the city and the state should do,
The police, the schools, the general public.
Now, as always, best answer will be found
Through homes, where parents, called by some "old fashioned",
Cling to the belief, once held as commonplace,
That highest contribution they can make
to present and future well being of the State,
Is in terms of care they give their children.
In teaching them to give consideration
to rights of others. To have good manners,
to learn that nothing comes from hate and envy
Save doubled harvest of same kind.
Instilling in them a reverence for the past,
Appreciation of the toil and sacrifice,
Left to the world as precious legacy
By those who labored for the common good.
Explaining liberty as not allied with license,
Freedom that does not mean self pleasure,
But in its truest sense as only found,
In self-restraint and government of self,
Old fashioned parents, who joyfully accept
Such duty as a sacred obligation,
A Service of Love, owed to their children!


Thank you, Mr. Matthews, I wish that all parents could get a copy of this very good advice.


BINGO AND HORSE RACING

I received a letter that I think I ought to read to you:

'My dear Mr. Mayor:

'I am a constant listener of your program on Sunday afternoons. I would like you to mention why you are putting a stop to bingo games and not horse racing. * * * Why are bingo games permitted in New Jersey and not in New York. * * * You said that bingo is gambling. Compare a bingo fan and a racing fan and see who has the greater loss. I will be listening Sunday. If you do not mention this, I will never listen to your program again.

Julia Kaufman.'

Well, Julia, I thought I was pretty forceful about talking about the tinhorn, chiseling, thieving bookmakers on horse races. Well, I am very glad to note that I have not been forceful enough, so I will have to dig up some more adjectives and put in more punch. First, the reason that bingo is unlawful is that the Constitution of the State of New York and the laws of the State of New York make it so. Horse racing is unlawful, I did not make it unlawful. It is unlawful because the Constitution of the State of New York and the laws of the State of New York make it so, except - and here, I do not blame you for being confused - except that it is lawful to bet on the pari-mutuel within the race track. In other words, the gambling or betting on horses within the race track by pari-mutuel is lawful. Gambling within the race track with a bookmaker is unlawful. Rest assured that we are going after the horse betters and the tin horn bookmakers very, very strenuously. I hope that answers your question, and please, won't you listen to me? You see, I depend upon you, and I do hope that when you do not like my broadcast you will just tell me and I will try and correct it.


HIGH SCHOOL CORRESPONDENT

I have another communication from a high school student. I won't mention his name. You just let me know, son, if that place is not cleared up by April 15th, and I will get after it again.


GAMBLING

Last week the number of gambling complaints was low. We had only 18 complaints and they were very definite. I think most of them have been attended to already.


CITY CENTER PROGRAM

Oh, yes, at the City Center of Music and Drama, Porgy & Bess continues and we are rapidly reaching the point where all the 90,000 who wanted to see it will have been accommodated. So, beginning next Sunday, Easter, the Ballet Russe de Monte Carlo, will start a 3 weeks' season. The ballet season will run from April 9th to April 23rd. Tickets are now available at 131 West 55 Street. I do not know much about ballets, so I really cannot tell you much about it, but they tell me they are very good, and I know that some of their music is very beautiful. I am going to go and learn more about it so that next time I will be able to tell you.


PRESS PHOTOGRAPHERS EXHIBIT

The Press Photographers Association has its annual exhibit at the Museum of Science & Industry at Radio City. It is a great exhibit. You know, when I first saw this exhibit, I said that press photography was an art. Later on, when I saw it, I said, well, it is becoming a science. Now I will say it is a scientific art or an artistic science. The pictures are in classifications. There is spot news and sport and war pictures and portraits. It is really interesting. Remember, it is at the Museum of Science and Industry at Radio City. I asked the Press Photographers Association and they very kindly consented to make April the 6th and 7th, between three and six o'clock free to school children because I believe it is a liberal education for the children to see this exhibit. I want to thank the Press Photographers Association.


RETIREMENT OF REAR ADMIRAL MARQUART

New York City has lost a great and good friend, and I know I am expressing the thought and wish of the entire City, when I say goodbye to Rear Admiral Edward J. Marquart and extend our very best wishes for a happy and peaceful retirement. Admiral Marquart has been with us for several years. First, as the Commandant of the Navy Yard, and then through his vision and genius the plans for the extension of the Navy Yard were so rapidly and so successfully prepared that he was then promoted to the post of Commandant of the 3rd Naval District. Always alert, always cooperative, known as a stern disciplinarian, yet with kindness and understanding, he had the respect, confidence and affection of his entire command and of the people of this City. A scholarly gentleman who is cultured and refined and every inch a sailor. A thorough sailor carrying the traditions of the old days and the science and technique of the modern Navy. We wish him well. The Distinguished Service Certificate of the City of New York has been awarded to Admiral Marquart and will be forwarded to his home in Pasadena, California. No, I won't say goodbye, Admiral, but 'Auf wiedersehn.'


MAESTRO HARRY THACKER BURLEIGH

We have a distinguished visitor here in the office today, an old friend of mine, Harry Thacker Burleigh, famed American composer. To him is due in a great measure the credit of a place among musical classics of spirituals which have become recognized as typically American. It is his arrangement of 'Deep River' which is now sung all over the world, and of the spiritual, 'Were You There?' - you remember that, 'Were You There When They Crucified Our Lord' - that have brought these spirituals to the front wherever music is appreciated, and every one knows, 'Little Mother of Mine,' made famous by John McCormack, all over the world.

Maestro Burleigh was born in 1866 and came to New York in 1892. He has sung in church choirs for 62 years and for the past 49 years he has sung at St. George's Church here in Manhattan. For 49 consecutive years, on this Palm Sunday, he has sung the immortal 'The Palms' by Faure, at St. George's Church. Maestro Burleigh, won't you close this program by singing 'The Palms' for us?


Song ('The Palms')


Thank you. Wasn't that beautiful?