Appeals Court Hears Arguments Over Release of Garner Grand Jury Testimony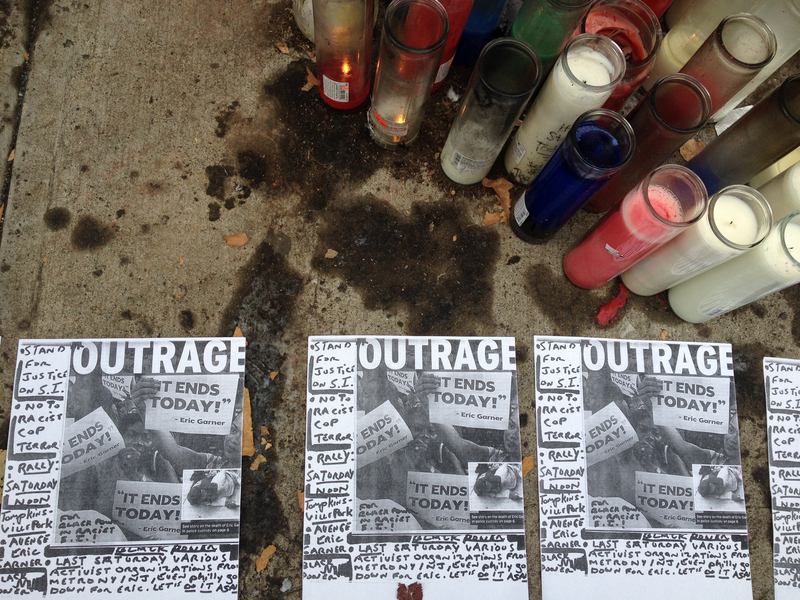 An appeals court is revisiting the issue of whether the grand jury record in the Eric Garner chokehold death case should stay sealed.
The four justices with New York's Appellate Division in Brooklyn told attorneys on Tuesday that the bar to release the minutes was high, and that attorneys would need to meet a few criteria: they must present a "compelling and particular" reason why that information is necessary; they must prove that witnesses won't be harmed as a result of their names being released to the public; and, they must show that the information can't be obtained any other way.
At the start of the two-hour hearing, Justice Mark Dillon asked how the Garner case was different from the 1991 case of a Hasidic Jew who killed two black children in Crown Heights. That case set off riots, and like the Garner case, a national conversation. Yet the court ruled at the time that the grand jury testimony should remain sealed.
Arthur Eisenberg, an attorney with the New York Civil Liberties Union, argued Tuesday that times have changed. "What exists here and what did not exist then is a public conversation about grand jury reform, driven by the Garner grand jury proceedings," Eisenberg said. "For real reforms to take placem the public needs to know the scope of the problem."
There were allegations over the weekend that the former Staten Island district Attorney Dan Donovan coached grand jury witnesses about their testimony.
The office of Public Advocate Letitia James would like to investigate the Garner case, but attorney Matthew Brinckerhoff testified that in order to do so, her staff needs access to the grand jury testimony. "In order for the Public Advocate to conduct an investigation she has to have these materials."
He argued it is within the Public Advocate's job to investigate a district attorney. "Right now, everyone believes something went wrong," he said.
Another hurdle for the release of the testimony is proving that the information lawyers and activists are seeking is unobtainable any other way. Justice Mark Dillon noted that the video of Garner's arrest — including a police chokehold — is already public.
But attorneys argued that the grand jury saw four videos and heard from 50 witnesses.
Anne Grady, a lawyer for the Staten Island District Attorney's office, said she doubted that combing through thousands of hours of transcripts would be fruitful.
"The idea that this lone case, which everyone regards as an aberration, should become the blueprint for any reform whatsoever is dubious," she said.
The four justices are considering the arguments.