Anna Kross, Commissioner of The New York City Department of Correction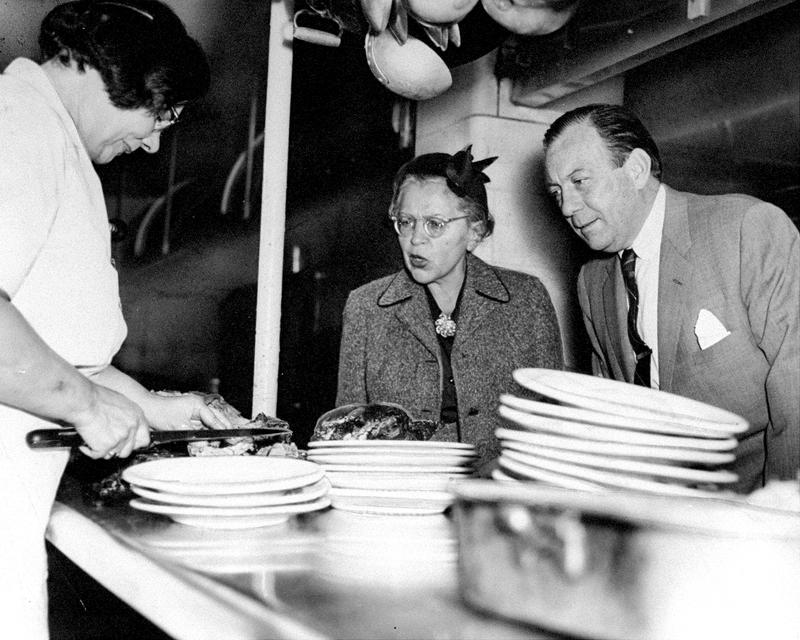 "The purpose of the Department is to correct," Department of Correction chief Anna M. Kross reminds, in this 1959 edition of City Record. The program gets off to a stiff start with Kross reciting statistics and budget data, but once she begins to describe her vision for reforming the jails we are given an excellent overview of the system at that time…and one which looks alarmingly familiar today! There are anywhere from 8,000 to 8,500 people in the city jails, yet capacity is only 5,000, so inmates are "doubling up." Because of drug-related arrests there has been an influx of new prisoners, yet many of these are "sick people…not criminals." Kross has been attempting to get them shifted over to city hospitals where their addictions can be treated as medical problems. She is also instituting educational programs in the jails, both for youthful offenders and adults. Because of understaffing (there are only two corrections officers for every 240 inmates, sometimes only one) she has formed councils, both a Youth Council and an Adult Council so prisoners' concerns can be raised before unrest leads to violence.
Her goals are to foster a realignment between the state and the city. At the present time the state is not reimbursing the city in a timely fashion for housing inmates. There is also a tremendous lag in simple court procedures such as setting bail which means those arrested but not convicted spend needlessly long periods in detention when they have not, in fact, been sentenced for committing any crime. Kross is passionate and well-intentioned, but the problems she cites sound so depressingly familiar one wonders if the faults of this department she is attempting to remedy are, themselves, "correctable." 
---
 Anna M. Kross (1891-1979) came from a poor immigrant family which she helped to support by teaching English and working in a factory at night. She attended law school and eventually rose to become a prosecutor, private lawyer, then City Court judge. From early on her commitment to improving the conditions of the poor and under-represented were evident. The Forum on Law, Culture, and Society reports how:
…Kross realized that criminal domestic violence issues posed a unique problem: accused abusers present a future danger and are in need of punishment and monitoring, while alleged victims are vulnerable and in need of ongoing protection from defendant abuse and control.  A hearing or trial in open court, with the couple testifying against each other, often in front of neighbors, would not serve to "bury the hatchet," but would instead provide additional hazard to future family tranquility.  A judgment with a jail sentence or restraining order simply would not provide the remedy that these families desperately needed. Aware of this, Kross came up with innovative approaches, including the development of a "dedicated court team" to monitor defendants, provide comprehensive services to victims, and inform judges on how to make quick and effective decisions.  By inviting victims' advocates and resource coordinators to the court, and not just judges and lawyers, Kross was able to adapt to the particular dynamic of criminal domestic violence situations. 
Another area in which she was a leading figure was prostitution. Mae C. Quinn, in a paper published in the Fordham Urban Law Journal, argued:
Kross believed that prostitution, a social issue, could not be meaningfully addressed by the criminal justice system. Over several decades, she questioned the motivations behind the Women's Court, condemned the police practices it encouraged, criticized its day-to-day processes, and argued the institution simply failed to do what it was intended to do - that is, prevent prostitution. In 1967, the Women's Court, which had been plagued by decades of controversy, finally closed its doors.
But it was in the area of prison reform that Kross may have left her most lasting mark. As can be heard in this broadcast, she brought an entirely new emphasis to the Department of Correction, focusing on improving conditions and decreasing recidivism. While many of these problems do seem intractable, one can only imagine (or see, simply by reading today's headlines) how much worse the state of the jails would be without a fair-minded, forward-looking administrator like Kross in charge. The Jewish Women's Archive describes:
As commissioner, Kross was responsible for making the city's prison system less dungeonlike and more humane, she installed new shower rooms and mess halls, established token wages for some prison jobs and built separate facilities for adolescents. She also introduced programs for rehabilitating prisoners through training in trades such as baking, stenography and woodworking. Program graduates received certificates of proficiency and help in placement. During her tenure as commissioner, Kross received a great deal of publicity for her outspoken manner and criticism of government policies that discriminated against poor people. She served with the corrections department until her retirement (after several extensions) in 1966 at age seventy-five.
Audio courtesy of the NYC Municipal Archives WNYC Collection.
WNYC archives id: 150247
Municipal archives id: LT8459