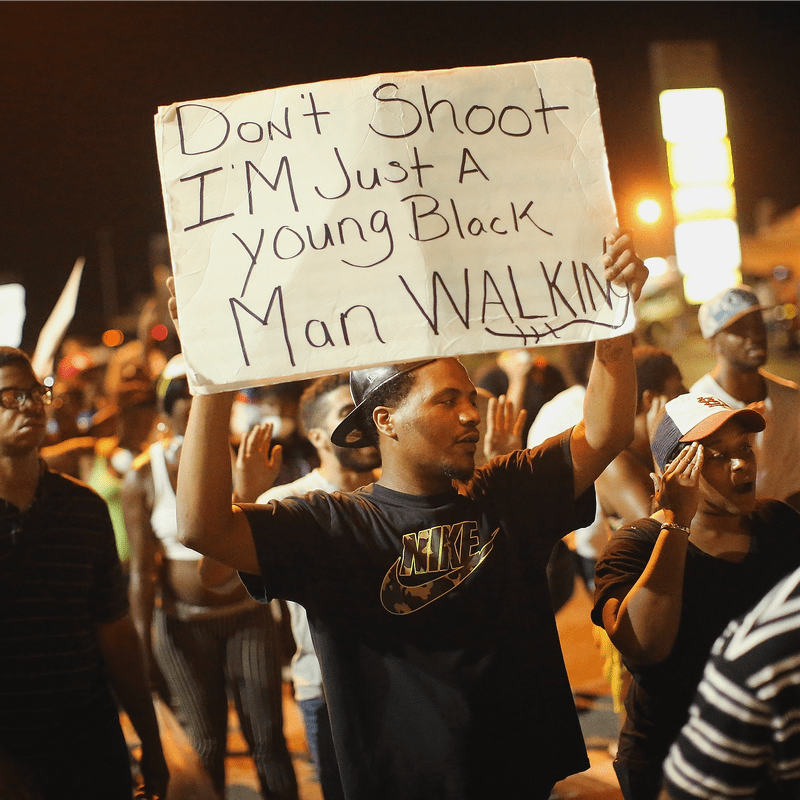 Summary
Brooke considers the pattern of the media's response to the killing of young unarmed African-Americans since the death of Trayvon Martin in 2012.
Transcript
BROOKE GLADSTONE: From WNYC in New York this is On the Media. Bob Garfield is away this week. I'm Brooke Gladstone.
[CLIP]:
[CROWD CHANTS: "Hands Up! Don't Shoot!]

WOMAN ANNOUNCER: "13 days after the shooting of an unarmed black teenager by a white police officer, the violence and unrest in the streets appear to have subsided."
BROOKE GLADSTONE: Obviously the killing of unarmed black people by mostly white police, or just trigger-happy white people, has gone on for a long, long time. Long before the death of Michael Brown in Missouri, two weeks ago, or of Trayvon Martin in Florida, two years ago. It's just that now, the media are paying more attention. As MSNBC's Trymaine Lee told us last week…
[CLIP]:
TRYMAINE LEE: Since the killing of Trayvon Martin, you've had the killing of Jordan Davis in Jacksonville, Florida by someone who began an altercation with this young man over his loud music, fired into his car. Renisha McBride case in Detroit, where a young woman showed up at someone's doorstep and they fired a shotgun through a screen door and tore off half of her face. Jonathan Ferrell, in Charlotte North Carolina, he gets in a car accident, he shows up at someone's door looking for help, she calls the police, they end up gunning this young man down again, again unarmed. Eric Garner, more recently in New York City, selling loose cigarettes, he died in a police choke-hold…. In each one of these cases, there was a mass of media around it.
BROOKE GLADSTONE: He's right. The template for that coverage was set in March of 2012, some ten days after 17-year-old Trayvon Martin was shot by a neighborhood watch captain. Ever since, the response to these deaths, by the public and the media, has followed the same general trajectory, the same pattern. But Trayvon's story took the longest to take off in the mainstream. CBS was comparatively early, but look at the lag time!
[CLIP]:
MALE ANNOUNCER: Tracy Martin's teenage son was shot dead on this patch of grass ten days ago, and the gunman belonged to a neighborhood watch group.
BROOKE GLADSTONE: Then, public protest mounted, though more contained than what would transpire later in Ferguson. After a couple of weeks, let's call it the"context" about Trayvon's character swept into the headlines, ranging from the chemical, Martin had traces of marijuana in his blood, to the sartorial.
[CLIP]:
GERALDO RIVERA: "I think the hoodie is as much responsible for Trayvon Martin's death as George Zimmerman was."
BROOKE GLADSTONE: Twitter played a big role, spawning communities with such hashtags as "Hoodies," and "Skittles," and "I am Trayvon Martin." And then the President weighed in.
[CLIP]:
PRESIDENT OBAMA: I think all of us have to do some soul-searching to find out how does something like this happen.
BROOKE GLADSTONE: It was an uncharacteristically personal call for introspection.
[CLIP]:
PRESIDENT OBAMA: You know if I had a son he'd look like Trayvon.
BROOKE GLADSTONE: And as the public waited for justice to be served…or not….
[CLIP]:
[CROWD CHANTING: No justice no peace! No justice no peace! No justice no peace!]
BROOKE GLADSTONE: The Reverend Al Sharpton showed up.
[CLIP]:
AL SHARPTON: All over the world, they're calling for justice for Trayvon.
BROOKE GLADSTONE: So that's the pattern. You have the killing, the protest, mainstream media catching on, the hashtags, attempts to explain the killing of unarmed people with how they looked, or what they smoked or drank or did or may have done at some other time. Then Sharpton shows up. Some high official speaks. And then someone invokes a national conversation.
[CLIP]:
MALE ANNOUNCER: There is much more to this issue than news headlines so we invite you to take part in a national town hall about race relations in America. What are the challenges? What are the solutions to unity?
BROOKE GLADSTONE: For Jordan Davis, like Trayvon, also 17 also killed in Florida that same year, in Jordan's case by a man who said he felt threatened by the expletive-laced rap music blasting from the kids car, and who also claimed to see a gun that was never found, the arc of the coverage was the same, but highly accelerated.
BROOKE GLADSTONE: Then, November 2, 2013, 19 year old Renisha McBride crashes her car in a Detroit suburb, and then loudly knocks on the window and door of a house, whereupon the owner fires a shotgun blast through the door into her face. Initially the coverage is only local. Then the family speaks out, igniting protests and hashtags, and a few days after that, the networks jump in. Congressman John Conyers speaks. Al Sharpton speaks. The toxicology report says she was drunk. Her lifestyle, derived in part from her cellphone photos, is discussed. And finally, there's a call for a national conversation, in her case, about stand-your-ground laws which Michigan, like Florida, also has. Last month in Staten Island, Eric Garner's horrifying death in a police chokehold is captured on video.
[CLIP]:
ERIC GARNER: I can't breathe, I can't breathe, I can't breathe.
BROOKE GLADSTONE: The mainstream media arrives as swiftly as the protests and hashtags and Al Sharpton. We quickly learn Garner was selling loose cigarettes. Hey, that's not legal! And then, the widely read website Vox notes, it sparks a national conversation about the use of force by police officers.
[CLIP]:
[CROWD CHANTS: "Hands up! Don't shoot!"]
BROOKE GLADSTONE: Next up, the coverage of the death of Michael Brown – the story with the fastest trajectory and the widest coverage. The world is shocked. I mean, Egypt urges the US to respect peaceful free expression! And Amnesty International sends a team of observers, researchers and trainers for the first time to America, to Ferguson. When Michael Brown is shot by police in the middle of the street on Saturday August 9th, protests and mainstream media coverage begin immediately. Twitter plays a big role, especially the hashtag , #iftheygunnedmedown, an instant rebuttal to the wide release of the teenager scowling and splaying his fingers in what some called a gang, others, a peace sign. The demonstrations escalate. Sharpton arrives, calling for calm.
[CLIP]:
AL SHARPTON: Some of us are making the story how mad we are, rather than how promising he was. Don't be a traitor to Michael Brown in the name of you mad.
BROOKE GLADSTONE: And the pattern reasserts itself. See if you can spot it.
[CLIP]:
MALE ANNOUNCER: New information this morning at the Ferguson Missouri police they're connecting Michael Brown to what is called a strong-armed robbery…
[CLIP]:
MALE ANNOUNCER: He might have been affected by the marijuana, so that he may have been acting in a crazy way.
[CLIP]:
WOMAN: I just cannot believe that this is the tactic that this police chief and his administration are using to try make this young man be deserving to be gunned down in the street like a dog.
[CLIP]:
MALE ANNOUNCER: "President Obama released a statement on this case just about 90 minutes ago. He says, "The death of Michael Brown is heartbreaking, and Michelle and I send our deepest condolences to his family and his community at this very difficult time."
[CLIP]:
MAN: We have to have a national conversation about how police forces should interact with the African-American community, who happens to be paying their salary, who want to be served and protected...
BROOKE GLADSTONE: Let's observe that the way these stories unspool, in real time and on social media and soon after everywhere else, mostly works to the benefit of all concerned. First, to those long-ignored communities that suddenly have a global opportunity to be heard. And to those outside, concerned with social justice. And to those news outlets that see ratings spike and less cynically, a chance for relevant, important coverage. But when we heard Trymaine's list of the dead at the top of the show, he included one man who, you should pardon the expression, didn't fit the profile.
Jonathan Ferrell, who knocked on a woman's door in Charlotte, North Carolina last September seeking help after a car accident, prompting a panicked 911 call and ultimately his own death from a policeman's gun. That story didn't go massively viral. Because here's what happened the very next day..
[CLIP]:
WOMAN ANNOUNCER: Tonight Chief Rodney Monroe solemnly answered the questions neighbors, friends of the victim and Channel 9 had about the shooting.
[CLIP]:
WOMAN ANNOUNCER: Homicide investigators signed warrants for Officer Kerrick for the charge of voluntary manslaughter.
[MUSIC UP THEN DOWN]
BROOKE GLADSTONE: The chief made no attempt to justify what happened. And he gave the public a name: Office Randall Kerrick. Two days later, the PD released audio tapes of Kerrick speaking to the dispatcher. And now, after the state's initial failure to indict Kerrick, he's awaiting trial. To be sure, there's no happy ending. But it was a reasonable start. Whether the shooter is an officer or a civilian, it's police departments that ultimately determine how the story is told. This power to attract, or deflect the press is probably the most powerful weapon in their highly militarized arsenals. But they haven't used it. Maybe it seems hard, maybe they haven't seen the value. Maybe they will now.
[MUSIC UP THEN DOWN]