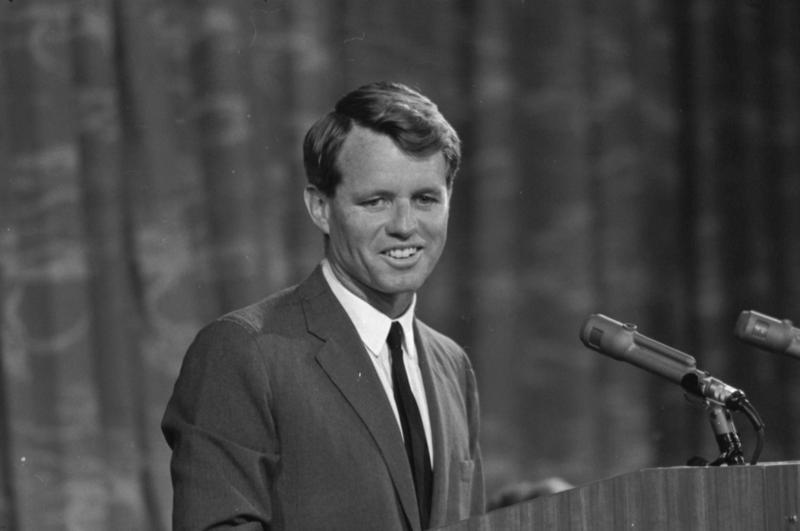 Summary
This episode is from the WNYC archives. It may contain language which is no longer politically or socially appropriate.
Theme of the evening: Human resources in an abundant society."

Politicians honor outgoing Mayor Robert F. Wagner who receives the A.D.A.'s annual award. Senator Robert F. Kennedy gives the keynote address at approximately 51:00 into the tape. He pays tribute to the policies and programs of Franklin D. Roosevelt and living up to them with future action. After listening to this speech you can see why he ran for President.

Begins with room noise and chatter. Mayor Lindsay introduces head table, welcomes guests. Howard J. Samuels, dinner co-chairman, talks about the role of the ADA and the US in foreign relations, the role the US could play in educating disadvantaged youth. A society that will struggle to put a man on the moon without first tapping its own human resources is not a just society. A society that will fight communism abroad without adequately fighting ignorance at home is not a wise society. Emily Scheuer introduces some international invitees, introduces Bentley Kassal. Kassal, New York ADA chapter chairman, welcomes students in the audience. Don Edwards applauds Lindsay's work in civil rights, presents Mayor Wagner with a citation from the ADA. Wagner thanks the ADA, recalls its history, discusses his own work as Mayor, specifically in education, social services, and unions. Don Edwards returns to the stage and tells a story of his son by way of introducing Senator Kennedy.

Kennedy: Congratulates Wagner, says New Yorkers will likely miss him now. A few other personal comments. Says he's sorry Lindsay had to leave (a bit of laughter from the audience). Makes a few jokes at Lindsay's expense. Talks about Roosevelt's legacy (social services). What is required of us? We must work for our own revolution. References jobs for minorities. Money is less important than a determination that all children must learn to the limit of their capacity. Welfare has destroyed self respect and encouraged family disintegration. Will we act on the level necessary to prevent mass starvation? A total effort to achieve a treaty to prevent spread of nuclear weapons? Will we be ready to associate ourselves with revolutionary forces in South America, Asia, and Africa? Capacity for patience and strength to save the world? They will need the spirit of FDR to move forward. (It's a great speech.)

Don Edwards (?) reads a cable from VP Humphrey.
Audio courtesy of the NYC Municipal Archives WNYC Collection
WNYC archives id: 70709
Municipal archives id: T1839
Transcript
This is a machine-generated transcript. Text is unformatted and may contain errors.
Thank you very much thank you. Senator Kennedy. Distinguished guests on behalf of the Americans for Democratic Action I'd like to welcome you to the nine hundred sixty six Roosevelt. And I first would like to introduce the distinguished guest on the day. Starting last burden we note executive director of The New York. Thank you Ed. The ministry of assistant to Congressman and charm of the Executive Committee of the national idea thank you. Are fighting congressman from the twentieth district Congressman Joe as Nick thank you. Joe Joyner leading civil rights attorney former chairman and national. Thank you. Dorothy chefs publisher of The New York Post thank the honorable Frank O'Connor former Queen's attorney general president of the New York City Council thank you. And I introduce and congratulate the honorable Constance Baker Motley a new federal judge in New York thank you. Alex Rose President United had a second vice chairman a Liberal Party thank you Frank Carlson civic leader member of the president's advisory council on the education of the disadvantaged child thank you. David Dubinsky President I know you thank you. Alan Rosen fice chairman of the dinner former assistant to New York City Commissioner United. And now I'd like to introduce one of America's great man as you know proverb that says that your old man will dream dreams and your young men will see visions I'd like to present the young men and women Thomas thank you. Mr Thomas his legacy. Mr Thomas your heart has always been young. Thank you. I next would like to introduce a young man who's kept me up late many nights recently reading his book The Thousand Days historian honorary chairman of the dinner professor are also slaves enjoy thank you now I present the newspaper publisher from my end of the country upstate a former ambassador to Peru former national executive director of the idea the Honorable Jim thank you for coming back again thank prominent liberal businessman founder and the vice chairman of the National AIDS Day and a leader and a great liberal causes Marvin Rosenberg thank you behind every great dinner there's one person who does most of the work I'd like to present the director of this dinner tonight to Secretary of the National Board of Directors Jane book and thank you. And the man who is responsible for a great liberal progressive visionary thinking of the idea executive director of the National AIDS. Thank you it's an honor tonight from a drop in the end you'll affair of an organization that has had a profound influence on the shape of government policy Governor Alfred Smith once it was asked to share his views on the subject of success he said Success comes from living to a high ideal and that measure. The idea has a right to consider itself a success for even though the idea has never had more than fifty thousand members it stereo vision of the forty's. Excepted government policies of the sixty's its influence has come from its brainpower rather from its number of power for the Americans for Democratic Action chose a long time ago to chart its course on the principle that the clamor of the majority is no proof of justice. And the belief that justice delayed is. Justice denied and the faith that man can make progress the idea has often been the vanguards of new thoughts and tonight we're presenting the same for this dinner which we think demands from Americans new thinking same that is fundamental not only to the development of our country but to our friends in the United Nations the same is important to the development of a free and sane world that same is the development of human resources and abundance a society and selecting this theme we were notified dated by the deep conviction yes the deep sense of urgency that America is not properly used utilizing for growing wealth is not properly developing for human resources and that America is not making enough contribution to the development of the world's human resources our failures on the development of human resources stand out very sharply particularly when we put them in contrast to our growing wealth this year. American wealth will increase by fifty billion dollars The increase in wealth that we create in this country in gross national product is greater than all the wealth created in Canada it's greater than one half of all the wealth created in all of England we are rich my friends. All the dreams of our forefathers and yet with this richness with this great amount of wealth not one school district in this country has an adequate program for the education of the disadvantaged child think of it for the cost of just one twentieth of this great fifty billion dollars worth of increase wealth we could provide each disadvantaged child in America with the additional investment necessary to develop him as a worthwhile and a productive human being what a small price to pay to substitute a life of hope for a life of despair what a small price to pay when we recognize there was a direct correlation between education and crime between education and poverty between education and the unemployed. Between education and welfare and remember the figures that cost seven hundred dollars a year to educate a child twenty one hundred dollars a year to keep a family on welfare and thirty five hundred dollars a year to keep a man in prison America's Fadia an education America's failure to utilize its wealth is not only bad morals it's bad economics and when I look at them our representatives from the United Nations tonight and when I think of the great difficulty we're having of developing freedom and democracy in the new nations. You can understand the need of human resources abroad and what Thomas Jefferson meant when he said that a nation that is ignorant and free is a nation that never was and never will be there was so much to do in this country with our wealth and so little time and perhaps the story of Winston Churchill receiving the man of the Year Award from the English Temperance League expresses it best Mr Churchill the prime minister you know enjoyed his brandy as a leader of the affair turned to the prime minister the present him. She paused and said We members of the Temperance League Mr Prime Minister are proud of you we're proud of what you've contributed to England and to the world but we're concerned about your drinking we hear that you have a little brandy. And a lot of brandy after lunch we hear that you have a little brandy before supper and lots and lots of brandy after supper in fact Mr Prime Minister one of our directors has calculated that if the brandy that you have had in your. Room it would come up to the first. Prime minister got up he looked at the floor he looked at that and he looked at the ceiling and he said so much to do a little time. And I say to you tonight there was so much to do so little time and I suggested in the same of our dinner. That a society that will struggle to land a man on the moon. Without first happy in its own human resources is just society and a society that will fight communism abroad without adequately fighting ignorance at home is not. My cochairman tonight has made her own contribution to the development of human resources she is a mother of four she has a wife for one of our bright young liberal congressman. She's a successful independent career woman in her own right she's attractive and I was pleased to sit next to her. I'd like to present to you. Thank you. Thank you Howard Mr. Other honored guests It has been my pleasure for many years to be welcomed as you are tonight as a guest of. An organization that I did. Tonight it's my special privilege to welcome you as our guests until. Eleanor Roosevelt brought many of her United Nations friends and colleagues to this dinner as her guests and she. Practiced. Rather than on the day. Because Mrs Roosevelt was their friend and because they respected her. Championship of the fight for human rights and human freedom tonight we are happy. To greet our friends once again. As we honor Franklin and Eleanor Roosevelt. And. Thank. Our guests from the United Nations and. Thanks. Pan. Thank you. Thank. YOU THANK YOU THANK YOU. Thank you. Thank you thank you. From Pakistan thank you thank you thank you. From Panama Thank you. Thank you. And thank. Our Republic thank. You. Thank you. Dr. From. Thankless. From Italy thank you. Thank you. Thank you thank you. Thank you very much thank you. I have another introduction. This time I'm introducing a friend a man founder of the idea and it has been a porter. For many years a man as a member of the. Congress has spoken out. In the cause that we share in common the New York chairman. Mr Bentley the England thank you and. Senator Kennedy Mayor Wagner and I guess on the day I guess before me all parts of the room we're honored to have you here my task briefly to extend a word of greeting and welcome to other guests who are here in the tradition established by Mrs Roosevelt we are indeed honored. And grateful that they have accepted our invitation these are students not only from the United States but from six from eleven other nations. Students at tending fifteen different colleges than the Bronx High School of Science I could and some think it has a an equivalent academic standing I could list these sixteen colleges and these are the eleven nations in addition to our country but I won't suffice it to say the first name given to me today was out of my alma mater Pennsylvania and plays we have a representative there I might also say I have five alum models I went to five schools but I made them all I made college in three and a half years but they. And Harvard Law School turned me out and over in any event ladies and gentlemen this was one of the great traditions of Mrs Roosevelt we are honored to have students here just as they honored guests from the United Nations represents our hope for the future today. Those of the liberal persuasion in our nation and in the world represent our hopes for the future tomorrow they will take over the responsibility of government of liberalism and keeping our world safe and sound and a good place to be I'd like you now as I ask them to stand to extend with me our welcome and pleasure at having all of the students who are our guests would you kindly stand please thank you very much. Thank you. We've had a very distinguished guest arrive who has also made a contribution to the abundance of society I present Mrs Robert Kennedy. Thank you. And other distinguished guests Congressman Jim. Thank you. Thank you and I'd like to introduce the former commissioner to the United Nations from New York Eleanor French Thank you. When a young man once asked Franklin Delano Roosevelt why liberals always seem to disagree and conservatives always seem to agree the former president said there are many ways to go forward but there is only one way to stand still it's there for entirely fitting that the A.D.H. should have as its national chairman Congressman who is specialized in going forward who leads you the idea and what should be its cheap purpose to stimulate public conscience I am pleased to present the national chairman of the Americans for Democratic Action Congressman John Edwards thank you I am going to thank you thank you very much Chairman Samuel's Senator Kennedy this is Kennedy Mayor Wagner Mr Scheuer my colleagues in the house. Joe Reznik distinguished guests friends of a D.A. I was so very glad to say my good friend John Lindsay with whom I served for the past three years on the House Judiciary Committee and I understand since the last meeting of the House Judiciary Committee a few months ago that considerable has happened to him I will say this that there are entirely too few warriors for civil liberties and civil rights remaining in the house. And the election of John Lindsay to this high office left a gaping hole in the ranks I was going to tell John that the news from Capitol Hill is much the same chairman McMillan of the House District of Columbia Committee announced in South Carolina two weeks ago that communists of infiltrated the home rule for Washington movement there was some anxiety on Capitol Hill that second that the news from Chairman McMillan might have reached under Secretary Thomas Mann and that he would have been compelled to send into the District twenty five thousand Marines Senator Kennedy I bring you greetings from your many friends and admirers and the peaceful pastures of California politics at this particular moment I do not have a an opponent who is a movie actor Shirley Temple has expressed an interest in politics but fortunately this temple lives several miles outside my district however Senator Kennedy I do know of your diligence feel full efforts to obtain new industry for this state and since your politics are comparatively dull I trust that you are not overlooking the possibility of moving Hollywood to the Empire State ladies and gentlemen I am honored this evening by being delegated to present to Mayor Wagner and a citation as a token of our affection respect and friendship Mayor Wagner the citation reads as follows to the Honorable Robert F. Wagner mayor of our town during twelve years of turmoil trial triumph and tragedy he bore the math of leadership was still in patience he brought calm understanding and deep personal involvement to the affairs of New York he suffered with the city's hardships he rose to meet his challenges he gloried in his moments of Fortune. As he suggested in his farewell address to the city council we will let the faults of his administration however stated be read alongside of its achievements such as a comparison by which he will be judged and thus will the rise in the esteem and affection of the city inside him lies the soul of a city the heart of its people the humble dignity of a man who loves and respects his fellow man presented by a D.A. at his eighteenth Annual National Roosevelt Day dinner Mayor Wagner gives me a great deal of pleasure in my honor to present this citation THANK YOU THANK YOU THANK YOU THANK YOU very much Congressman Edwards. National president and Senator Kennedy. Distinguished president of the city council Frank O'Connor and Constance mildly. Barrel president of Manhattan then Judge designate all of the distinguished counsel my congressman here to Howard Samuels and this is Scheuer done so well in getting the dinner underway and all hours of May this dinner a great success for Mr Norman Thomas the youngest person here to the delegates from the United Nations and the students represented here and to Dave Dubinsky and Alex Rose I can also say that they were fellow workers with me in the political battles as well in the pet. Thank you and to the distinguished members and offices of a da first of all Congressman I thank you very much. For y