The Takeaway
American Veterans Return to Battle, As Volunteers Against ISIS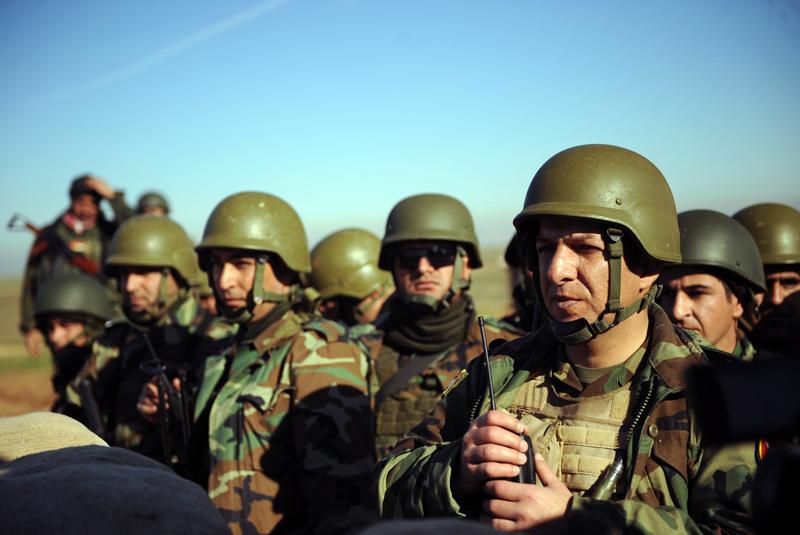 Iraqi forces have made substantial gains against the self-proclaimed Islamic State in Tikrit. While the United States has stayed on the sidelines of this particular battle, a number of American veterans have volunteered for the cause, fighting with the Kurdish pesh merga against ISIS in Syria.
Former U.S. Marine sergeant Patrick Maxwell was one of them. As a Marine, Maxwell deployed to Anbar Province in 2006. He left the military with an honorable discharge five years later, but he couldn't stay away from the fighting.
Last year he returned to Iraq, this time as a volunteer with the Kurdish pesh merga forces fighting against ISIS. In an interview with Takeaway partner The New York Times, Maxwell explained, "When I'm enlisted, I'm there to serve my country, protect my country, obey the orders of the officers appointed over me."
He continued: "As a private citizen, I'm going to have an adventure, essentially, and that's my own business."
While the U.S. doesn't have official numbers on American veteran volunteers fighting ISIS, a Y.P.G. Kurdish militia spokesman told The New York Times that their forces include more than a hundred American citizens.
Matthew VanDyke knows these veterans well. VanDyke has spent most of his adult life in the Middle East and North Africa, fighting with Libyan rebel forces against Qaddafi and filming a documentary on the Syrian Civil War. He's also the founder of Sons of Liberty International, a security organization that trains anti-ISIS fighters and recruits American veterans to the cause.
VanDyke explores the factors that draw American veterans to the fight against ISIS, and his own experience with the conflict.