The American Negro Theater Performs John Millington Synge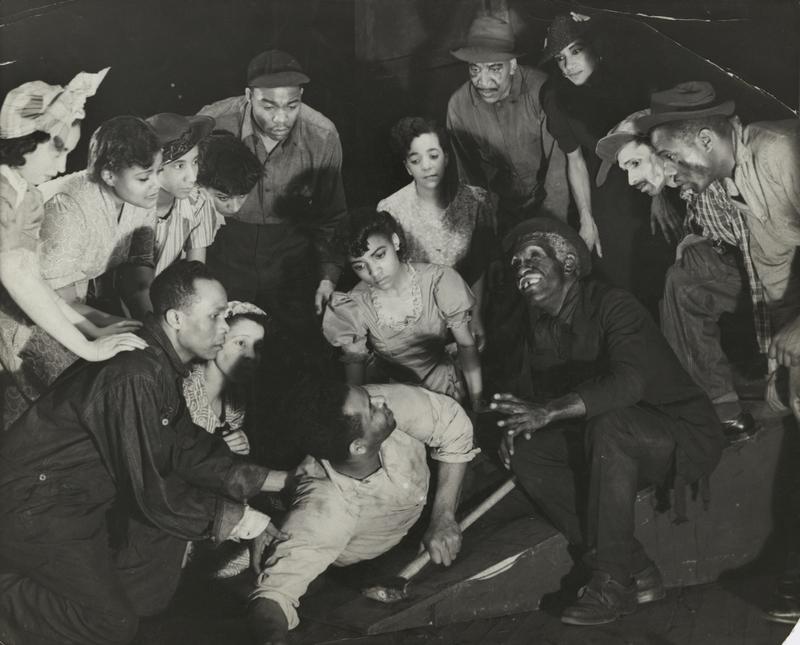 In this 1949 radio broadcast, an uncredited cast (Sydney Poitier? Ruby Dee? Ossie Davis? They were all members) puts on Synge's early one act play Riders to the Sea. First staged in 1904, Synge's play portrays a household of Aran Island peasants whose menfolk are being remorselessly taken by the sea. The language, a highly stylized version of Hibernian English, sweeps to its incantatory tragic climax. If there is any implied affinity between the hardscrabble, hand-to-mouth existence of this marginalized segment of Irish society and that of the African-American community it is kept well below the surface. The only hint that this is not typical (ie. white) theater company is in the final moments, when the mother, Maurya, as she mourns the drowning of her last son, does so to the background of her daughters' keening laments…which sound hauntingly like Negro spirituals.
Largely forgotten today, The American Negro Theater was a revolutionary experiment for its time. The website African American Registry tells how:
…the theater was founded in Harlem in 1940 by the Black writer Abram Hill and the Black actor Frederick O'Neal, who wanted to create a company that would provide opportunity for African-American artists and entertainment for African-American audiences unavailable downtown on Broadway. Over the next nine years, 50,000 people attended ANT productions. Hill and O'Neal felt that the mainstream professional theater provided only limited opportunity for African-Americans, and that it encouraged a "star system," under which actors constantly competed to be the one, breakthrough hit. Hill and O'Neal were more interested in the potential for local Black community theaters, where directors, writers, and technicians would be as important as actors would, and where Black artists would be able to develop their talents. They sent postcards inviting other local writers and actors to join them, and in June of 1940, 18 artists met to form the American Negro Theater.
This combination of artistic and social goals was typical of the period. One can see in the organization's development a microcosm of how the personal and political climate changed in the subsequent decade. Commercial success accentuated the natural rift that developed as a politically charged attitude towards theater changed to regarding plays, radio and, eventually, movies as more of a pure entertainment experience. Blackpast.org reports that:
…ANT's program was divided into three categories: stage production and a training and radio program. …The play that brought ANT the most recognition, however, was Anna Lucasta. It opened at The Harlem Library Theatre, but Broadway producers were anxious to move it downtown because of its commercial appeal. The show ran on Broadway for 957 performances before it toured throughout the country and later abroad in London, England. The success of Anna on Broadway had a two-fold effect on the company. It caused the demise of ANT because it departed from the company's community roots and resulted in the loss of its founder Hill, who resigned due to the shift in goals and ideology.
The American Negro Theater's legacy can be seen most obviously in its famous alumni. However, its influence ran deeper than that. In a time when it was almost impossible for an aspiring black actor to find even apprentice work, much less be considered for "serious" roles, the ANT provided a crucial training ground for a generation of performers who would have otherwise had no alternative. As theclio.com notes:
Many company members left the ensemble and had immediate success. Ruby Dee after leaving was in the hit Broadway production of A Raisin in The Sun by Lorraine Hansberry. Sidney Poitier, also had a turbulent stint with the company, being rejected by ANT twice he finally managed to prove himself and gain roles with company after fellow member, Belafonte, left a show for another job. Sidney was seen in a touring production and began his film career shortly after. Harry Belafonte [was] in his time was one of the most revered members of the acting ensemble. He also left for stardom shortly after his arrival. The educational portion of the company was very extensive and rigid. It allowed many young talented African-American stage actors to be trained in all elements of theater, film, and radio. In 1945, the theater was the first to have its own radio show featuring performances of it operas and a variety show.
No better example of the ANT's bringing the very possibility of a theatrical career to people who lived worlds away from Broadway is how the future star Harry Belafonte discovered the organization. While working as a "janitor's assistant" he was given two tickets to a performance…as a tip.

Harlem Cultural Archives, with the Schomburg Center for Research in Black Culture, produced this video for the 75th Anniversary of the American Negro Theatre exhibition.
Audio courtesy of the NYC Municipal Archives WNYC Collection.
WNYC archives id: 8350
Municipal archives id: LT70