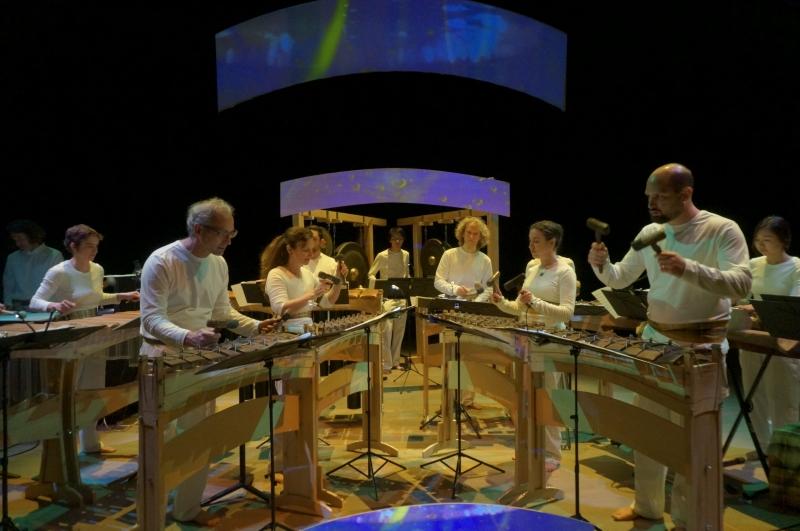 Hear American gamelan music on tonight's New Sounds. There's music from the San Francisco Bay Area by the Lightbulb Ensemble, a composers collective that builds their own instruments, including contemporary gamelan. They only perform new repertoire and are influenced by both Balinese and Western traditions.  Hear some of the hour-long suite of pieces called "Mikrokosma," created by Wayne Vitale of Gamelan Sekar Jaya and Brian Baumbusch of the Lightbulb Ensemble.

Lightbulb Ensemble is at the Smithsonian on Thurs.,10/29/15, and at Pioneer Works in Brooklyn - performing "Mikrokosma" on Friday night, 10/30/15.
Then hear music for guitar and gamelan by the American composer, Bill Alves. His work is inspired by the late Lou Harrison, one of the first American composers to write Western-style music for Indonesian gamelan instruments. Alves leads the Harvey Mudd College (HMC) American Gamelan in his Concerto for Guitar and Gamelan, featuring the California guitarist John Schneider who plays a retuned guitar in the system  known as just intonation.  Also, there's music by Lou Harrison – his Concerto for Piano with Javanese Gamelan. Plus, music from Gamelan Pacifica which incorporates Suling flute, and Gamelan Son of Lion, an NYC-based new music collective, playing a work by their co-founder, the ethnomusicologist-turned-composer Barbara Benary.
PROGRAM #3791 American Gamelan Music (First Aired 10-28-2015)
ARTIST(S)

RECORDING

CUT(S)

SOURCE

Gamelan Pacifica, cond. By Jarrad Powell
Adrienne Varner, piano

Scenes from Cavafy

Lou Harrison: Concerto for Piano and Gamelan, excerpt (middle movement) [1:00]

New World 80710
newworldrecords.org

Bill Alves 
with John Schneider, just intonation guitar | HMC American Gamelan |Bill Alves, director

Guitars & Gamelan

Concerto for Guitar and Gamelan 2 [6:27]

Microfest Records  MF 8
microfestrecords.com
Or download via Amazon.com, iTunes, or CDBaby

Lightbulb Ensemble

Private recording

Mikrokosma – Pomp and Grace [7:14]

Info and other works at: lightbulbensemble.com

Gamelan Pacifica, cond. By Jarrad Powell
Adrienne Varner, piano

Scenes from Cavafy

Lou Harrison : Concerto for Piano and Javanese Gamelan : mvmt 2 [8:54]

New World 80710
newworldrecords.org

Bill Alves 
with John Schneider, just intonation guitar | HMC American Gamelan |Bill Alves, director

Guitars & Gamelan

Bill Alves: Concerto for Guitar and Gamelan 4 [5:53]

See above.

Gamelan Pacifica

Trance Gong

Signy Jakobsdottir, Jon Keliehor, Tom Fallat, Jarrad Powell: Small of My Back [10:54]

What Next #0016
Nonsequitur Foundation
oodiscs.com

Gamelan Son of Lion with Joseph Kubera, pf.

Sun On Snow

Barbara Benary: Aural Shoehorning, 1. Plainsong  [7:32]

New World #80646
newworldrecords.org