American Dream Not Realized In Time For Super Bowl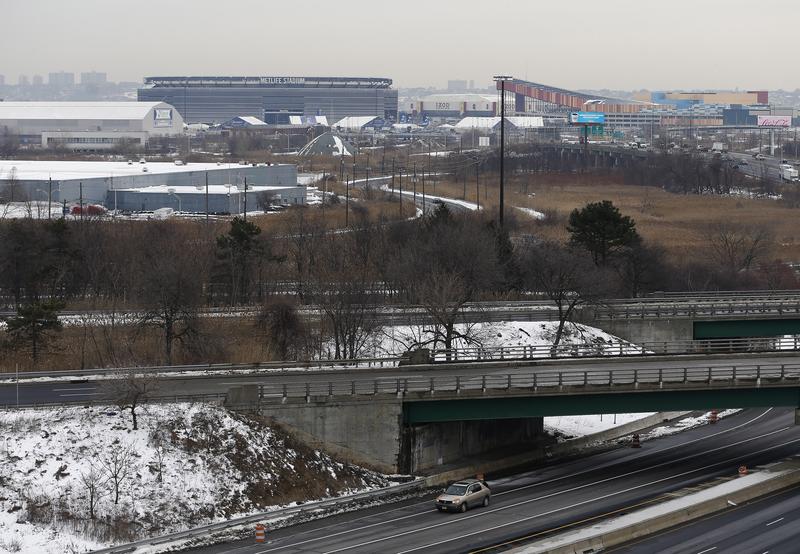 Next door to MetLife is its cartoonish multi-billion dollar neighbor, the American Dream entertainment complex. If all had gone to plan, it would have been open.
Back in 2003, moneyed developers and then-Governor James McGreevey announced a public-private partnership for the facility which then went by the overly splendid name of Xanadu.
"This will be the premiere family entertainment center in the Northeast of the USA," he said. 
Even for Jersey, Xanadu was over the top. Not only would there be high end shops and restaurants…there would be a 14-story indoor ski run, a water park with wave pool. An amusement park including a Ferris wheel. A 26-screen movie theater.
And all of this would come complete with a new $200 million dollar rail line that would also serve MetLife. And this super entertainment center would be built in time for the 2014 Super Bowl.
Today, the rail line is there. But three sets of owners and a trail of litigation later, the stalled project, which has since been renamed "American Dream," sits empty on the Meadowlands' biggest day. That disappoints Bergen County Freeholder Tracy Zur.
"For us to miss the opportunity of being able to capture the tourism dollars that could have been spent at that project, at that mall and on all of the entertainment that could have gone on there," she said. "It's an opportunity that's unfortunately not going to be realized at this point in time."
In 2010, Xanadu was sold to Triple Five, the corporation behind the  Mall of America Minneapolis. The company plans to keep the facility's original features but make it bigger and pour in more money. After renaming the project "American Dream," the group has been busy securing financing – and a $390 million dollar tax break  – to finally complete the project. 
Many in New Jersey, like Zur, are anxious its completion.
"This is a project that we need here in Bergen County. These are jobs that we need here in Bergen County. So I am very eager to see this get under way," Zur said. The project's funding fizzle occurred when Lehman Brothers, once a backer of Xanadu, declared bankruptcy in 2008.
 From the start, it had support from political leaders and real estate developers. A succession of governors including Jon Corzine and Chris Christie backed it, as did former New York Governor George Pataki. But East Rutherford Mayor James Cassella says Xanadu, or American Dream.  is not something local leaders pushed for.
Governor Chris Christie, who has expressed frustration with the project's delay, has said it would be too costly to tear it down. 
Recently Mayor Cassella told the New Yorker magazine, that the meadowlands is like Monaco. A principality that bears little relationship to his working class town,  yet draws huge out-of-town investments. He shrugs it off as inevitable.
"If they want something to happen, it's going to happen."
The sports complex at the Meadowlands takes up about a third of East Rutherford's four-mile radius. Historically, the venues have broken even or lost money. State taxpayers today are still paying off debt on the old Giants Stadium, demolished in 2010.
The stadium's replacement, MetLife was built with private money and its NFL owners don't pay property taxes to East Rutherford. They pay a lease to the New Jersey Sports and Exposition Authority and East Rutherford receives a payment. But it's less than what the town would reap in property taxes.
As for missing a Super Bowl-sized opportunity, Triple Five's spokesman, Alan Marcus, says that's far from true.
"The reality is, is that this project stands on its own," said Marcus. "It doesn't rely on a Super Bowl. That's one day, one week."