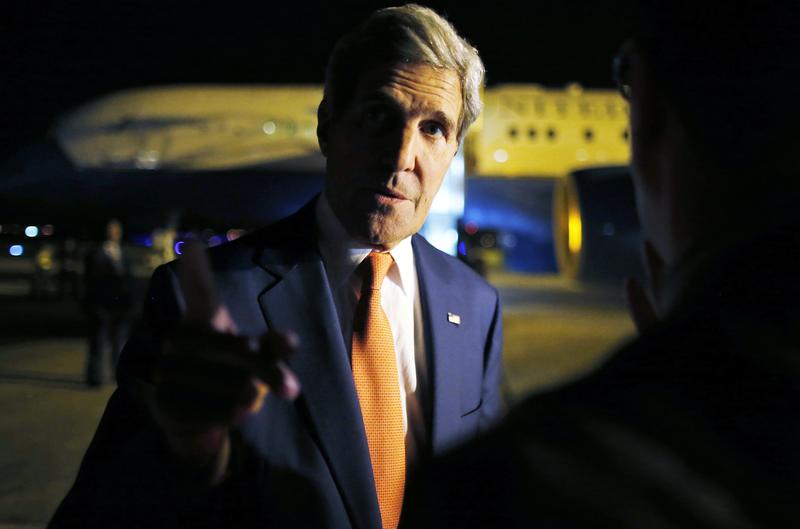 Secretary of State John Kerry has fallen short on his diplomatic efforts to end the fighting in Gaza. Now, he's looking to salvage talks for a temporary cease fire, and is keeping the door open to future negotiations for a longer term solution.
The United Nations has called for an immediate halt in the fighting, but after what was a relatively calm weekend, fighting resumed again today, just as Muslims in Gaza are celebrating the end of Ramadan.
Nick Schifrin is the Jerusalem correspondent for Al Jazeera America, and currently covering the conflict in Gaza. He weighs in on the fighting, and how Sec. Kerry's proposal is being received.
Some Israelis have expressed deep skepticism about America and its ability to act as an honest peace broker. But surely America is Israel's best friend? The Israeli-Palestinian conflict is a particularly divisive issue for the American public, and the way most Americans understand the United States's relationship with Israel has changed a great deal since the country's founding in 1948.
As John B. Judis, author of "Genesis: Truman, American Jews, and the Origins of the Arab/Israeli Conflict," explains, while few American Jews supported the Zionist cause through the 1930s, that changed with the discovery of Hitler's Final Solution in 1944. By the time the United Nations voted to support an independent Israel four years later, Israel found a bastion of support in the American Jewish community.   
While the community's enthusiasm faded in the assimilationist ethos of the 1950s, by the late 1960s, Judis says, Israel's protection became a central cause of American Jewish life. The Six Day War in 1967 and the Yom Kippur War in 1973 cemented American Jewish support for Israel through the 1990s. 
Today, Judis sees a shift in the attitudes of American Jews toward Israel, particularly among the young. He discusses that shift and the complicated relationship between American Jews and Israel.