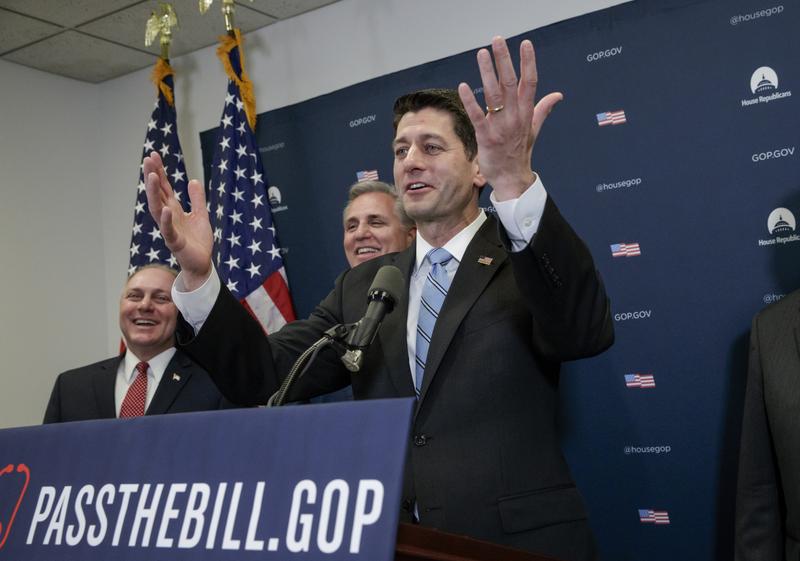 Click on the 'Listen' button above to hear this segment. 
House Speaker Paul Ryan struck an optimistic tone when he spoke with reporters on Tuesday about the future of the American Health Care Act being put forth by the GOP.  
"The president just came here and knocked the ball out of the park," said Speaker Ryan. "He knocked the cover off the ball in explaining to our members how it's important to unify, how it's important to work together, how we are advancing our principles and we are doing what we told the American people we would do. This is our chance and this is our moment. It's a big moment and I think our members are beginning to appreciate what kind of a rendezvous of destiny of we have here."
The president was there to sell lawmakers on the GOP plan to replace the Affordable Care Act, which is expected to go to a vote in the House on Thursday. According to several Republican lawmakers, President Trump warned that he would "come after" any lawmakers who voted against the bill, but softened that apparent threat by saying "but I know I won't have to, because I know you'll vote 'yes.'" Lawmakers reportedly took that comment as a joke.
The American Health Care Act (ACHA) was disparaged by lawmakers both sides of the aisle upon its release two weeks ago, but Republicans have since made a series of changes to the bill in order to gain the support of GOP representatives in the House. 
The changes include adjustments to Medicaid, including a provision that allow states to require Medicaid recipients to work and a provision that allow states to choose a Medicaid block grant over the cap system that exists in the current bill. There is also an amendment specific to New York state, which removes a requirement that some New York counties pay a portion of the cost of Medicaid, alongside the federal government and the state contribution.
There is also a placeholder for a plan to provide older Americans with help paying for higher premiums, though it has yet to be fully determined. And there is a provision that allows for the immediate repeal of taxes raised under Obamacare. The earlier version of the bill would have phased out these taxes at a slower pace.
For details on the bill and the vote we turn to Margot Sanger Katz, healthcare correspondent for The New York Times. Congressman Leonard Lance, a Republican from New Jersey's 7th District, was one of 16 House Republicans who met with President Trump in advance Thursday's scheduled vote on the bill. Rep. Lance says that he campaigned on a platform of replacing and repealing Obamacare, but that the new provisions in the bill will not be enough to get his vote.