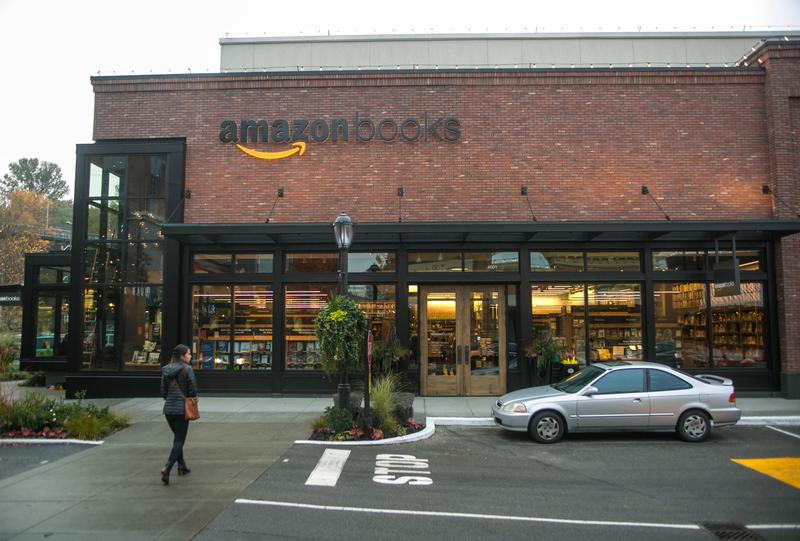 Summary
Earlier this year, an off-the-cuff remark by a giant property manager triggered curiosity and panic among bookstore owners. Sandeep Mathrani, CEO of General Growth Properties, casually mentioned that Amazon planned to open hundreds of retail locations. "You've got Amazon opening bricks and mortar bookstores, and their goal is to open, as I understand, 300 to 400 bookstores," he said in an earnings call.
Mathrani later walked back from that remark, saying that his comment "was not intended to represent Amazon's plans." Amazon itself has declined to comment. But those who have watched the company closely over the years say there are some intriguing strategic reasons why Amazon might want to open physical retail locations. Rob Salkowitz, author of Comic-Con and the Business of Pop Culture, offers Bob a few theories about Amazon's long-term plans for bookstores.
Transcript
BROOKE GLADSTONE: This is On the Media. I'm Brooke Gladstone.
BOB GARFIELD: And I'm Bob Garfield. Back in February, an off-the-cuff remark by a giant property manager triggered some panic among bookstore owners. The tidbit from Sandeep Mathrani, CEO of General Growth Properties, was that Amazon was going analog.
SANDEEP MATHRANI: You got Amazon opening bricks and mortar bookstores, and their goal is to open, as I understand, 3 to 400 bookstores.
BOB GARFIELD: Wait, what? The company that revolutionized retailing by selling books online was now going into the very business it devastated? Amazon hasn't commented, but in November it did open a physical bookstore in Seattle, its base of operations. A second store in San Diego is set to open this summer and in June Amazon announced that it would be opening a third store in Portland, Oregon, right down the street from the beloved local bookstore, Powell's.
Rob Salkowitz writes about digital media in Seattle. He's been in the Seattle store, and I asked him whether it was a markedly different shopping experience.
ROB SALKOWITZ: That's one of the strange things about it. A lot of these stores use their physical retail locations to make a brand statement. You know you're in an Apple Store, you know you're in a Microsoft store, an REI or a Nordstrom or something like that. If Amazon is trying to do that, the store itself doesn't come across as anything better than a typical mall or airport bookstore with a good selection and no prices on anything.
BOB GARFIELD: Amazon opening bookstores sounds like a bad sequel to You've Got Mail.
ROB SALKOWITZ: It's a little hard to understand exactly what they're up to. First of all, as you may know, the CEO who made those remarks subsequently walked them back and said he actually has no insight into what Amazon is doing; he was sort of speculating on the basis of property leases and, and things like that. So it's hard to say right now what their big-time strategy is.
BOB GARFIELD: Amazon, in pioneering online sales, eradicated leasing costs and, as a result, simply decimated bookstores. For what possible reason would it now, in one store or 400, take those costs and limitations on?
ROB SALKOWITZ: Amazon doesn't make very much money selling books, even online. What is a moneymaking business is their cloud data services. What these stores are, in my view, is not necessarily a place for shoppers to find books. It's more a showcase for Amazon's data services and a way to get other retailers interested in the opportunities of bringing data into a physical retail environment.
BOB GARFIELD: Huh, so the company that's turned big-box retailers into showrooms for its own online sales [LAUGHS] is building a showroom to showcase its own cloud and data possibilities.
ROB SALKOWITZ: Yeah, it's exactly that. When you're online and you're shopping for something on a website, they know everything about you. They know what you're looking at, how long you're on that page, what you put in your cart, what you leave in your cart, anticipate your behavior, give you offers that'll prompt you to buy more stuff. Once you walk into a physical store, all of that goes away. You're completely anonymous.
So the problem that Amazon has solved at their retail location is that they don't have prices on anything. In order to get the price, you point your phone, with the Amazon app running, at the shelf label and it gives you the price of that item from the website. But the most important thing is it identifies that you're you in that store, looking at that item, at that time. And all of a sudden, all of that data that Amazon has about you can come into play into that transaction.
BOB GARFIELD: But what's confusing to me is that the number of people who will ever walk in to an Amazon store is a few thousand in a week. And I just took a look at the last numbers. Every day, 34 dregwillion people go online to shop at Amazon. How can the data they get from the flesh-and-blood humans in their brick-and-mortar store really make any kind of difference?
ROB SALKOWITZ: What they're actually doing is they're trying to sell the data services to other retailers, Macy's or Safeway where you don't have goods that can ship very easily, soft goods, clothing that you want to try on in the store. All of those retailers have the same problem. They have online shoppers with information attached to them and then they have people in their stores who could be their best customers and they would never know it. And what Amazon has done is give you a reason to take that phone out of your pocket, to get the price, to get the information about the product, to get all of this other stuff. They actually have the customers identify themselves. And then, as soon as you do that, they can offer you all kinds of additional discounts, additional incentives to make it much more likely that you will buy whatever it is you have in your hand at the store.
BOB GARFIELD: If it's true, is that going to be good for us as consumers or bad for us?
ROB SALKOWITZ: What they're really able to achieve is something that looks a lot like a seller's utopia and a buyer's dystopia. You know, when you walk into a store and you see prices on the shelves, the price is the price. We, as consumers, are used to being able to evaluate for ourselves whether that looks like a bargain or whether it looks like it's too expensive.
What the retailers would love to be able to do is figure out the maximum that each individual shopper will pay for each individual good and get all the way up to that level. What Amazon's data will allow it to do is not only figure out all of the stuff that you want, based on your buying history, but potentially cross reference that with all of this other data that we are giving for free to places like Facebook and Google for using their services, so that they'll know, for example, if you're motivated because you're shopping for your spouse's birthday or whether you're just there for an impulse purchase, and they can figure out exactly what set of incentives and pricing and additional offers it will get to take you to buy that one thing that's in your hand.
In a sense, we as consumers would say, well, that's great, we're all being negotiated with individually. But I think there's something fundamentally unfair that the person next to me might be getting a better price than I am for exactly the same stuff because of things that the company knows about them that is going to make them buy it at that price instead of the price I'm willing to pay.
BOB GARFIELD: It's called dynamic pricing and it is sort of digital age stuff, but it's also the oldest retail model in the world. I mean, it goes back to the bazaars of thousands of years ago. It's not necessarily dystopic.
ROB SALKOWITZ: It's not necessarily dystopic but it's something that's been very hard to do at scale. I don't think that Macy's wants to empower every one of their sales associates to haggle with the customers over the cost of, you know, a pair of running shoes or something like that. So what this does is it, it lets you bring that individual personalized sales model at scale for a global retail giant. Airlines and a lot of other companies that sell you stuff primarily online are doing this all the time. This allows them to bring that into a physical environment, if they'd like to.
And I would like to emphasize that when I was at the store I asked the people if they were doing that, and that was the one thing they said, no, we are not doing that at this time. But they could.
BOB GARFIELD: All right, Rob, thank you very much.
ROB SALKOWITZ: My pleasure.
BOB GARFIELD: Rob Salkowitz writes about digital media in Seattle. He's the author of Comic-Con and the Business of Pop Culture. When we first aired this show, we asked Amazon for a response and were told by s spokesperson that, quote, "We don't comment on future plans."