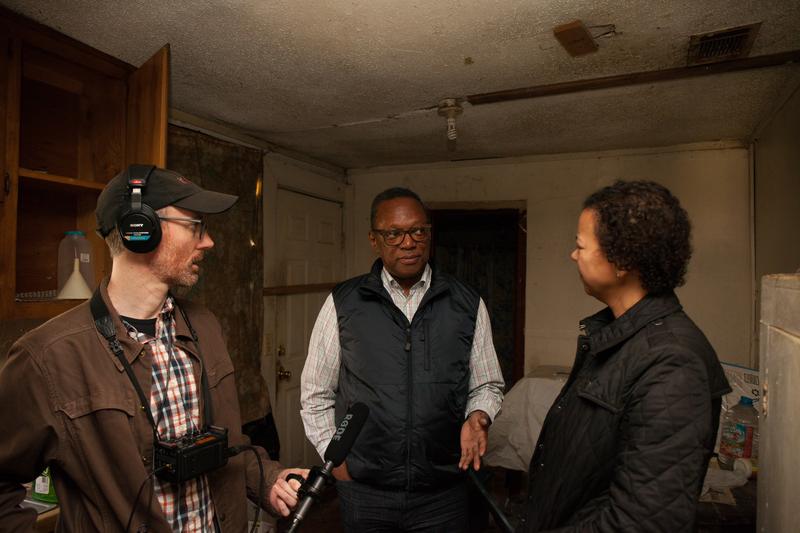 When Wakulla County High School in Crawfordville, Florida, integrated in 1967, the poorest blacks lived in a neighborhood called "the field" off a rural road, now called Shadeville Road. It's there where Alvin Hall got his start.
His childhood home sits back about 25 feet off what is now a busy paved road. Long deserted, the yard that once held vegetables and a small farm is now thick with weeds and fallen browned magnolia leaves. Inside the small house, trash and spiderwebs have overtaken the rooms where Hall once lived here with six siblings, his mother and his grandmother.  
Despite the state of disrepair, Alvin Hall can still visualize what the house looked like when he was a boy.
"There was a wood stove right here," he reflected  "We always kept a kettle on,  always the wood behind on that wall. My mother would get up and keep the fire going every night."
The pie cupboard and bookshelf that held the valuable World Book Encyclopedia are present, but bare.  Hall recalls saving up money and getting one lettered volume each month.  
"I read them from A to Z," he boasts to his nephew James who spent some time at the house after Alvin left Wakulla.  "I did too," exclaims James. 
His childhood home was one of a dozen places The Takeaway visited with Alvin Hall as he returned to Wakulla County High School for the first time in 40 years. On yesterday's show, we heard his emotional return to the hallways of the high school he had not set foot in since 1976, after he realized that his achievement as the school's first black valedictorian had in essence been erased from the historical record.  
Today, we head back to where Alvin had his earliest beginnings off Shadeville Road, to places he once called home and where memories of family and faith came flooding back.