SchoolBook
Alternatives to Suspension: Inside a 'Restorative Justice' High School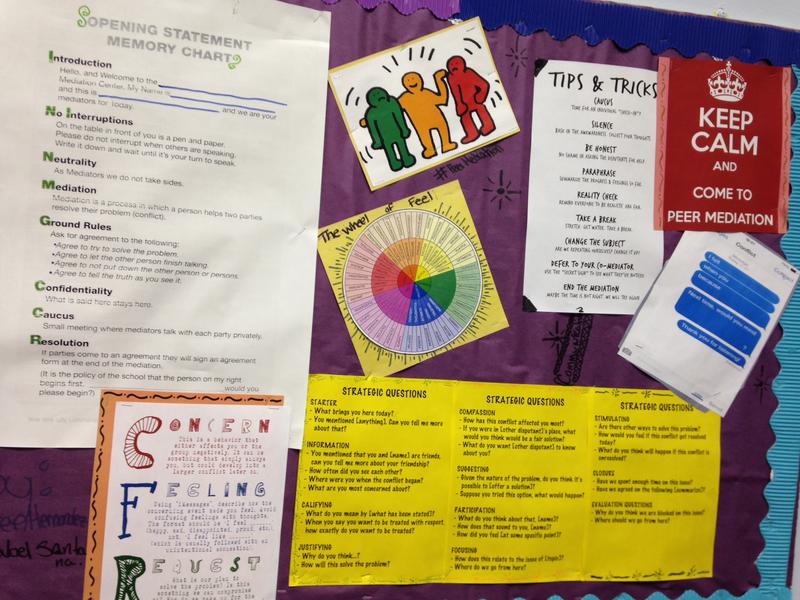 Last fall, two seniors at the Expeditionary Learning School for Community Leaders got into one of those disputes that starts off small and spirals out of control. 
According to the girls, one of them heard the other say something about Dominicans and took personal offense. Tensions mounted and after school their fight turned physical.
"She followed me, like, around the corner and then from there punches were thrown," said one of the students.
The police were called and so was the school. And that's when the school's relatively new approach to conflicts kicked into gear. 
Principal David O'Hara spoke with their parents and agreed to keep the students in school, so the incident wouldn't affect their chances of graduating on time. But he also made them attend a mediation session.
The girls met with a staffer who had been trained in conflict resolution and a peer mediator. Although one them said it was "weird," she learned that she had misunderstood the original perceived insult, and there was no intention to offend. They're not friends, but the tension between them is largely gone.
One of the girls said she first assumed suspension would be an appropriate response,  but not any more.
"It would've done nothing because she would've just came back to school and maybe more tension would've built up and a bigger fight would've been happening and other people could've been involved," she said.
Mediation sessions like this are a form of what's known as restorative justice, an approach that allows students to see how their actions affect each other. Districts from Oakland to Chicago have been encouraging schools to use restorative justice as an alternative to suspensions. Chancellor Carmen Fariña amended the city's discipline code this year so New York can do the same. 
Critics of the practice believe restorative justice gives kids a free pass. Charter school leader Eva Moskowitz wrote a column in the Wall Street Journal saying students need discipline. In the Chicago public schools, which also began requiring restorative justice this year, some teachers have complained they don't always have the tools to deal with unruly students, but the city told WNYC that overall suspensions and misconduct incidents have all declined.
Principal O'Hara said the practice is frequently misunderstood.
"I think it's actually going harder, so to speak, on a student than going soft," he said.
For starters, restorative justice is not always a substitute for suspensions. In serious cases, like bringing weapon to school or hurting another student, the city still requires an out of school suspension. But a school can choose to add mediation upon the student's return. For minor incidents, it can be used in lieu of an in-school suspension.
"When a student now makes a mistake, they have to own up to it and they have to repair the harm," said O'Hara.
Leaders is a small school in Coney Island affiliated with Outward Bound. Its culture encourages team building. It began using restorative justice practices two and a half years ago after O'Hara noticed black and Hispanic students accounted for a disproportionate number of suspensions. He said his in-school suspensions have since gone down considerably, cut by more than 40 percent in the past year alone. There was only one out-of-school suspension this year.
Meanwhile, he said credit accumulation, attendance and the graduation rate have all gone up.
Staffers say that's largely because they and the students have gotten on board. Twelve students have already been trained as peer mediators, a selective process that takes several months, and 15 more have signed up. Several teachers were also trained to supervise the sessions.
Some kids acknowledged it's tough to mediate when you know the parties involved, and to keep all sessions confidential. Maxim Belioglo, a junior peer mediator, said when people ask if he was present for a session, he tells them, "Nope, nope, I wasn't there. Nobody's even supposed to know what happened or that it took place."