Alternate Side in Effect? Car Still Stuck? City Says Move It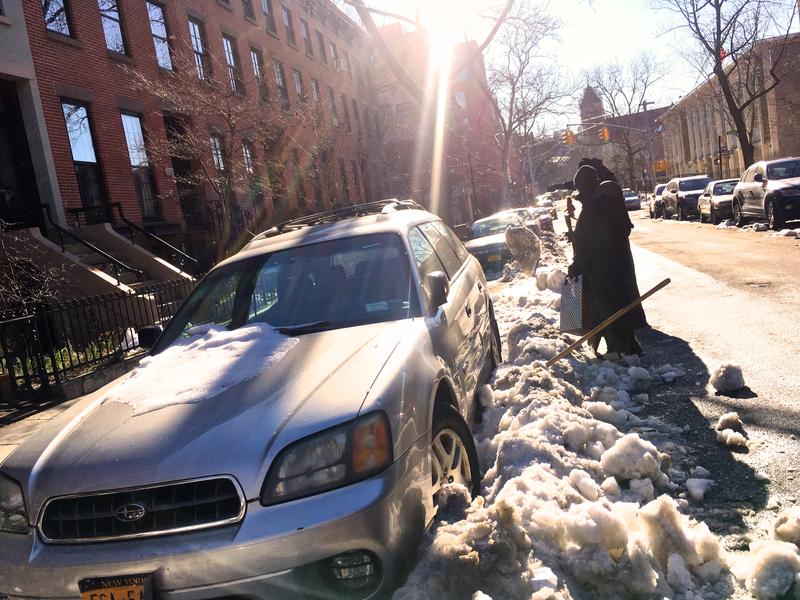 It may be warm, but the remnants of last week's snow storm are lingering in the form of hard-packed ice encasing vehicles across the city. So when the tweet went out about reinstating alternate side parking on Monday, many didn't take the news well.
@NYCASP really? You're going to sweep 2 feet of solid ice? pic.twitter.com/xOcDpw2GMc

— Ryan Milardo (@RyanMilardo) March 19, 2017
"If it had been 18 degrees today we would not have reinstated alternate side because it wouldn't have been effective," said Department of Sanitation Commissioner Kathryn Garcia said. "Our goal is to make sure that when we're asking the public to do something that we're able to either clean their streets effectively or clear their snow effectively."
Greenwich Village resident Gary Kupper parked his Toyota Matrix on a Soho side street before last week's storm. And on Monday morning, it was still there, covered in snow. "It's surrounding my car," he said, "and I didn't have a shovel this morning."
So, rather than move his car for the 9-10:30 a.m. alternate side parking, he whittled the 90 minutes away in his car sipping coffee and listening to talk radio. His was one of three cars on this block that waited it out, rather than moving.
As 10:30 drew near, Kupper pointed to the piles of snow around his car. "There's no way that there's any street cleaning today, so I guess they figured they're going to plow, but they didn't even come by."
Kupper thought perhaps the city was going on a ticket writing spree, but Commissioner Garcia dispelled that myth. "This is about making sure we get the city back to full normal," she said. "We're not driven by trying to increase revenue."
She said Sanitation workers were out in force Monday, digging out parking spaces, bus stops, and street corners.
One reason it might be taking so long to clear the streets? Garcia said in the fall, 1,600 people signed up with the city as snow shovelers. But after last week's storm, only 600 showed up to work.