New Sounds
#3687: Alt-Marching Bands & Other Brass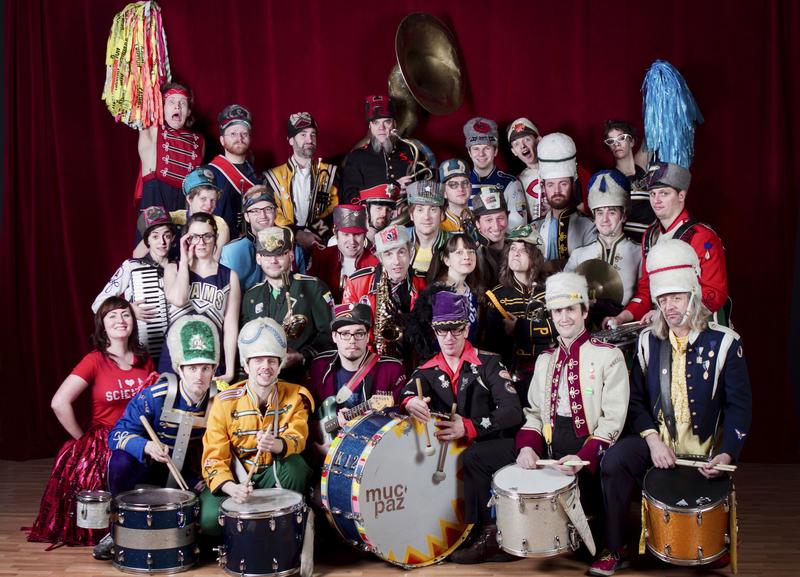 There's brass band music, marching band music, and "freak" marching band on this show, way in advance of Mardi Gras. New Sounds is treated to a session recorded with the Chicago-based circus punk beast, Mucca Pazza. "The hardest smelling band in show business, Mucca Pazza ("mad cow") is a sight to be heard." (Seriously, their Bandcamp says!) They are truly a spectacle. Listen to their set performed in our studio that Soundcheck couldn't fit on that podcast.
Also, listen to brand-new music from the Brooklyn-based Punjabi brass dance band, Red Baraat, who just released "Gaadi of Truth." ("Gaadi" is Hindi for car or train.) Always infectious, and ever-evolving, there's traces of Qawwali trance, brass funk, jazz, go-go, and hip-hop. Another sight to be heard!
Not to be outdone, there's music from the French klezmer Balkan swing band La Fanfare Couche-Tard, whose name translates to "Night Owl Band" or literally "goes-to-bed-late band." Plus, hear the latest single from the Brooklyn outfit, Breakdown Brass Band, who bring the Afro-funk and Balkan Brass party, and share members with Antibalas, Sharon Jones & the Dap-Kings, & Slavic Soul Party, among others. That, and more!
PROGRAM #3687 Alt-Marching Bands and other Brass (First aired on 1/22/2015)  
ARTIST(S)

RECORDING

CUT(S)

SOURCE

Extra Action Marching Band & David Byrne

Davies Symphony Hall October 6, 2008

Burning Down the House, excerpt [1:22]

Mucca Pazza

LYA

J'Accuse (Dave Smith) [2:58]

Extra Action Marching Band

Streaming at extra-action.com

A K S [2:43]

Streaming at extra-action.com

Mucca Pazza

Live, WNYC

Holiday on Ice [4:41]
Sit Down Smarch [3:31]
Fox Hunt [3:09]

This performance not commercially available. These tracks appear on LYA.
store.muccapazza.com

Breakdown Brass

The Horseman (single)

The Horseman [4:30]

La Fanfare Couche-Tard

Balkanize Me

Coupe Mulet [4:20]

Available at Amazon.com or iTunes.
Info at Soundcloud or Facebook

MarchFourth Marching Band

Magnificent Beast

Delhi Belly [5:52]

Burnside / Marchfourth Marching Band - #M4MB 004
www.cdbaby.com
Also available at Amazon.com, iTunes, or Emusic.com

Red Baraat

Gaadi of Truth

Horizon Line [3:58]

Sinj Records - #SIN-CD-12015
redbaraat.bandcamp.com

My Brightest Diamond & Detroit Marching Band

This Is My Hand

Pressure [3:57]

Asthmatic Kitty - #56103
asthmatickitty.com

Kenny Wollesen & the Himalayas Marching Band

Son of Rogue's Gallery: Pirate ballads, Sea Songs & Chanteys

Bear Away Yankee [5:35]

Anti 86904
anti.com