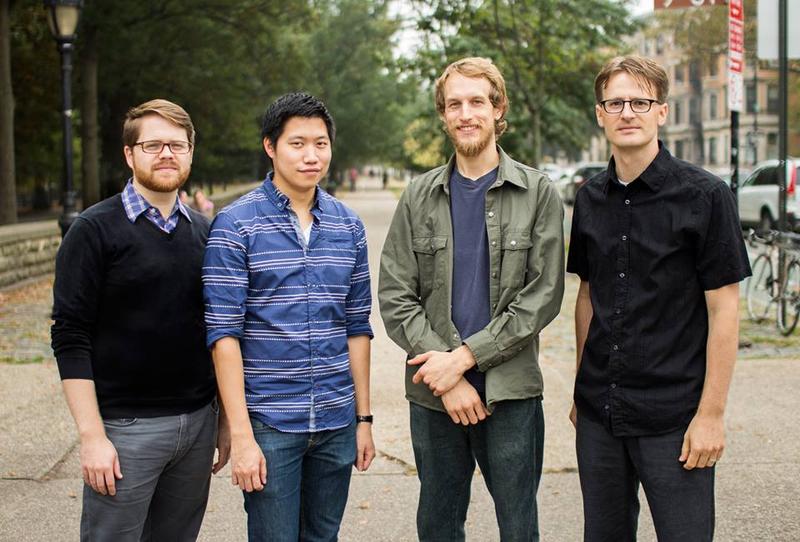 Listen to music for quartets on this New Sounds - but not the usual two violins, viola, and cello. Rather, the guiding principle will be four musicians, playing everything from marimba to mandolin. Hear from the electric guitars of Dither Quartet, along with music from the Prism Sax Quartet (saxophones). Then there's music from the Brooklyn-based percussion quartet Ensemble et al, - whose members "take a garage band approach" to chamber works, minimalism, modal jazz, and instrumental rock- on marimba, vibraphone, glockenspiel, and drum set. (The KISS t-shirt in some of their online photos does wonders to set their tone.)

Also, hear music composed for the four male voices of the Hilliard Ensemble by Ivan Moody.  Plus, listen to a classic piece for bassoon quartet by Peter Schickele, an adaptation of music by Leonard Bernstein for mandolin quartet, and music by Bill Ruyle for the Manattan Marimba Quartet.  And more.
PROGRAM #3554–Quartets (First aired on 1/16/2014)  
ARTIST(S)

RECORDING

CUT(S)

SOURCE

Dither Quartet

Live from Monkeytown

Fred Frith : "A" from The As Usual Dance Towards the Other Flight To What is Not [6:26]

Information at ditherquartet.com

 

Ensemble et al

Present Point Passed

No Matter How Fast You Run Today You Will Never Catch Up to Tomorrow [5:17]

 

Hilliard Ensemble

A Hilliard Songbook: New Music for Voices (2 CD set)

 

Ivan Moody: Canticum Canticorum I - I. Surge, properea amica mea [2:12]
II. Descendi in hortum meum [1:57]
III. Ego dilecto meo [1:44]

ECM 1614 
www.ecmrecords.com

Prism Quartet

25th Anniversary CD Release Concert

Roshanne Etezady:  Keen [7:22]

This CD not available.  The work appears on Breath Beneath (New Dynamic Records.) prismquartet.com 
Try CDbaby.com OR Amazon.com

Modern Mandolin Quartet  

Intermezzo

West Side Story, Act 1 - Cool (Bernstein) [4:51]

Dorian Sono Luminus DSL-92157
www.naxos.com

Apocalyptica

Inquisition Symphony

Nothing Else Matters [4:42]

www.apocalyptica.com; 
CD available at bandmerch.seenon.com
Or download from Amazon.com

New York Bassoon Quartet

The New York Bassoon Quartet

Peter Schickele: Last Tango in Bayreuth [2:24]

Leonarda LE 348
leonarda.com

Stephan Micus

East of the Night

East of the Night, excerpt [3:12]

ECM 3641
www.ecmrecords.com

Manhattan Marimba Quartet

New Sounds Live, Merkin Hall 1988

Bill Ruyle: Raging Bell [11:37]

This performance not commercially available.