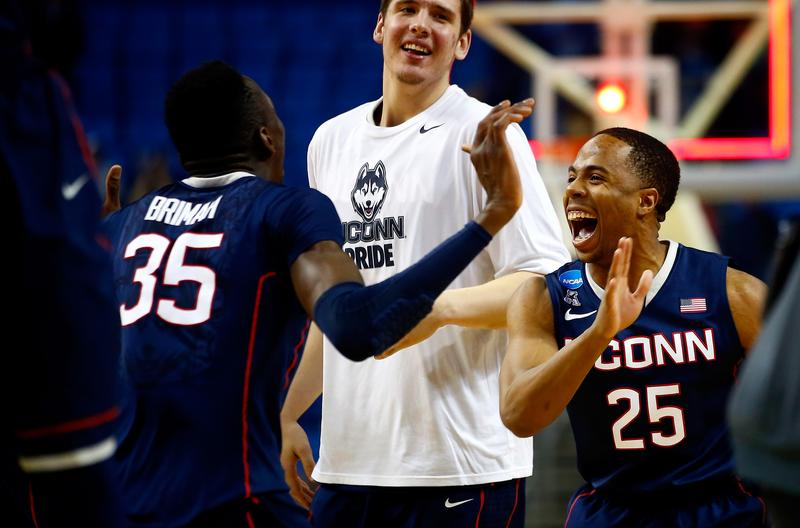 University of Connecticut basketball fans will have a train of their own.
The men's team is slated to play Iowa State at Madison Square Garden this Friday, marking the first time in over 50 years an NCAA tournament game has been played at the Garden. (The proximity of MSG to U Conn fans is pushing ticket prices through the roof — the Hartford Courant reports Huskies tickets are being listed at $3,000 on one site.) Wisely, New York's MTA — no doubt predicting trainfulls of rambunctious fans heading into the city — will be running an extra New Haven Line train to accommodate them.
According to the MTA, the train will depart New Haven at 4:15 p.m., make a stop in Bridgeport at 4:36 p.m. and arrive in Grand Central Terminal (GCT) at 6:00 p.m. — in plenty of time for the 7:27 p.m. tip-off. In addition, extra cars will be assigned to several trains departing New Haven between 2:00 p.m. and 5:00 p.m., especially the 3:50 p.m. train from New Haven. The MTA says it's adding 1,050 seats to New Haven Line service on Friday. 
"Both UConn Huskies basketball teams are again taking the NCAA tournament by storm and gaining the nation's attention. There will no doubt be a large contingent of Connecticut fans traveling to New York City to cheer for the men on Friday," Connecticut Governor Malloy said. "It's time to turn MSG into a home game for our Huskies."
After the game, Metro-North will add cars to New Haven-bound trains, where possible, on trains departing GCT between 9:30 p.m. and 11:22 p.m.