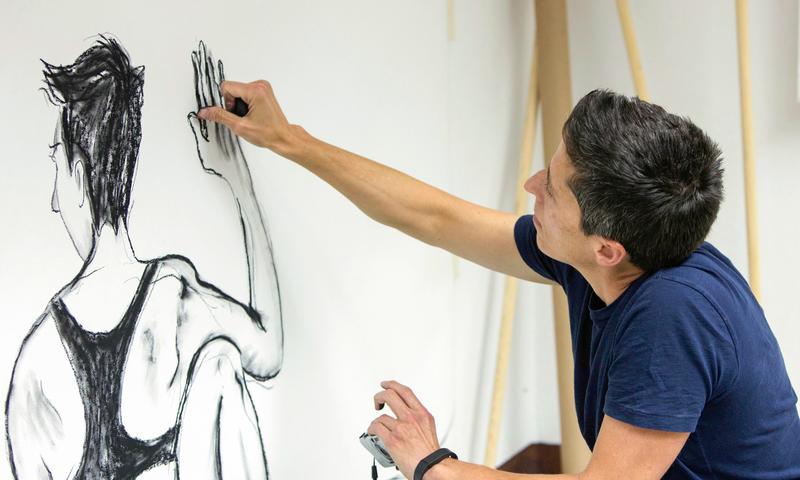 Any time you see a movie with two female characters who talk to each other — about something other than a man — that movie has passed what's become known as the Bechdel Test, and you might be surprised how few movies do pass it. The "test" has that name because it first appeared in a comic strip by the cartoonist Alison Bechdel. "This is so funny to me that this is my big claim to fame," Bechdel tells Kurt Andersen; the idea, she confesses, wasn't even hers — it came from something told to her by a friend. (It should properly be called the Liz Wallace Test.)
 Bechdel published that comic in Dykes to Watch Out For, the comic strip she started in 1983, not long after graduating from college. "I needed to see some kind of reflection of myself," she explains. "I didn't see in the broader culture any images of women who looked like me or my friends." Dykes to Watch Out For became a cult favorite and was published in alternative newspapers and magazines for 25 years. "In some ways what my comic strip did was document the slowly changing culture, the way that gay people were becoming assimilated," she says. Bechdel ended the strip in 2008, in part because the increased visibility of gay people made her feel like it wasn't needed anymore.
See some of Bechdel's illustrations below.
In the time since, she's written two comic-book memoirs about her family. Fun Home: A Family Tragicomic tells her story of growing up around the family funeral home in a tiny town in Pennsylvania with a father who, she learned much later, was a closeted gay man. The process of telling her family's secrets was liberating, but difficult. Her second memoir, Are You My Mother?: A Comic Drama, is largely about the process of navigating her mother's discomfort while writing Fun Home. "She didn't want me to tell everyone our family secrets," Bechdel tells Kurt. "So I had to figure out a way to do it that was okay with her and was still honest."
Fun Home has been adapted into a musical and is headed for Broadway in the spring of 2015. While Bechdel isn't big into musical theater — "I've never paid a lot of attention to musicals," she confesses — she is a huge fan of her musical. "I feel so lucky that they took this really intimate material of my life and stayed very true to it." But she says she's taking a break from autobiography. "It's hard scraping around the interior of my psyche all the time."
In September 2014, Bechdel received a MacArthur Fellowship, the so-called "genius" grant. She admits that she had fantasized about it over the years, but "nearly blacked out" when she got the call. The $625,000 prize — no strings attached — hasn't yet given Bechdel any grandiose ideas. "The only thing I can think of to buy so far is a larger scanner, so I can draw my comics a little bigger."
Music Playlist
She's A Genius

Artist: Jet

Album: Shakra Rock

Label: Five Seven Music

Doodle Oop

Artist: Funkify Your Life

Album: The Meters

Label: Rhino

Diamond Gals

Artist: Hal Zimmer

Album: A League of their own Soundtrack

Rock a Doodle Doo

Artist: Linda Lewis

Album: Hampstead Days

Label: Easy Action / Troubadour

Ring of Keys

Artist: Sydney Lucas & Beth Malone

Album: Fun Home (Original Cast Recording)

Label: PS Classics

It Comes Back (opening)

Artist: Sydney Lucas, Michael Cerveris, Beth Malone & Fun Home Company

Album: Fun Home (Original Cast Recording)

Label: PS Classics