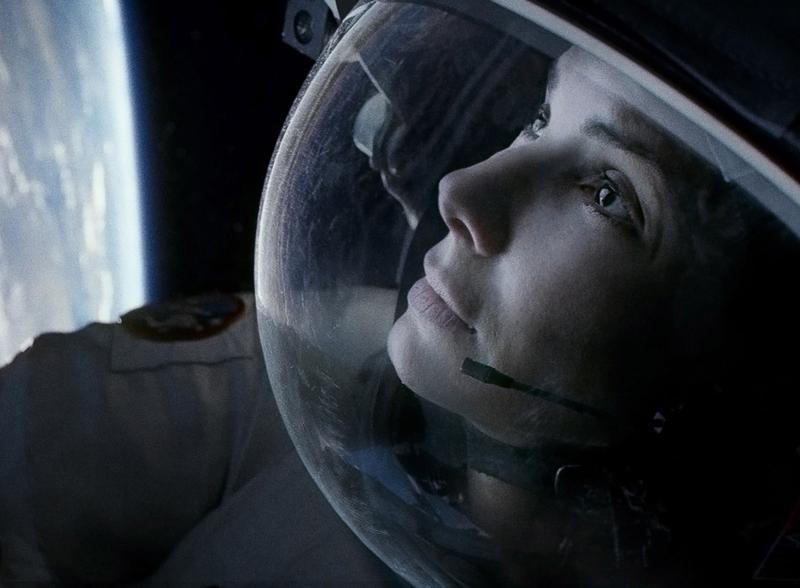 Alfonso Cuarón wrote Gravity's screenplay with his son, Jonas, in three weeks. Considering the visual effects needed to realize their vision, the senior Cuarón knew it would take much longer than that to direct the film, but he had no idea he was in the incipient stages of an undertaking that would last over four years.
"It was a miscalculation," he tells Kurt Andersen. "I finished the script and thought it was something straightforward, but we realized the technology did not exist." Cuarón, along with his trusted cinematographer, Emmanuel Lubezki, began consulting various visual effects teams in order to produce the robots, rigs, and wires it would take to simulate Gravity's characters floating around in space for nearly the entirety of the film's 90 minutes — a feat that's never before been attempted in cinema. Though it took several years, the filmmakers managed to pull it off, and stunningly so.
Gravity has been nominated for 10 Academy Awards, including Best Picture and Best Director.
Despite all the action, trailblazing effects, and a few more of Cuarón's famous endless tracking shots, the director doesn't want the film to be seen as a spectacle. "This film would be completely shallow if not for the biggest visual effect here — that's the performance of Sandra Bullock."
We should not expect Cuarón to direct a Gravity II. His filmography includes the children's drama A Little Princess, Y Tu Mamá También, a Harry Potter movie, and the apocalyptic Children of Men. He is a director who doesn't repeat himself or stick within a genre, and he doesn't look back. "Ever since I finish my films, I never see them again," Cuarón tells Kurt. His films are not like his children — more his ex-wives. "They gave me so much, I gave them so much, we loved each other so much, but now we've parted ways. We don't see each other."
(Originally aired October 11, 2013)
Alfonso Cuarón's 3 for 360
Music Playlist
I Get Gravity/ Wild Gravity

Artist: Talking Heads

Album: Burning Down The House

Label: Rhino/Warner Bros. Records