Albany Agreements on Everything from Rent Regs to School Funding — But No One's Happy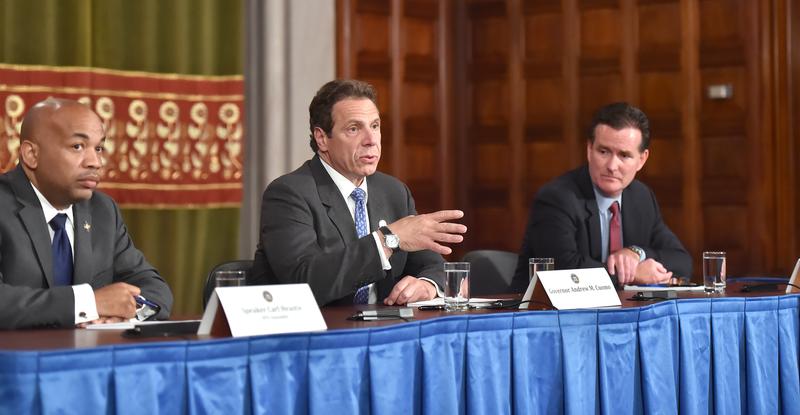 After months of turmoil and weeks of inaction that forced New York lawmakers into overtime, Gov. Andrew Cuomo and legislative leaders announced a broad package of agreements Tuesday on everything from rent regulations to school funding to criminal justice reform.
"This is the last chapter of your drama that was playing out over the first few months," said Cuomo, who appeared with Senate Majority Leader John Flanagan and Assembly Speaker Carl Heastie in the Capitol with only a few minutes notice. "We had very tough issues."
Flanagan, a Long Island Republican, took over as leader after his predecessor was indicted just six weeks ago. Heastie, a Bronx Democrat, took over in February under similar circumstances.
Details of the agreements were sketchy, and Cuomo said they would not discuss all the terms until the plans had been presented to the legislative conferences for their approval. A vote could take place later this week.
Among the major initiatives outlined Monday:
Education:
Lawmakers agreed to extend mayoral control of New York City schools for only one year, a blow to Mayor Bill de Blasio, who wanted lawmakers to make mayoral control permanent. It was set to expire June 30.

The state will provide $250 million in aid to non-public schools to pay for services the schools are required to provide by the state. This proposal replaces a controversial $150 million tax credit for donors to non-public schools that was the subject of heavy lobbying by leaders of Catholic and Jewish religious groups. But it did not have enough support in the Assembly.

There will be more charter schools allowed in New York City, but not as many as Cuomo wanted. He said the city will get 50 more, but they are not all new. An administration official said the total includes 24 unused charters, plus recycled charters from schools that closed, and four others that were originally assigned to upstate districts.
Housing and Real Estate:
Lawmakers agreed to extend New York City's rent regulations by four years with minor changes, despite heavy lobbying by de Blasio to strengthen protections for tenants.

The controversial 421-a tax abatement for developers would be extended for up to four years with some changes based on a framework Mayor Bill de Blasio proposed.
The state will pass a $1.3 billion property tax credit that mostly benefits upstate and suburban homeowners.
 Criminal Justice:
The legislature was unable to agree on comprehensive "Raise the Age" legislation for juvenile justice reform. Cuomo said he will use executive action to order 16- and 17-year-olds removed from state prisons and housed in separate facilities run by the Department of Correctional Services.

Cuomo also said he will appoint the state Attorney General as special prosecutor in cases involving police officers and other un-elected officials, for one year. This action comes in response to a decision by a Staten Island grand jury to file no charges against a police officer in the chokehold death of Eric Garner last year.
The decision to extend mayoral control of city schools by only one year was a major blow to de Blasio, who rankled Republican senators by campaigning against them across the state last year and has criticized the governor's leadership.
New York City business leaders took the mayor's side on the school issue last month. Kathryn Wylde, head of the Partnership for New York City business group, said the organization is relieved that mayoral control was not watered down.
"While we believe it should have been made permanent, this represents an affirmation by all parties that the best governance system is one that allows the voters to hold the mayor fully accountable," she said.
De Blasio had no immediate comment. Cuomo said little to illuminate how lawmakers came to a one-year extension. "There were a number of proposals that were made over the months, but the outcome of the negotiation was the best that we could do is one year," he said.
The city teachers union, which has also tangled with the governor, thanked Assembly Democrats for protecting their interests on a number of issues.
"We started this session with the governor attacking teachers and public education," said Michael Mulgrew, president of the United Federation of Teachers.
He also praised the legislators for lifting a gag order that prevented teachers from discussing questions on state tests.
Tenant rights groups, on the other hand, slammed the compromise on rent regulations as a giveaway to landlords.
"Up to 100,000 rent-regulated apartments will be lost over the next four years because of Cuomo's Republican deal," said Katie Goldstein, a leader with the Alliance for Tenant Power, a tenants' rights coalition.
The agreement on the 421-a property tax abatement is getting mostly positive reaction from stakeholders.
"This extension demonstrates the commitment on the part of the governor, and members of the Senate and Assembly to address the needs and concerns of workers," said Mario Cilento, president of the New York State AFL-CIO.
"While we need to review the language of the legislation that is put forward, we would like to thank the state leaders for the leadership they have demonstrated," said Steven Spinola, president of the Real Estate Board of New York.
But the deal is not final, and many details have not been released, including just how much affordable housing will be required to be built and where in order to qualify for the tax breaks. Cuomo said labor unions and developers also must come up with an agreement within the next six months over prevailing wages, or the law will expire.
Heastie said he was confident he could get the Democratic majority in the Assembly to vote in favor of the package.
"Once we get through the details, I think the conference will be fine," he said.
The leaders weren't the only members to announce new legislation. Assemblyman Sheldon Silver, a Manhattan Democrat who was speaker until he was indicted in February, announced that New York's presidential primary will be moved one week, from April 19 to April 26, so it will not conflict with the Jewish holiday of Passover.