In Aftermath of Ferguson Decision, NYC Turns Attention to Garner Case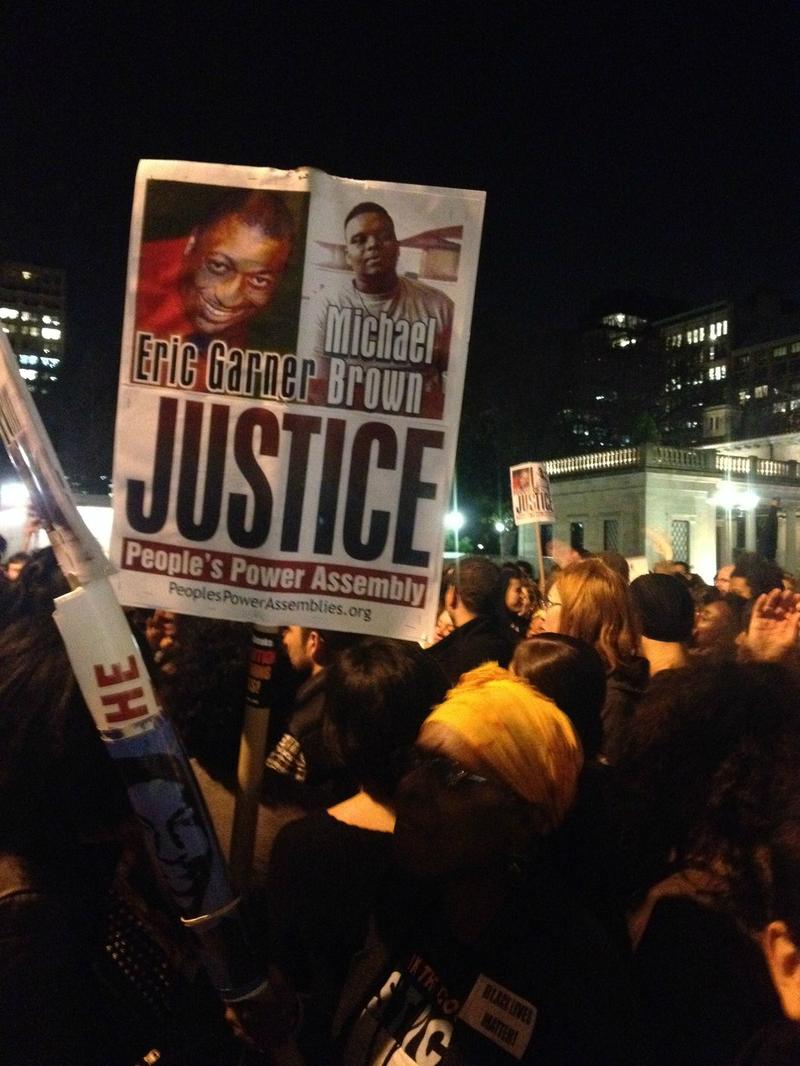 As the nation absorbs the grand jury's decision not to indict the Ferguson police officer who shot teenager Michael Brown, New York's attention now turns to the case of Eric Garner.
Garner, a black resident of Staten Island, died in police custody in July after a police officer placed him in a choke hold, a tactic banned by the NYPD. The Garner case is yet another high-profile incident that shined the spotlight on the use of force by police officers, and raises questions about potentially discriminatory policing policies.
On Monday night, protesters in New York marched with signs bearing the likeness of Brown and Garner, along with that of Akai Gurley, an unarmed 28-year-old black male who was fatally shot by a rookie NYPD officer in a public housing development.
Reverend Kathleen Barrett-Layne, the president of the United Minister's Alliance of Staten Island, has been organizing and participating in police-community discussions in the wake of Garner's death.
She told WNYC's Amy Eddings that while the Ferguson incident and Garner's death speak to some of the same issues, the two cases are also very different.
"[One of the issues] is the questionable activities preceding the case in Ferguson...in what transpired," said Barrett-Layne. "It is alleged that...Michael Brown had robbed a conveniecne store and so that put a question mark in the mind of individuals versus the incidents preceding the Eric Garner case where witnesses testified that Eric had just broken up a fight prior to the time that he was approached."
Meanwhile, city officials continued to react to the grand jury's decision not to indict Officer Darren Wilson and the subsequent protests.
While Mayor Bill de Blasio would not comment on the decision itself, he said the violent protests in its aftermath ran against the wishes of Michael Brown's family.
"It's sad for America that people choose to pursue violence when not only is it quite evident that the family didn't want it, it's not going to get anyone anywhere," he said.
City Council Speaker Melissa Mark-Viverito said it was "a sad day" and that she was "disgusted" by the way the prosecutor read the decision. She said the case points out "systemic challenges" but urged protestors to find constructive ways to make their voices heard, without resorting to violence.