After Supreme Court Decision, Advocates Turn to Technology to Protect Voting Rights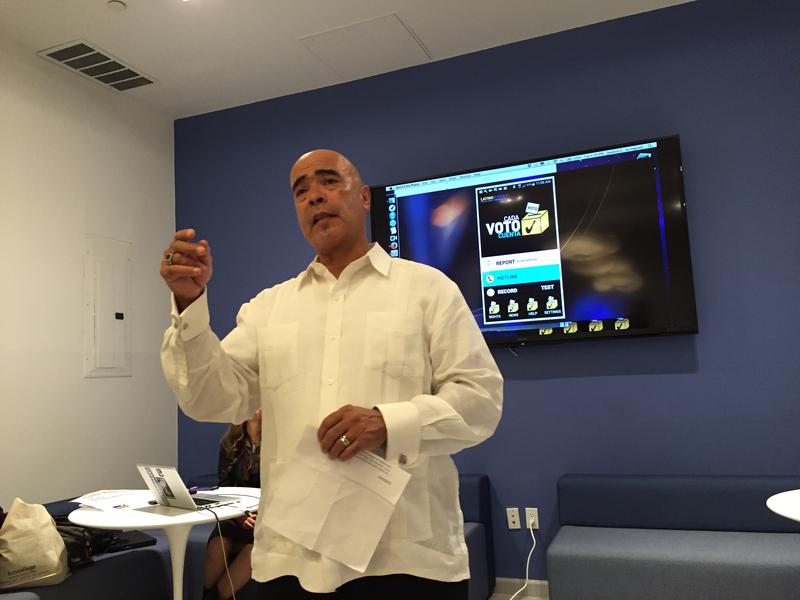 Concerned someone might be hindering your right to vote? There's an app for that.
A group of voting rights advocates, attorneys and programmers plan to tap the power of smartphones to track voting issues in battleground states.
They say they had to design the app this year because it's the first presidential election since the Supreme Court struck down a key portion of the 1965 Voting Rights Act. They're also worried about the effect of presidential candidate Donald Trump whipping up concerns about voter fraud. 
The app is called "Cada Voto Cuenta" — Spanish for "count every vote."
Cada Voto Cuenta is a free download, and it uses a phone's Internet, GPS and video functions to let people record and report possible voting rights violations.
The advocates have recruited 200 volunteers to follow-up on Election Day reports that come in through the app from New York, and the battleground states of Pennsylvania, North Carolina, Georgia and Florida.
Juan Cartagena said the app is a necessary new way to protect voters.
"The reason why this application is so important," Cartagena said, "is because the tools that voting rights attorneys had for decades going back to the 1960s are no longer with us."
---
In the weeks before this year's general election, WNYC is taking a magnifying glass to our democracy to explore what it takes to participate. It's part of a project we're calling Electionland – with our partners at ProPublica and Google News — that culminates in a nationwide examination of how our electoral system performs on election day.
---
This is the first presidential election since the Supreme Court's Shelby County vs. Holder decision, named after the Alabama County that sued to get out from under the Justice Department.
Prior to the decision, places with a history of voting rights violations had to submit new laws and practices to the Justice Department for approval — before they took effect. The process was known as pre-clearance, and it included New York.
But in June of 2013, the court said the decades-old rule was out of date. The court told Congress to update the law and then come back.
Since then? Nothing.
Republican lawmakers say they want to protect voting rights, but they've suggested pre-clearance was no longer necessary.  
The law worked the way it was supposed to, they argued, and other provisions of the law still provide enough protection. House Judiciary Committee chairman Bob Goodlatte of Virginia said judges can still do what the Justice Department cannot.
"Section 3 authorizes federal courts to impose pre-clearance requirements on states and political subdivisions that have enacted intentionally discriminatory voting procedures," Goodlatte said at the hearing just one month after the decision came down.
Hans von Spakovsky worked in the Justice Department's Voting Rights section during the George W. Bush administration. Now he's at the Heritage Foundation.
Von Spakovski argued that black voters had higher registration and turnout rates than white voters in states that required preclearance.
"Congress intended that to only be temporary," he said on C-SPAN last year, at the 50th anniversary of the Voting Rights Act. "It was an emergency provision. It was because of the conditions that were so extraordinary, so bad there. It was only supposed to last five years.
"The conditions in the South have changed. The Jim Crow South is gone."
But voting rights activists say states have been backsliding since Shelby. More than a dozen states have passed laws in recent years that, for instance, require a photo ID to vote, or restrict the location and hours of operation of polling locations.
"Voting discrimination and voter suppression, these are problems that are alive and well," said Kristen Clarke, president of the Lawyers' Committee for Civil Rights. "We see it every day across our country. And Congress has a duty to respond."
She  says her organization is tracking cases where a local sheriff helped remove voters  from the rolls, and  election officials moved polling places and precincts, or refused to process thousands of voter registration forms.
"We essentially saw the floodgates open," Clarke said. "And we saw states moving to put in place discriminatory voting laws that had been blocked when we had Section 5's pre-clearance provision in place."
Courts have struck down new voting laws in a handful of other states, including North Carolina and Wisconsin. But Democrats like Rep. Nydia Velazquez say they are frustrated that the Voting Right Act update is just sitting in committee.
"We should be in the business of strengthening democracy in our country," she said. "There's no reason why we shouldn't move this legislation."
Velazquez represents portions of Brooklyn and Manhattan. Earlier this year, WNYC reported that more than a hundred and twenty thousand Brooklyn voters were purged from the rolls prior to New York's presidential primary — most of them in Velazquez's district. And Latinos were purged at a higher rate than any other ethnic group.
Velazquez asked the Justice Department to send monitors for the vote in her district in April. But the Justice Department says they no longer have that authority without a court order.
As it turns out, there are court orders in Manhattan, Brooklyn and the Bronx.  Cartagena, from Latino Justice, says that's because New York has a long history of making it tough for immigrants to vote.
"The scourge of people coming into New York City, the Mecca of immigration, you know, Ellis Island, the whole nine yards, was a challenge and a threat to the political powers-that-be back in the 1920s," he said.
Literacy tests that excluded Italians immigrants in the 1920s also prevented Puerto Ricans from voting in the 60s and 70s. Cartagena and other advocates eventually won a 1985 court case that forced election officials to provide ballots in Spanish and have translators available.
That victory also required the three New York City counties to submit election changes for pre-clearance.
Cartagena says higher turnout among immigrants is evidence the law worked in New York. He says the Brooklyn purge was a setback that wouldn't have happened if pre-clearance was still in place.
"In all those years the Voting Rights Act operated very, very efficiently in New York City," Cartagena said. "We lost that opportunity. We lost that kind of check and balance."
And Cartagena says there's another reason voter protections are so important this year: Donald Trump.
The Republican presidential candidate has spent months telling supporters the election is rigged. He's told mostly white crowds they should keep an eye on voters in "other" neighborhoods — implying places where more minorities live.
"We're going to watch Pennsylvania," Trump told the crowd at an Altoona rally in August. "Go down to certain areas and watch and study—[and] make sure other people don't come in and vote five times.
To  advocates like Cartegena, that's a signal to Trump supporters to intimidate minority voters and suppress turnout in those communities.
"Nothing that Mr. Trump has said today is necessarily new," Cartagena said. "What is new is his vitriol. What is new is his inability to recognize that the system has been working very, very civilly in so many decades before."
They hope that data from their voting app can help convince Congress to rework the law after the election.