After Community Opposition, Councilman to Vote Against Inwood Rezoning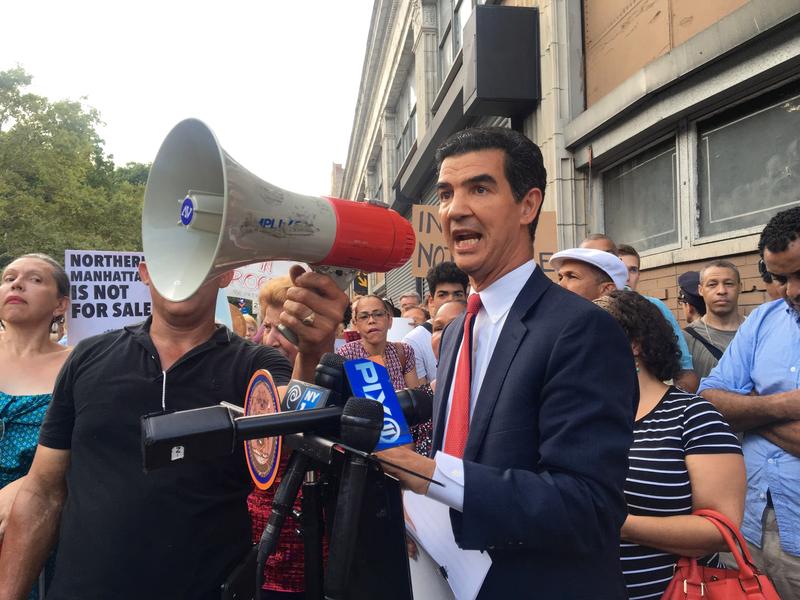 A Northern Manhattan lawmaker says he's heard the community opposition, and has changed his position on a rezoning plan for Inwood. Councilman Ydanis Rodriguez says he now plans to vote no on a proposed 17-story, 350 unit development along Fort Tryon Park — the latest test in Mayor de Blasio's affordable housing agenda.
"We have not been able to get to a point where I feel it's in the community's interest to move this forward," Councilman Rodriguez said. "At this moment I will not be supporting the rezoning."
The development was to include at least 20 percent affordable housing units, but opponents said that wasn't enough, and that the apartments wouldn't be affordable for many who live in the area.
Inwood resident Renzo Moyano said he was relieved to hear Rodriguez's decision.
"Community members that put the most pressure on him are right now celebrating with him. And that's beautiful to see," Moyano said. "Because we don't want to make an enemy out of every representative. We want them to work with us. That's the whole point."
The mayor's affordable housing plan requires developers to earmark a certain number of units as affordable in order to build higher.
Councilman Rodriguez had been pushing for 50 percent affordable housing for the development site, located at the intersection of Broadway and Sherman Avenue.
In a statement, Austin Finan, a spokesperson for Mayor de Blasio said, "We believe a project with 50 percent affordable housing would better serve this community than a project that is 100 percent luxury."
Two city council committees are slated to vote on the plan Tuesday morning. The full council vote is planned for 1 p.m.