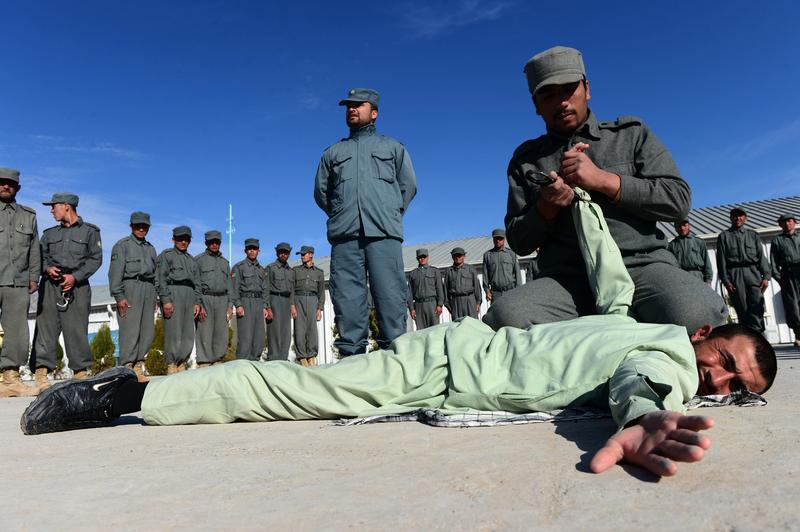 Click on the audio player above to hear this interview.
NATO coalition troops, including U.S. soldiers, officially left Afghanistan in December 2014. But the hand-off to Afghan security forces has been fraught with problems, and there are major concerns about whether they can maintain control.
Now, the country may be on the brink of another turning point: The Taliban is gaining ground in Helmand Province, and its reemergence has turned deadly—the terror group killed six U.S. soldiers this week.
"There have been very low casualties for quite some time, and that this constitutes a very significant event precisely because we're not used to it and haven't seen anything like it for quite some time," Nicholas Haysom, the U.N. envoy to Afghanistan, said at the United Nations on Monday.
Helmand produces 47 percent of the opium grown in Afghanistan, but the current fighting is not over controlling the fields where opium is cultivated. Rather, the fight is over the roads leading in and out of the province.
And now it also appears that The Taliban is poised to overtake the Afghan city of Sangin. In the past decade, coalition forces fought some of their deadliest battles in this area, a place where dozens of Marines and hundreds of British soldiers have died.
A surge of troops in 2010 brought some calm to the region, but that peace has proved fleeting. And now with coalition troops gone, conflict has moved in again, just months after a Taliban offensive briefly took over the northern city of Kunduz.
But Mike Martin says the entire focus on The Taliban misses a key truth in Afghanistan. Martin, author of "An Intimate War: An Oral History of the Helmand Conflict" and a former military officer with the British Army, says what Westerners are told about The Taliban is wrong. 
$17 Billion of Waste?
Earlier this year, John Sopko, the Special Inspector General for Afghanistan Reconstruction, told The Takeaway that Afghanistan faces myriad challenges in rebuilding its economy and infrastructure. 
"It faces a lot of difficulties—the biggest one is security," he explained. "No one's going to invest if you're being shot at. The second biggest situation you're dealing with is the corruption—a serious problem. Nobody's going to invest faced with such endemic corruption."
Sopko's reports formed the basis of a new investigation by Megan McCloskey, defense reporter for ProPublica. McCloskey looked our rebuilding efforts in Afghanistan, and found $17 billion in "questionable spending" between 2009, when U.S. reconstruction efforts began in earnest, through today. 
As she tells The Takeaway, the "questionable spending" includes "roads, buildings, schools, hospitals, also quite a bit of money that has gone into building the Afghan Army and police."
What you'll learn from this segment:
Whether the Taliban is close to gaining control of strategic areas, and if Afghan national forces are capable of pushing back.
What the ProPublica report says about America's "questionable spending" in Afghanistan.
Whether U.S. ambitions for Afghanistan are out of touch with reality.