Affordable Housing Advocates Demand More from Mayor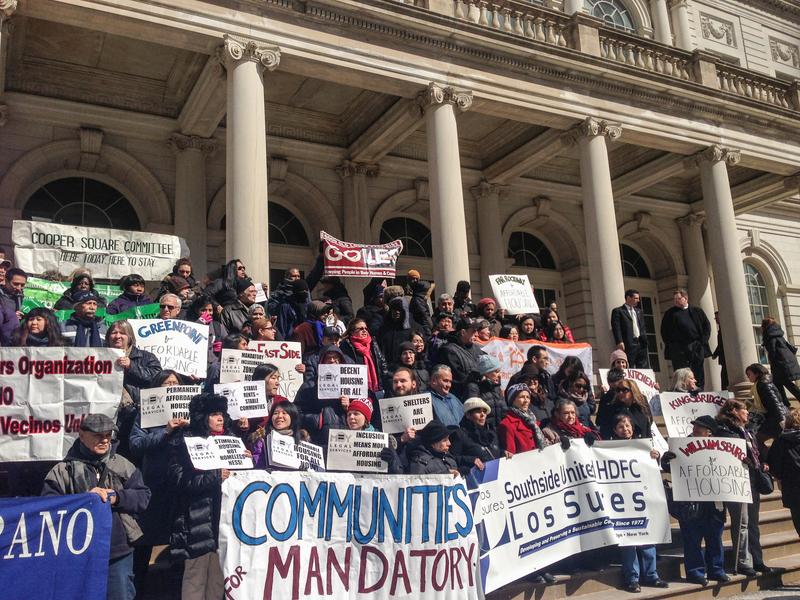 More than 100 affordable housing advocates gathered on the steps of New York City Hall to demand that Mayor Bill de Blasio's administration force developers to create more low and moderate income units.
The Association for Neighborhood and Housing Development led the effort that calls for the adoption of a new zoning policy, called mandatory inclusionary zoning, that would require many larger residential projects to include at least 20-percent affordable units in their design.
Housing advocates also called on the mayor to preserve more affordable units.
"We have lost 88,000 rent regulated units in the last decade," said Manhattan Borough President Gale Brewer. "Absolutely not one more unit can be lost, we need to preserve into the future."
Some advocates gathered in front of City Hall asked why Mayor de Blasio didn't attend the rally.
"I was expecting de Blasio to be here to support us, at least for one minute," said Nelida Godfrey of the West Village. "Two months ago, when he needed us, we were here," she added, referring to the recent mayoral election when many housing advocates supported de Blasio.
"It's going to be our mission—and our challenge—to broaden the income levels at each project, with a particular focus on low-income New Yorkers," said Marti Adams, a spokesperson for the mayor, in an email.