How de Blasio Can Make 'Affordable Broadband for All' a Reality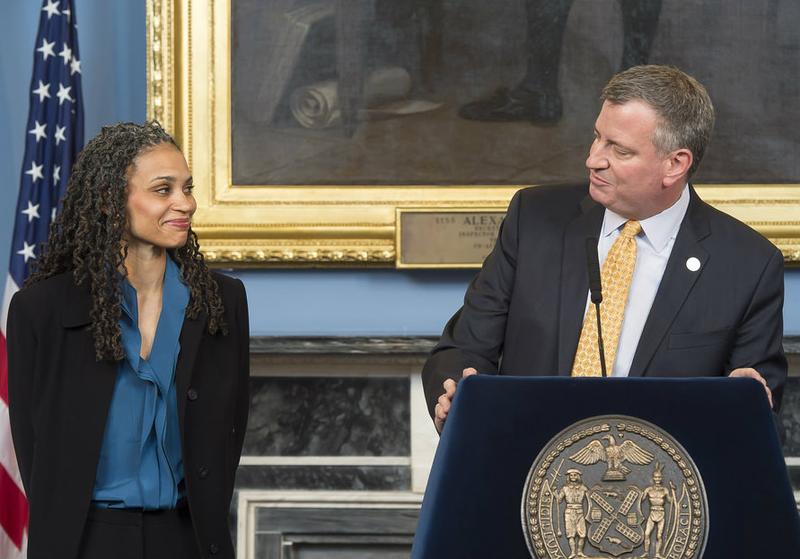 This week, Mayor Bill de Blasio introduced his new Counsel to the Mayor, Maya Wiley. Her mission, the mayor said, will be to make high-speed internet accessible to more New Yorkers. "To have a truly just society," de Blasio said, "means economic opportunity for all. And in this day and age, that means having access to the totality of the digital world."
Here are four things the city could do to help more New Yorkers get online:
Foster Competition
In 2008 Verizon signed an agreement with New York City to make its FiOS fiber-optic network available across the five boroughs. But so far, the Mayor said, it's behind schedule (Verizon said it's on track to meet the goal.) As more households get access to FiOS, the two dominant broadband providers – TimeWarner Cable and Cablevision – will face real competition and that could send monthly internet subscription prices down.
Support Local Networks
In a recent article in The Nation, Maya Wiley applauded a free Wi-Fi zone set up in the Red Hook neighborhood of Brooklyn, following Sandy. This project, Wiley writes, "should give the newly minted mayor some hints for how he can support smart, community-inspired projects to make meaningful change."
Leverage Government Assets
The MTA has 95 miles of above-ground subway lines. How about running fiber optic cables along those lines, and setting up Wi-Fi hotspots for businesses and consumers? Last year, then-Public Advocate de Blasio made that proposal in a policy brief that was never released. Click here for the study. The city could also open up parts of its own internal Wi-Fi network, NYCWiN, which is currently open only to city agencies.
Use Sandy Rebuilding Funds
New York City is just beginning to contemplate how to spend more than a billion dollars of Sandy recovery money offered by the federal government. Some of this cash could be used to build a more robust communications infrastructure.