Adolfo Carrión Jr.'s Independent Streak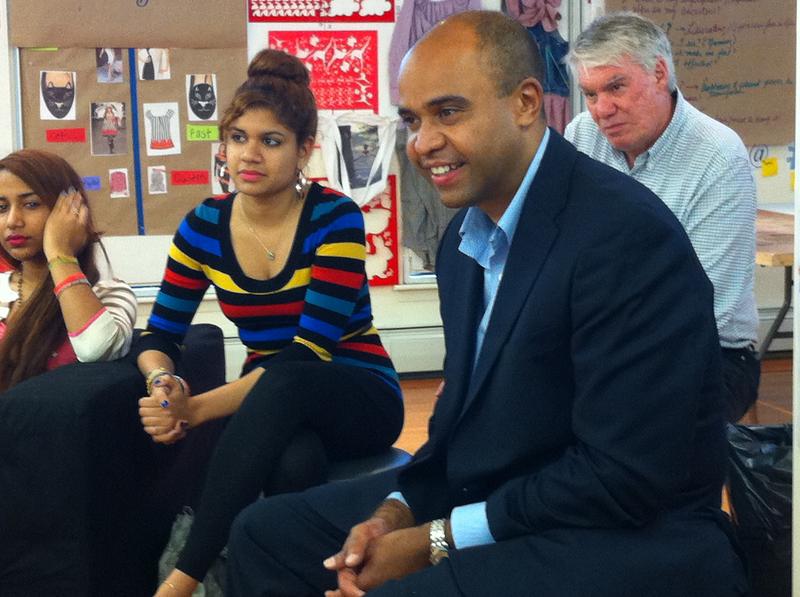 Adolfo Carrión Jr. was once a rising star in the Democratic Party. But after switching to the Independence Party to run for mayor, he's barely registering in the polls.
Carrión was a teacher, an urban planner, a community board member, and in 1997, a council member. Four years later, he entered the race for Bronx Borough President. During the campaign, he traveled to the island of Vieques off Puerto Rico to protest Naval bombing exercises there. He was arrested and spent 44 days in jail.  
"It's not great to be incarcerated. That's for sure," he told WNYC's Beth Fertig at the time. "And I never imagined that I would. But when you engage in an act of conscience and an act of civil disobedience, you know there's a price to pay."
The Navy eventually withdrew from the island. Carrión won his race. He was elected to head the National Association of Latino Elected Officials, and attended the Democratic National Convention in 2008. Carrión was mentioned with Caroline Kennedy and Andrew Cuomo as possibilities to replace Hillary Clinton when she left the Senate to become Secretary of State. Then President Obama himself tapped Carrion to be the first Director of Urban Affairs for the White House.
There were snags along the way. As Borough President, Carrión upset constituents by supporting plans for a new Yankee Stadium on a local park. And he was fined $10,000 for hiring an architect with business in the district to renovate his house. But supporters said he had the capacity to be the first citywide elected Latino official.
"I knew that Adolfo had what it takes in terms of intellect, in terms of charisma, in terms of ideas to become a citywide official," said Luis Miranda, a political consultant who's known Carrión for decades.
This year, he threw his hat in the ring for the mayor's race, just as his friends hoped he would. But he did so on the Independence Party Line. "I would guess that he thought that, running as an Independent, he would have a better chance. But in doing so, he disavowed his base," said Elaine Rivera, a lecturer at Lehman College. "That hurt him with fundraising, recognition. He can't even raise enough money to get matching funds now."
Miranda said he's sorry to see Carrión "waste" his talent. "I just thinking leaving the Democratic party killed his chances of being in elected office," he said.
But Carrión says lots of New Yorkers are Independent-minded, socially progressive but fiscally conservative, just like him. "I say I'm in the fight for the long haul," he said. "Adolfo Carrión is not going away."