24 Hours of Actions to Support Immigrants, Refugees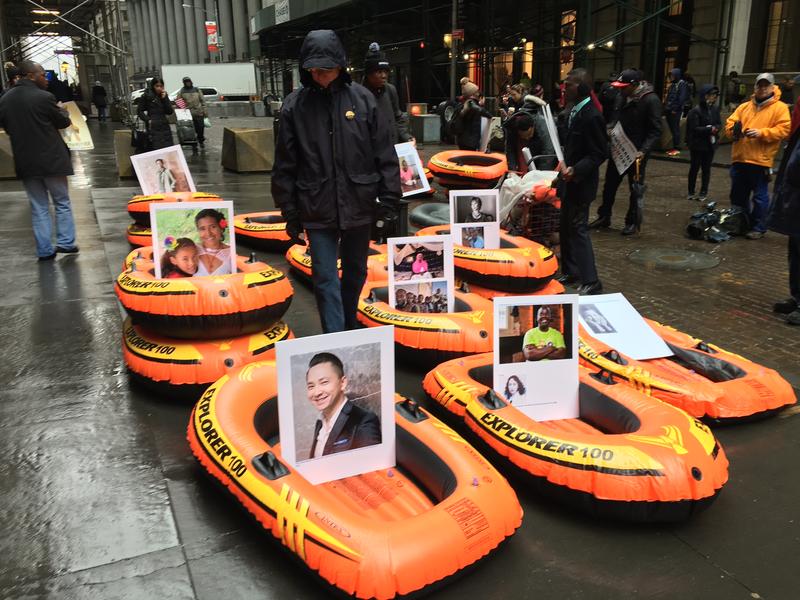 On Tuesday, several small, inflatable orange rafts, each carrying a picture and description of a refugee, were arranged in front of the Trump Building on Wall Street. In the courtyard at Trinity Church, in lower Manhattan, there were tents; posters on the gates read "City of Refuge: 24 Hour Action for Refugees."
Those are just two of several actions planned by activists from groups around the city to draw attention to the plight of immigrants and refugees, after President Donald Trump issued executive orders banning travel from certain nations.
Amaha Kassa, director of African Communities Together, said the president's policies are threatening asylum seekers and refugees hoping to resettle in the United States.
"What's happening now, the backlash against refugees, is nothing new to us," he said. "What's different here is we have rights, we have a Constitution, we have political freedoms to stand up and organize."
Anwen Hughes, a refugee lawyer, agreed. She said the Trump Administration is sending the wrong message through the executive orders.
"It's creating an enormous amount of disruption, an enormous sense of uncertainty and betrayal among people who really had enormous trust in the system here and that's why they came here in the first place," she said.