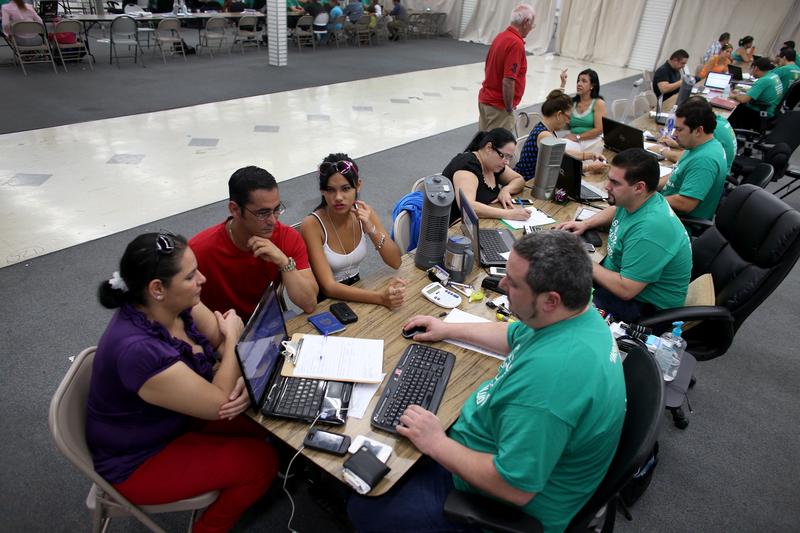 For most Americans looking to sign up for health insurance under the Affordable Care Act, the March 31 deadline to enroll in a plan has finally come. It's a responsibility President Barack Obama says Americans must uphold in order to make the system work.
Though many are scrambling to beat the clock before the deadline comes at midnight, reports early Monday showed that the HealthCare.gov website was down.
"It's just a software bug that our team is working to correct as quickly as possible," says Mayra Alvarez, associate director of the Office of Minority Health at the Department of Health and Human Services. "We know that folks are looking forward to finishing their enrollment process or to get that process started. We are ready to handle unprecedented consumer demand, but right now they have identified the root cause of the problem and are trying to fix that software bug as quickly as possible."
Alvarez says that a special enrollment period will be offered for those who have already started the process but are facing difficulties. While the technical problems of HealthCare.gov might be an immediate problem with a clear solution, there is another, more nuanced problem facing the ACA.
According to the White House, more than 6 million people have signed up for health insurance through online marketplaces. Some of the most important groups for the ACA have been minorities—but recent surveys show only slow signs of progress among these groups.
In Connecticut, for example, Latinos make up 25 percent to 30 percent of the uninsured, but only 14 percent of the state's population, and are expected to remain over-represented in the ranks of the uninsured for years—despite Obamacare. Like HealthCare.gov, this is something Alvarez says the government is also looking to fix.
"As of right now, we know that people of color, communities of color and minority communities are disproportionately uninsured," she says. "For example, for Latinos, 1 out of 4 eligible Americans come from the Latino community, so we know that access to health insurance is particularly important for this disproportionately uninsured population."
Though the government is looking to get more minorities insured, Alvarez admits that health insurance applications available through the health insurance marketplace don't require consumers to identify their race or ethnicity. That information can be submitted voluntarily, so the government will look to quantify the minority population through existing data that is offered up by consumers.
"We'll also work with health insurance companies themselves, as well as other surveys conducted by the federal government, to determine what is the race and ethnicity of the population that has acquired coverage through the marketplace," she says. "Health insurance is a tool in ensuring that we can lead healthier lives. When tens of millions of people in this country don't have access to health insurance, that means they're putting off checkups that can identify illnesses early. That means they're using the emergency room for routine care and then driving tax payer dollars for everyone. When it comes to health insurance, it's an opportunity to really put our country on a trajectory towards a healthier America."