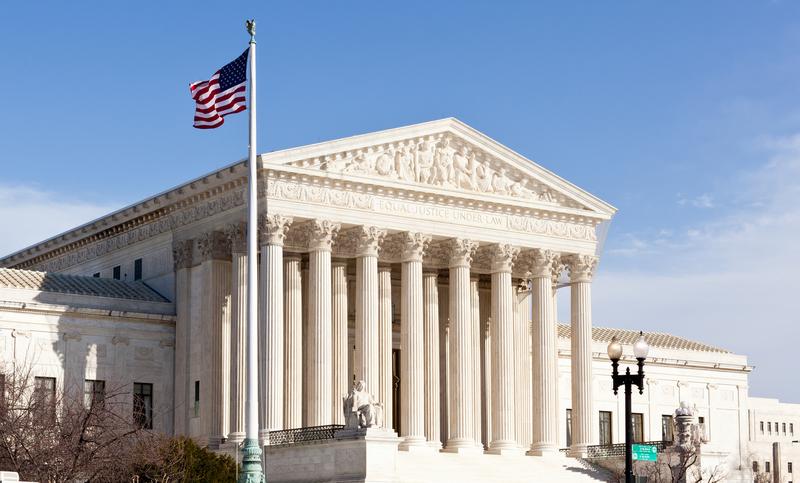 While the federal government shutdown has shuttered much of Washington, today the Supreme Court opens its doors for the 2013-2014 term. Marcia Coyle, chief Washington correspondent for the National Law Journal, unpacks the major cases before the Court over the next eight months.
This week, the Court examines campaign finance regulations in McCutcheon v. Federal Election Commission. The Court's 2010 decision in the Citizens United case transformed corporate campaign contributions, and the McCutheon case challenges the cap on individual campaign donations.
Plaintiff Shaun McCutheon, an Alabama engineer, brought the case to challenge the biennial spending limits on contributions to federal candidates. Should McCutheon prevail, the case would overturn Buckley v. Valeo, the 1976 case decided in the wake of the Watergate scandal, in which the Court ruled that individual campaign spending limits did not violate the First Amendment.
The Court continues its term with Schuette v. Coalition to Defend Affirmative Action, a case out of Michigan where voters approved a constitutional amendment to prohibit race- and sex-based affirmative action in college admissions. The Sixth Circuit Court of Appeals rejected the ban in 2012, though the Ninth Circuit Court of Appeals deemed a similar ban in California constitutional earlier that year. The Supreme Court will have the final say this term.
Later this term, the Court weighs in on two abortion cases, McCullen v. Coakley and Cline v. Oklahoma Coalition for Reproductive Justice.In McCullen, the Court will revisit the issue of protest "buffer zones" around clinics that provide abortions.
The Cline case presents a new issue for the Court: Medicine-induced rather than surgery-based abortions. An Oklahoma law requires that these medications be used according to the FDA-approved label. The FDA approved the use of these drugs back in 2000, and, as is typical with many FDA drug labels, physicians have since found that taking the drugs in accordance with the label is not the safest or most efficient way to use them.
Thus, the Coalition says, the effect of the Oklahoma law is to ban most medicine-based abortions or endanger women who are seeking them because they would have to follow an outdated protocol.
The Court will also rule on a number of other hot-button issues this term, including religion and government—in Town of Greece v. Galloway, the president's power to appoint officials during Congressional recess, in National Labor Relations Board v. Canning; and housing and racial discrimination, in Mount Holly v. Mt. Holly Gardens Citizens in Action, Inc.