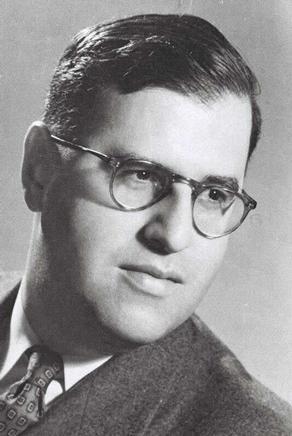 Summary
This episode is from the WNYC archives. It may contain language which is no longer politically or socially appropriate.
From card catalog: Deputy Prime Minister H.E. Abba Eban talks about the need for a strong United Nations and discusses Israel's commitment to the principles of the UN. He discusses the causes of Arab aggression and calls for a world front to force the Arabs to accept the reality of Israel's existence. He also talks about Israel's role in helping developing nations. Questions and answers.
McGrun introduces Eban. The discovery of a way out of deadlock is urgent. The regional tension is not the only issue important to Israel. Israel's relationships with developing nations in Africa and Latin America. The general mood in Israel is "buoyant vigor."
Q&A: Harold Wilson's proposal for a non-nuclear area in the Middle East? It's already non-nuclear, though he would be okay with more weapons in the area (?) to ensure a balance without constant escalation. Why was the Lavon Affair brought up again? Israel's relationship to the Organization of African Unity?
Audio courtesy of the NYC Municipal Archives WNYC Collection
WNYC archives id: 70494
Municipal archives id: T594
Transcript
This is a machine-generated transcript. Text is unformatted and may contain errors.
A very great privilege for us on the day after the formation of the no Israel government the day after a an important turning point in the history of Israel and of the Middle East to present this to this audience someone who is well known from his more than a decade as ambassador here in this country someone who is having a central role in the formation of the future of the Middle East is excellent see the deputy prime minister of Israel with Lulu. Ladies and gentlemen the U.S. has not diminished. The rooms of your hospitality. I will recall my last encounter with this club. It was one thousand nine hundred fifty nine when I had published my intention to leave the United States and the United Nations this announcement evokes such intense and Susie and some across the American continent and amongst my colleagues that I was involved for six weeks in a constant orgy of valediction. You in this club said goodbye to me with such intensity that you might well have been entitle never to see me again. Where your hopes have been frustrated. Here I am against the chairman has made sympathetic reference to the parliamentary vicissitudes through which we have recently passed a funny thing happened to me on my way to the United Nations and it involved the stability of the capital in which I serve this however has been fully restored. Democracy is a system designed to ensure that no people should have a better government than it deserves the converse however is also true. And I believe that the new Israeli government will serve where lofty hopes and ambitions which the Israeli people invest in it at any rate I come to you with chairman has said at a turning point yesterday I was the deputy prime minister in the first Eshkol government. And today I'm the deputy prime minister in the second ethical government I hope that the effects of Mr juvenile action are more apparent to you than they are to me. The problems of which I would like to speak to you belong to the same world of thought and responsibility as that which we used to move together in the past the immediate motive of my presence is the present session of the General Assembly of the United Nations the organizational crisis which has gripped the international forum must cause grave concern throughout all the world if within the coming few days. And no solution is found to that deadlock it is inevitable that the prestige and the standing of the United Nations should suffer it within the international community and therefore the discovery of a way out of this deadlock is not only important it is also urgent I do not believe that the United Nations that is restricted to. The irreparable exercise of a general debate without the ability to carry out its functions with decision. Can fulfill the high hopes which the peoples of the world repose in it it seems to me that small and medium nations should strive to assert their influence more strongly in international organizations there is a tendency for the main body of the family of nations to sit back and await the initiatives of the great powers this tendency ignores the central fact that it is the small nations which have the greatest interest in maintaining a universal system of international relations it is they of a small nations whose sovereignty and international personality are mainly expressed and symbolized through their membership in the United Nations and in its specialized agencies the central drama of this generation has been the expansion of freedom the sovereignty which was once the property of a minority of the human race now covers ninety eight percent of all humanity it is an offering an instrument and an arena for national liberation that the United Nations has served its aims most successfully decolonization has been the central drama of twentieth century life. A quality is the guiding principle of our age men are no longer content to accept traditional situations of inequality either as groups within society or as nations within the international family now that most of the human race lives in conditions of sovereignty the young nations can afford an optimistic and affirmative mood. They should not linger too deeply over the rankers and the injustices of the past. It would be sad if bitterness over the past were to obscure the satisfactions and opportunities of the present and the future. Of the era of Africa Asia is now I live with freedom the prevailing mood in those continents should be a mood of victory and fulfillment conditions are ripe for a new harmony in the relationships between east and west between races and cultures and faiths which have hitherto been in conflict with each other but never in fact was the human condition more propitious for the success of a unitary system of international relations there are global problems in the world which can only be solved on a universal scale the problem of immunity from nuclear war the problem of the balance between population and resources in view of the approaching demographic explosion the gravy issues of development of newly emerging societies the need to establish between one hundred and fifteen summer days a corporate system of law what has happened in our world is that national problems have become internationalized enlarged beyond their previous framework within most of our societies we have solved the problem of internal order but in the international community there is still no stable peacekeeping machinery within most of our societies we have abolished the more drastic and. Revolting disparities between classes in society we have achieved the welfare state we have however not achieved the wealth world. In the great gap between countries with an average income of two thousand five hundred dollars a year and those of forty and fifty between the Western expectation of life of seventy. And thirty nine and forty in Africa and Asia but when the swift technological momentum of the West and the paralysis of the educational and scientific movement in the new countries in this gulf of equality of inequality there is a danger that the human race may fall down into a new period of ten. Racial animosities have very largely been blunted within national societies it is sufficient to listen to United Nations debates to understand that they still have their effect within the world community and these considerations therefore of a human race facing problems common to itself in the situation of universal ponder ability cries aloud for the strengthening of those institutions which see a vision of man in his organic unity it is in that spirit that Israel a small nation makes its contribution to the fold and spirit of international cooperation in our times the main elements in our policy our support of the integrity and sovereignty of states unless the doctrine of sovereignty is strengthened. Then the fragmented map of the modern world would fall apart in chaos the second element of our policy is support for the completion of the process of the colonization in order that national independence shall become the inheritance of the entire human race the third element in our policy. It is to intensify by direct participation the processes of development which are designed to narrow the gap between the advanced and the developing countries of the world within these three vocations peace national independence and accelerated development and nations such as ours however sorely perceived by internal anxieties can make its contribution to the general mainstream of international thought but alas as you well know we are not free to devote all our attention and preoccupation to these problems alone we are still caught up within a circle of regional conflict the sources of our tension in the Middle East seem to me to be more psychological than political The fact is that after seventeen years of Israeli statehood our neighbors have not yet grasped the essence of the revolution which has occurred they do not face the central facts about Israel they do not grasp the depth and authenticity of Israel's presence in the history and culture of the Middle East they do not understand the permanent and irrevocable maître of our statehood they give too much weight to the exclusive concept of Arab unity and too little weight to the noble a concept of Middle Eastern diversity this Mediterranean world of ours is not the same as the Arab world it is the home of all its sovereign states of all its cultures and of all its peoples It is a compact world in which all the parents of history of thought have interacted. Exclusive formula based on ethnic and linguistic monopoly formulate structures out of unity therefore do not exhaust or even reflect the Middle Eastern reality because our neighbors have not grasped the simple fact of our existence we still hear the slogans of a dentist and aggression Israel remains the only state within the international community all of whose neighbors deny its very identity and existence security of their folk and to new is to be the chief of all our national preoccupations. I believe that the relative stability that has been maintained in the past eight years can be maintained in the next eight years and beyond provided that we can maintain in their full vigor the two elements on which the stability has been faced firstly to maintain a defensive deterrent to strength. We dare not to our neighbors with weakness and second to organize the opinion of peace nothing mankind in support of the existing political M. territorial structure in the Middle East against aggression against boycott in favor of the equal rights of nations Great and Small within the Middle East to fulfill their destiny in peace seems to me that a decisive role can be played by nations which lie outside. The direct order of Arab Israeli conflict the hundred nations which are neither Arab nor Israel and the agencies of international opinion which do so much to guide the conscience of our generation and if these hundred states. If the thousands of newspapers and media of communication in the free world oppose aggression resist discrimination denounce boycott and intimidation insist on Israel's rights equal with those of other peoples to pursue its destiny within the shelter of sovereign institutions if the hundred states and thousands of newspapers raise their voice consistently on behalf of the Pacific settlement of disputes against the monstrous doctrine that this people of Israel the heir to the martyrdom and agony of the anguish of centuries can be overwhelmed by a tidal wave of violence if such doctrines are resolutely vehemently denied if aggression is brought if irredentism is quarantined if a war of international opinion is put up against these instincts and these dreams of aggression then I think the Arab world will come to reconcile itself with Israel's legitimate rights reconcile itself at first perhaps reluctantly in the spirit of realism and later with a more affirmative understanding of the advantages of a future to be shared in peace when I speak of the duties of a hundred states. To express themselves on behalf of peace and stability in Pacific certainly I do not ignore the Paramount and decisive role of the great powers who have primary responsibility for the maintenance of international peace and security the reason contracts and impressions lead me to believe that all the great powers would like to see the existing political and territorial structure of the Middle East maintain you against violent change and therefore against external intervention. It would in my view be salutary if the United States the Soviet Union Great Britain and France could find ways to reaffirm their support for the territorial integrity and political independence of all Middle Eastern states and for their duty to submit their conflicts to the processes of Pacific settlement alone there may be elements in the unilateral policy of these governments there are such elements which move in that direction but a concerted international voice on behalf of these principles what I think play a leading and perhaps crucial role in the eradicating the Greens of aggression and irredentism in the Middle East these their central preoccupations and concerns although the regional tension occupies much of our thought that does not exhaust our enterprise or our vision Israel would like to have peace with its neighbors but such peace is not a condition of its existence. If need be we can however reluctantly continue to maintain our national life despite the neighboring tension. Consoling ourselves by the dynamism and mentum of our internal social development. And by the great network of friendly relations with unites us with ninety countries in the world I cannot close this reference to our friendships with ninety countries in the world without drawing attention to a new spectacular. Development in Israel's international relations I refer to our country central location in the developing world with fifty one nations of the developing continents of Asia Africa and Latin America the Israeli government has concerted programs of cooperation. Hundreds of its scientists and engineers and social workers its agricultural experts its educators are spread abroad in these countries. Trying to share with them some of the accumulated experience of our five pioneering decades in the past six years thousands of the future young leaders of scores of newly emerging states have come to Israel to its institutions of higher learning of technical training and special courses. In an effort to learn what it is that gives a small society the possibility to accelerate its development and to condense within a single generation possibilities of progress which previously were spread out over many decades. Since development is the major theme of life for the majority of the new Nations Israel's international policy will be strongly based so long as he can continue to fulfill this vocation and so we stand where the three continents of the ancient world converge. Where Europe and Asia and Africa have their meeting place a crossroad of history and of culture Similarly we are at the point where Western science intersects with the National liberty of the continents the point where the disappearing past and the future come face to face therefore although there is much in Israel's internal stress and external attention to give us food for thought and the occupation the general mood of life in modern Israel is still. Buoyant if. It is a formative period in our history it is still the morning and it is good to be an. Atlas. Thank you Mr Minister our last vice president how I am going to take the question and keeping with our usual procedure we ask the questions be brief and that the question of began by giving his or her identification and affiliation. Questions or openness as a guard. I'd like to ask the deputy