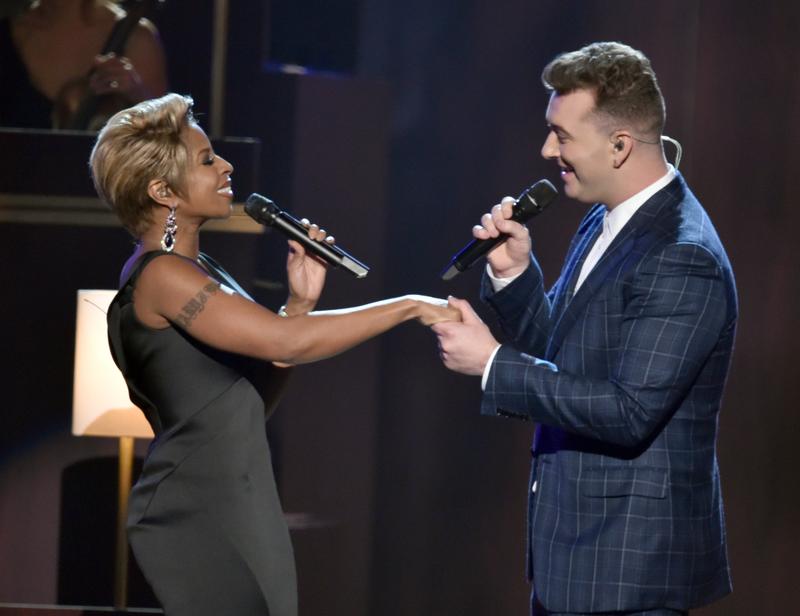 The 57th annual Grammy Awards telecast on CBS last night was interminable: over three and a half hours long, with only nine statues awarded. I understand the thinking: the Grammys are a celebration of pop music, and what better way to celebrate than by letting pop stars play their hits? Beats a parade of singers thanking their managers and record labels. And there were some pretty memorable moments last night.
But a zippier, more enjoyable Grammy telecast would require something that pop music does not do well: moderation. What pop music does well, and what the Grammys are all about, is excess. Larger-than-life personalities aiming for the highest heights and, when they fall, doing so in a blaze of klieg-lit glory. So here are some of the hits and misses from the night.
---
Number one with a bullet: Annie Lennox, singing the Screamin' Jay Hawkins song "I Put A Spell On You." Wow. I never felt strongly about Lennox one way or the other, either during her time with Eurhythmics or in her solo work, but this performance alongside Hozier was a revelation. Bluesy and soulful, with a surprising depth to her voice, this might have been the best single live performance I've seen on the Grammys since The White Stripes did "Seven Nation Army" 11 years ago.
Best song and dance routine: Paul McCartney, singing along in the front row while Jeff Lynne and a re-formed ELO played "Evil Woman." The choice of ELO seemed totally random, but it had Sir Paul up and singing… until he noticed the camera trained on him and somewhat sheepishly sat back down.
Best acceptance speech: Sam Smith, winning the evening's first award for Best New Artist, gave his mum and dad a shout-out and said "I won a Grammy!" It was a genuine touch and perhaps betrayed his uncertainty about whether there would be more to come. As we know, there were more to come.
Musical misbehavior: Miranda Lambert did her "Little Red Wagon" at full tilt. The song is built on a classic rock chord progression thinly disguised as country, and Lambert either forgot or "forgot" to change a four-letter word in one line, resulting in an audio drop-out on the broadcast.
Slightly less musical behavior: On the other hand, Ed Sheeran, performing with an all-star lineup that included Herbie Hancock on piano, John Mayer on guitar, and Questlove on drums, gave the kind of well-behaved performance that leaves no lasting traces.

Oh, were you there too?: Because I was taking notes, I see that Maroon 5 and Gwen Stefani performed on the show. It made absolutely no impression.
You're No Fun Anymore Award: To Kanye West, whose turn as a heavily Auto-tuned balladeer was sincere and emotional and totally not what we go to Kanye for. We go to Kanye for the word play, the braggadocio, and the keen production skills; not for this kind of singing. But love him or hate him, or both, at least Kanye has been entertaining to watch and to argue over.
Okay You're A Little Fun Award: To Kanye West, who made like he was going to storm the stage when Beck accepted his surprise Grammy for Album Of The Year, reminding everyone of his interruption of young Taylor Swift at the VMAs in 2009; but then he sat back down, eliciting chuckles from the crowd and an invitation (declined) from Beck to join him on stage. After the show, Kanye reverted to form by going on E! and claiming that Beck's award was a disgrace and that he, Beck, should have given it to Beyoncé.
Frankenstein Award: Grammy producers continue to try to put strange combinations of musicians together. Occasionally, they create a monster, as happened with Pharrell's version of "Happy" with famed film composer Hans Zimmer and superstar classical pianist Lang Lang. The opening of the song, with a dark, dramatic orchestration and all the chords turned from major to minor, was really interesting… for about 15 seconds. Then normal service was resumed and the usual happiness set in – interrupted by a jarring Lang Lang solo and then ending with the sight of Zimmer onstage with a completely unnecessary electric guitar.
Son and Daughter of Frankenstein Award: To Jessie J and Tom Jones, whose version of "You've Lost That Lovin' Feeling" was both pitchy (wobbly notes) and patchy (voices sounding strained and uncertain).
Worst dancing: Madonna and her bull-men. First of all, that was barely a live performance, with Madonna singing one of the secondary vocal parts while the main part played back from a recording. But it was also some of the most ungainly choreography I've seen in a long time.
Can we see those dancing bull-men again?: Sia's "Chandelier" performance was just willfully odd, echoing the song's video but with Kristen Wiig in an unannounced "dance" role. It was probably meant to be funny, or at least a parody, but it just came across a wasted opportunity. Here was a chance to show that a great pop song could come from someone who is not a 20-year-old ingenue.
Odds and Sods: Nice to see Juanes performing, en Español, and bringing a badly needed dose of Latin funk to the proceedings. AC/DC seemed an obvious ploy to get aging white guys to please please not tune away. Beck and Chris Martin of Coldplay sounded good together in a kind of Byrds/Moody Blues/Eagles/maybe XTC sort of way. Aging white guys everywhere were pleased that they didn't tune away.