Politics and Entertainment: New Yorkers Say Stewart's Rally Struck the Right Tone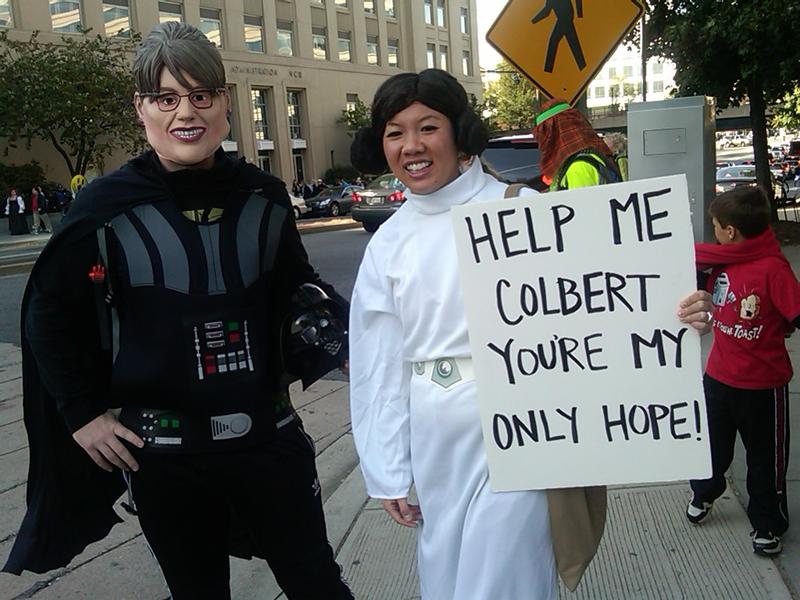 Thousands of New Yorkers attended Saturday's so-called 'Rally for Sanity' in Washington, DC organized by late night comedians Jon Stewart and Stephen Colbert.
They came from all over the metro area by trains, cars and buses. But many attendees said they had no excuse not to attend after Huffington Post founder Arianna Huffington paid for 200 buses to carry 10,000 people from New York to Washington.

Not that those buses were speedy. With so many people gathering at CitiField at 5:30 a.m., a Huffington spokesman said the last buses didn't leave until 7:30 a.m. And many didn't arrive until an hour after the rally's noon-time start. Once in Washington, New Yorkers, jaded by their city's wealth of transit options, were flummoxed when they had to wait in massive lines to enter the metro station by RFK Stadium for the ride to the National Mall -- a journey that involved DC's confusing metro card vending machines. A single public bus was waiting outside the station and was soon packed to the doors. No taxis, no pedicabs. Some wondered why a city so used to rallies didn't have a better transport system for getting visitors to the site.

People were still arriving on the Mall at 2 p.m. with only an hour left to go, but most seemed not to care. There was no urgency. The light-hearted tone was set by people carrying signs with non-sequitors such as 'WTF-They're Making a Sequel to Tron 2?' Others were more on message, such as "Stupid is Scary," "Reading is Sexy," or "Help Me Colbert, You're My Only Hope," which was carried by a woman dressed as Princess Leia. She was joined by a man in a Darth Vadar suit wearing a Sarah Palin mask.
Lots of people wore costumes on this Halloween weekend. A man dressed as a wolf in a grandmotherly robe (he took Colbert's fear theme to heart) approached an 8-year-old-boy carrying a sign that read "American Muslims for Sanity." Also spotted: a bright yellow banana costume, a dancing man in a panda suit with white underwear over his black leggings, and folks with no costumes carrying a sign that read "Zombies for Education Reform."

Despite frequent jabs among attendees at Palin, Glenn Beck and the Tea Party, both Jon Stewart and Stephen Colbert made the media their main targets. Fifty-five-year-old Merri Milwe of Manhattan said she was hoping for a little more fire. She had attended a civil rights march in DC as a child. But overall she said the rally struck the perfect combination of politics and entertainment. Milwe said she was so inspired by Stewart's criticism of distortions by the media that she wants to run for a new position she's calling "truth czar." Her friend Janet Grillo, a Democrat from Venice, CA said she thought sanity was different from bipartisanship, though.

Most of those interviewed on their way to or back from DC described themselves as Democrats or Independents. Many had no idea what to expect except and were surprised by the large turnout. When asked whether the rally would lead to anything, Racy Joseph said she connected with people from around the country who are tired of "mean-spirited" rhetoric. While there was no partisanship on the stage, she hoped the event would increase turnout in midterm elections by raising awareness. Another attendee, who had come out from Chicago to take a bus from New York, said she would definitely vote now in off-year elections.

But if attendees aligned themselves in general with liberal or Democratic politics, Stewart and Colbert's lack of direct partisanship on stage pleased Eric Rotbard of West Nyack. The former Republican turned Independent says he loved the moment at the end when Stewart spoke about how "we all love this country...on the right and the left." Even if, Rotbard said, that's not what's portrayed in the media.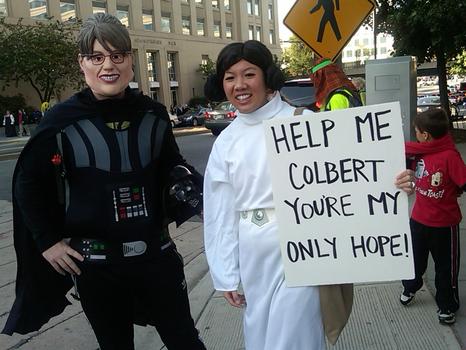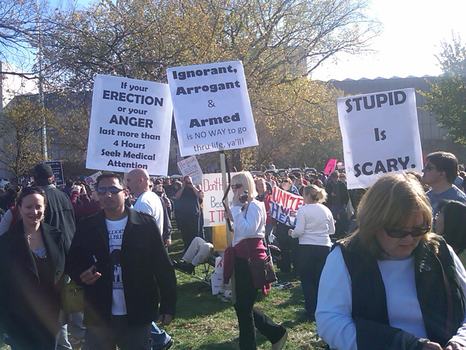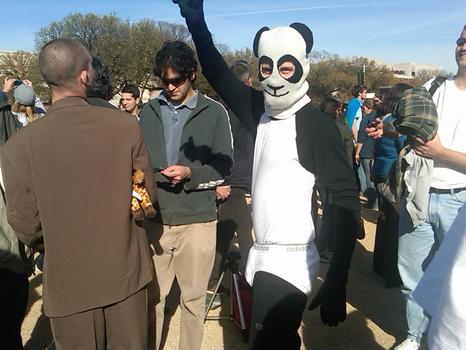 of