Six Degrees of Andrew Cuomo and Carl Paladino
Below you'll see the political networks of each of the major New York gubernatorial candidates. These network maps illustrate confirmed political ties between each of the candidates and their allies. These ties include professional relationships and reported campaign contributors--but they also include the harder-to-track social ties and informal advisory roles that are invaluable in politics. For example—Jennifer Cunningham is not a paid advisor to Andrew Cuomo, but she's known to be an influential advisor nonetheless.
»» Click here to see a bigger/navigable version of the influence map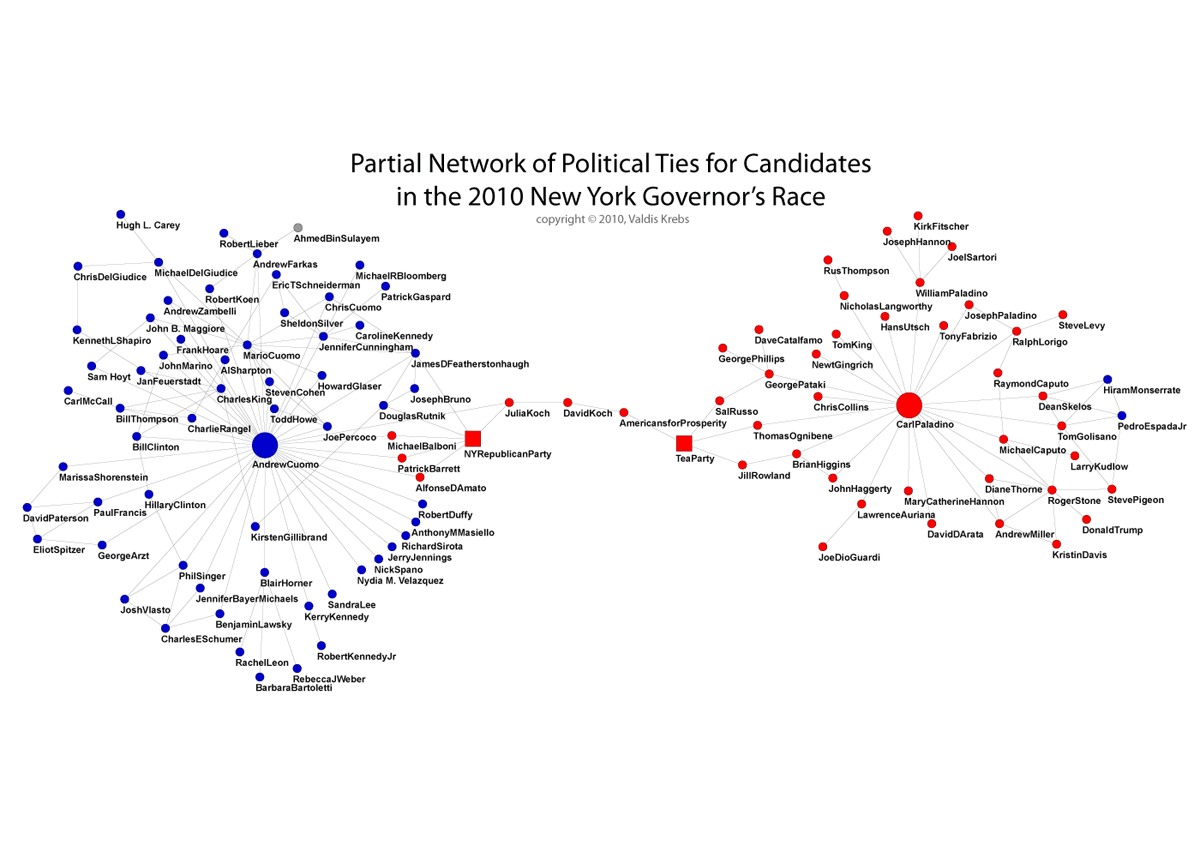 It's not an exhaustive investigation into all of each candidates political relationships—it's a map of the first and second degree connections that may be relevant in each of the candidate's bids to become the next New York Governor and the extent and interconnectedness of their political influence. For example, you'll see that Carl Paladino is connected to Pedro Espada Jr. through billionaire businessman Tom Golisano, who is an unpaid advisor to Paladino and who also helped engineer the temporary defection of Pedro Espada Jr. from the Democratic party to Republican party in 2009.
These network maps were created by social network analyst Valdis Krebs, the founder and chief scientist at orgnet.com. Valdis is a management consultant, researcher, trainer, author, and the developer of InFlow software for social and organizational network analysis. Valdis is the author of the blog: The Network Thinkers. Here's his take on what these networks reveal about the candidates:
We can quickly see who the key players in each camp are — Stone and Golisano in Paladino's posse and Featherstonhaugh, Cunningham and Dad in Cuomo's cluster. It is interesting to note that Cuomo has some bi-partisan support. Julia Koch, wife of David Koch — key Tea Party funder via "American for Prosperity", is one of the handful of recognized Republicans in NY who are actively supporting and endorsing Cuomo. Two democrats who defected from the party for a while, and were defeated in recent primaries, Espada Jr. and Monserrate are better connected with the Paladino team. Overall though, it's red vs. blue — clustered along purely partisan lines.
What do you think is interesting about these networks? Can you think of a link that is missing from this map? Would you add additional relationships? Comment below!
Valdis Krebs will be on the Brian Lehrer Show on Monday November 1. Be sure to listen!