New Yorkers Celebrate el Dia de los Muertos (Day of the Dead)
Bright paper banners, flowers and candles are adornments often associated with birthdays. But on el Dia de los Muertos (Day of the Dead), they are reserved for the dead.
This festival, celebrated mostly by people of Mexican descent, is a day of celebration, not mourning, and lasts two days—November 1 and 2. The holiday started with the Aztecs of Mesoamerica, and in the 15th century, was infused with Spanish and Catholic influences. Today, families and communities commemorate the lives of their ancestors by cleaning off graves and erecting altars that hold photos and possessions of dead loved ones. Marigolds, which are considered the flowers of the dead, are sprinkled everywhere—along with candles, sugar skulls and colorful tissue flags called papel picado.
It's a big holiday in parts of America, especially California, Texas and New Mexico, and is still a rather quaint celebration in New York. "The Mexican community here always celebrates this as a private party," says Salvador Olguin, a Brooklyn-based Mexican author and scholar. "It hasn't had such an impact on the overall community of New York City."
Historically, there haven't been many Mexicans in New York, but that's changing fast. Over 289,000 Mexicans now live in the metropolitan area, up 58 percent from 2000. Laura Limonic, a researcher at the C.U.N.Y. Graduate Center's Center for Latin American, Caribbean and Latino Studies estimates that the number of Mexicans will exceed the city's Dominican population by 2024, making them the largest Latino group in New York.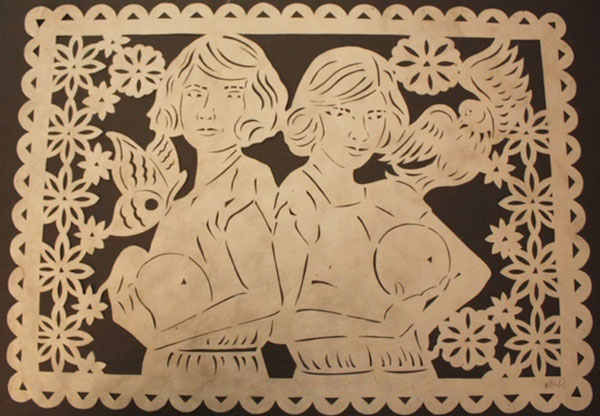 As a result, Olguin thinks that Day of the Dead celebrations will also get bigger. This year, he's hosting his second Day of the Dead party in Gowanus, Brooklyn at Observatory. It's meant to be an introduction to the holiday for those who want to learn more about Mexican culture. "If we're all going to die and mortality is inevitable, we may as well just play with the whole idea," says Olguin. "In Mexico, we tend to imagine that all dead people are having an everlasting party in the afterworld."
Artist Kai Margarida-Ramirez de Arellano makes papel picado (right, and slideshow below) to celebrate the holiday. Others celebrate with music and food. Round loaves of sugar-dusted bread called pan de muerto are shared with both the living and the dead, and families cook their dearly departed's favorite food, which Chef Ivy Stark of Dos Caminos restaurant says is inevitably mole. Click here to learn how to make her recipe for "Mole Negro," which is below.
Mole Negro
by Ivy Stark 
1 pound ancho chiles
1/2 pound guajillo
1/2 pound dried cascabel chile
½ pound chihuacle negro
2 pounds tomatoes, chopped
1 pound Mexican green tomato or tomatillo, chopped
Corn oil
4 slices white bread
1 cinnamon stick
5 cloves
5 whole peppercorns
1 sprig fresh thyme
1 pinch cumin
1/2 cup sesame seeds
1/2 cup shelled peanuts
1/2 cup blanched almonds
1/2 cup small raisins
1 1/2 plantains, chopped
1/2 cup walnuts
1 small onion, roasted, then chopped
1 small garlic clove, roasted, then minced
1 corn tortilla
1 piece Mexican chocolate square
1/2 cup chicken stock, plus 2 1/2 cups
3 tablespoons vegetable shortening
1. Toast ancho, guajillo, and cascabel chiles in a heavy skillet until skins blister. Remove from skillet and stem, seed, and devein chiles. Set aside.
2. Place tomatoes and green tomatoes in a saucepan and bring to a boil. Drain and blend in blender or food processor and set aside.
3. In a large saucepan, heat corn oil over low flame. Cut the 4 slices of white bread, into pieces and fry in the corn oil until golden brown. Add cinnamon stick, cloves, peppercorns, thyme, cumin, sesame seeds, peanuts, almonds, raisins, plantains, and walnuts. Stir ingredients together. Add more corn oil, to coat ingredients lightly. Add chopped roasted onion and minced roasted garlic. Continue to fry over low flame for about 20 minutes.
4. Add blended tomato mixture. Remove from heat and set aside.
5. Place corn tortilla over open flame and cook until burnt and crispy. Cut up and set aside.
6. In a medium frying pan, fry roasted chiles in corn oil along with burnt tortilla pieces for a few minutes. Combine tomato/spice/nut mixture with chile mixture in large saucepan. Add chocolate piece and cook until melted over a low flame. Add about 1/2 cup chicken stock to mixture and stir.
7. Place mixture into blender or food processor and puree until all ingredients have combined completely. More chicken stock may be added to smooth out sauce.
8. In a large saucepan, heat vegetable shortening. Cook the puree in the shortening, stirring constantly. Add more of the chicken stock until you achieve the right level of consistency that you'd like. Warm sauce for another 30 minutes over a low flame.
There are also a handful of celebrations beginning on Friday across the city. From Friday through Sunday, St. Mark's Church celebrates the holiday with a festival and workshops, in its churchyard on 10th St. and 2nd Ave. On Saturday, Ivy Stark and Scott Linquist, of Dos Caminos, offer cooking classes at their restaurant at 373 Park Avenue South at 27th St. from 11:30 A.M. to 2:30 P.M. Contact events@brguestinc.com to reserve your spot. On Sunday, Salvador Olguin hosts a party at Observatory at 543 Union St. in Brooklyn at 5 P.M. Admission is $5. And on Monday, Kai Margarida-Ramírez de Arellan holds a papel picado demonstration at at La Sirena at 27 East 3rd St. from 3:30 to 5:30 P.M. If you can't make it to the demo, check out a slideshow of how to make papel picado below.