Cuomo Campaigns Quietly on his Agenda, but Loudly on Paladino's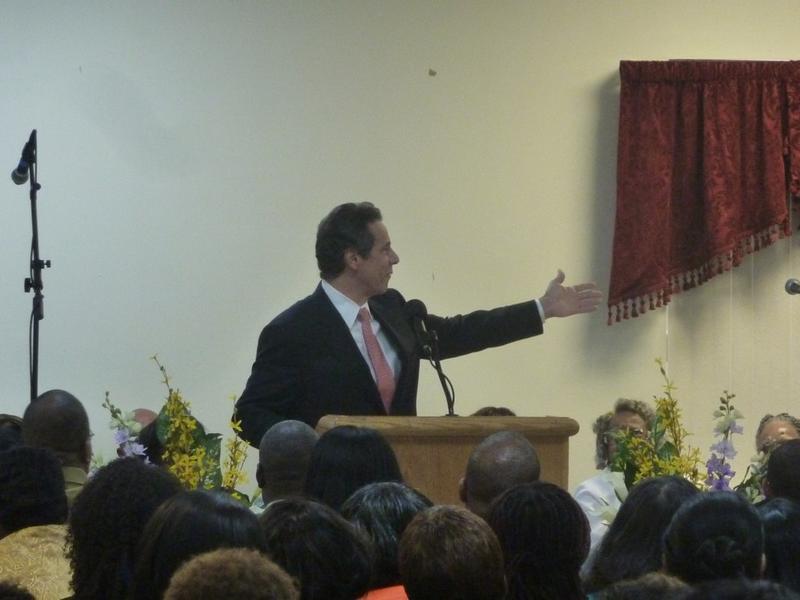 For a while, it's seemed like the more Carl Paladino talked, the less Andrew Cuomo had to say.
Paladino, the Tea Party Republican candidate for New York governor has, at various points in the campaign, not only questioned the manhood and "cajones" of Democratic rival Andrew Cuomo, but even said in a television ad that Cuomo's "prowess is legendary."
And there were plenty of other headline-grabbing rhetoric from Paladino.
In a heated exchange with a reporter, Paladino threatened, "I'll take you out buddy." That was after he wondered aloud why the media wasn't asking about Cuomo "about his paramours." "When he was married," Paladino's campaign spokesman explained.
Paladino said children had been "brainwashed" into thinking homosexuality was okay; his job-training program for welfare recipients would include lessons on "personal hygiene." He called former Republican Governor George Pataki a "denigrate idiot."
Needless to say, a good deal of media coverage on this race has centered on Paladino's comments. And after each verbal gaffe, Cuomo was quickly embraced by whichever constituency group Paladino's comments had offended. 
For a while, all Cuomo had to say was that he simply wasn't Paladino.
And, in fact, that's what he's done. At public events, Cuomo has gone into great detail about Paladino's platform rather than his own.
Take, for example, Cuomos' appearance at the Christian Cultural Center on Sunday, October 10. He was endorsed by the Rev. A.R. Bernard before the service. A member of the congregation, Ken Thompson, introduced Cuomo, recounting his record in the attorney general's office, and as President Clinton's Housing Secretary. 
Then, Cuomo took the stage. 
He gave some biographical information about himself, a quick reminder that his dad was governor, and then, he started describing "the platform of the opponents here in the state of New York."
According to Cuomo, "young children who are in failing schools" would, under Paladino, be removed "out of the home" and they would be relocated "in state-supported boarding schools to recondition the child."
The audience gasped.
"What do you do with families who are on welfare?" Cuomo asked, rhetorically.
"You put them in work camps, in retrofitted state prisons in upstate New York to learn personal hygiene," Cuomo said. "These are their words. Just listen to them."
Cuomo ended his remarks with soaring rhetoric about bringing people together, uniting instead of dividing.
"We believe in unity. We believe in community. We believe in sharing one another's benefits and burdens," he said. "We celebrate diversity. We love the differences. We love that we come from different places and have different accents and different cultures. And don't ever try to use it against us."
What wasn't in Cuomo's remarks was any reference to how his proposals differed from Paladino's. In fact, Cuomo made no reference to his own agenda at all.
Walking out of the church, I asked Cuomo about this emphasis on Paladino's policies, rather than his own.
"My sense is they had a good sense of the work I did as attorney general," Cuomo said. "Ken Thompson had just done it all in the introduction. He really went through a lot of the work I did. So, I didn't think it was necessary to reiterate that. But, three minutes is still three minutes."
Cuomo delivered a similar speech when he visited a Baptist church in Brooklyn a week earlier.
Only recently has Cuomo subjected himself to lengthy interviews to discuss his agenda. (These interviews, with a New York Times reporter, and later, the Daily News editorial board) came after he shunned the national media and other speaking venues.
The Albany Times Union criticized Cuomo for stonewalling such meetings. "[W]hy is a candidate who says he is so committed to openness dodging editorial boards in the state he wants to lead?" the Times Union asked on October 19.
Cuomo has also declined invitations to appear on places like NPR and Fox News shows hosted by Bill O'Reilly and Neil Cavuto. The breakfast forums hosted by Crain's - which includes a live Q&A from two reporters - has been a traditional campaign stop for governors, gubernatorial candidates and statewide politicians for years. Paladino spoke at Crain's on October 6. When asked if they tried booking Cuomo, a Crain's spokesperson declined to comment.
Cuomo has laid out his agenda in a series of policy book. They've been panned for by reporters because they're full of descriptions of problems, not solutions. In a Sunday Times magazine interview, Cuomo's father, former Governor Mario Cuomo, referred to the first policy book the candidate released as a "little pamphlet."
Not much attention has been paid to the details laid out in these books. But inside those pages, a clear picture emerges of immediate challenges Cuomo will face as governor.
His plan to reduce property taxes hinges on getting the state to cap their spending—which the powerful Assembly SPeaker Sheldon Silver has not agreed to do. 
If - and that's a big if - the spending cap is achieved, Cuomo is banking on revenues for the 2011-2012 year producing more than $1 billion in surplus cash. Nearly two-thirds of that surplus would go to property tax credits. Budget observers are quick to note that revenue projections have a habit of expanding and shrinking, depending on the presenter.
Cuomo also wants the state to take over the administration of Medicaid from counties. Cuomo says that will help deliver services better and cheaper. Of course, shifting control from the county to the state doesn't, in itself, translate to lower health care costs. Cuomo addresses this, writing that the state has to better "coordinate" and "monitor" treatment for those handful of patients seeking expensive, complicated care.
Another cost-saving measure Cuomo proudly touts is his legislation to make it easier for voters to consolidate local governments. But Joseph Spector reported in the Poughkeepsie Journal that since Cuomo's legislation was enacted earlier this year, all seven consolidation initiatives have been rejected by voters. 
On other issues, delving in Cuomo's policy books doesn't always yield the kind of detailed policy answers that advocates, reporters and voters sometimes want. He's limited his exposure in venues where he'd be pressed to give lengthy answers.
Here's the exchange Cuomo had with NBC's Marcia Kramer on October 19.
Kramer: "Why not do an interview about your issue positions and you can get the people to hear it?"

Cuomo: "I would love to talk to you about an issue."

Kramer: "That's what your staff has been saying for six weeks, but so far you and I haven't spoken."

Cuomo: "We're speaking now."
Cuomo then agreeed to an interview "next Thursday, 2 o'clock." When Kramer repeated the day and time to confirm Cuomo's intention, he replied, "No, I was kidding."
When Cuomo is pressed for details at press conferences, the answers are sometimes vague.
In his policy book about cleaning up Albany, Cuomo said he wants to lower campaign contributions. The limit is about fifty thousand dollars now. When asked on October 10 what he'd like to see as a new contribution limit, Cuomo would not say.
"I would be open to suggestions," he said, "because this is something we're going to have to work through with the legislature. So, I don't want to take a hard number and say 'it has to be ten and if it's not ten."
Cuomo is also proposing what he calls "a major reform initiative" to restrict how campaign contributions could be spent. Currently, campaign money can be spent on on things like country club memberships, which Cuomo says subsidizes a candidate's lifestyle, rather than contributes to their ability to wage a campaign.
What else would he like to ban as a contribution expense, reporters asked?
Cuomo basically repeated the question in the form of answer, and left it at that.