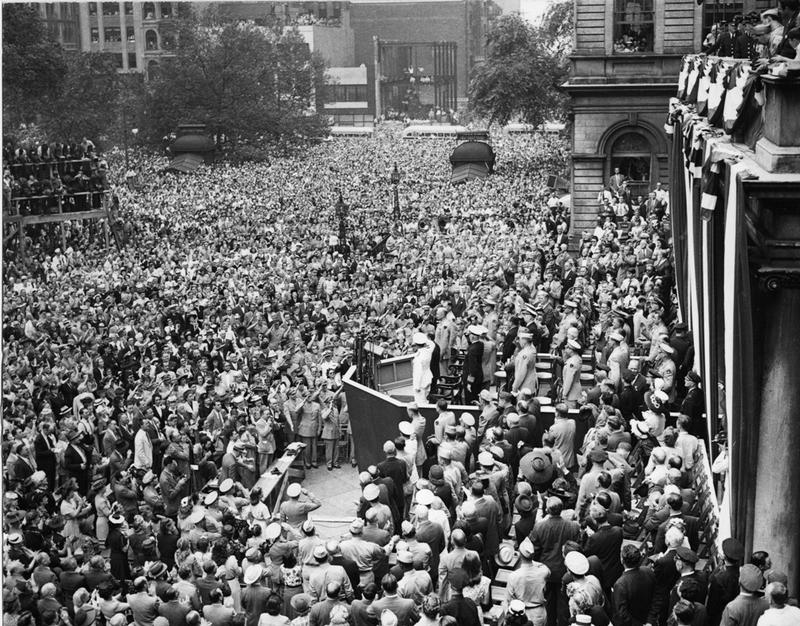 In September 2010, WNYC's Archives and Preservation Department began a two-year NEH-funded archival digitization project aimed at reformatting 660 hours of choice recordings from the NYC Municipal Archives WNYC collection found on lacquer disc and open reel tape.The two archivists doing the reformatting, Emily Vinson and Haley Richardson, have been busy digitizing this broadcast material at 96kHz/24 bit and creating PBCore-compliant catalog records, in an effort to make WNYC's radio legacy available online. The programs include dramas, parades, news conferences, muscial performances and interviews. They have been culled from some 13,000 lacquer transcription discs and 10,000 tapes. Processing them involves many hours of cleaning discs, searching card catalogs, deciphering names, consulting authorities and, of course, playing back these legacy formats in real time.
Today we present the first installment of Annotations, our little blog of archival treasures. We'll be making periodic postings of stories we find delightful and/or whimsical, so check back in with us for project developments and discoveries.
The Roving Reporter
In 1945 portable mobile recording was still in its infancy. Audio engineers had to either schlep bulky and heavy disc cutting equipment or, as individual WNYC reporters did during their coverage of the Eisenhower Day Parade, carry a backpack-style battery operated short wave transmitter, complete with an antenna tail (as pictured). The reporter's signal was sent from the field to the WNYC mobile unit, and then to the the WNYC studios in the Municipal Building.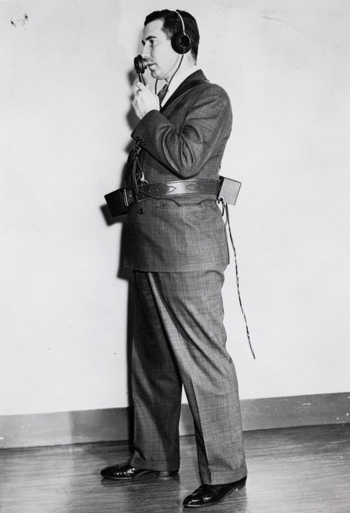 WNYC producer Dick Pack described the old days of the mobile unit in Variety: "The WNYC so-called mobile broadcasting unit was a small battered truck, the kind usually used by neighborhood stores for deliveries. Atop the slightly sloping roof of the truck was a tall antenna pole, and inside was the shortwave relay transmitter."
Perhaps you'll notice a change in the transmission quality.
The WNYC Mobile Unit
Joe Hassell, reporting from a make-shift perch in front of New York Public Library, had better luck with his signal, transmitting to the mobile unit van about 40 feet away --though he had to contend with the throngs of people eagerly awaiting General Eisenhower. Hassell's excitement as Ike comes into view is palpable as he describes the parade's progress down 5th Avenue.
Audio courtesy NYC Municipal Archives collection.