Three to See: Catch These Plays Closing This Week
As the days get shorter and the nights cool off, catching a play might be the perfect refuge to inevitable autumn nostalgia.
The Ring Cycle (Parts 1 and 2) If a show in Bushwick celebrating the camp and desolation of Reagan's 1980's by way of Wagner sounds like a hipster mashup worthy of ironic T-shirts, think again. Performance Lab 115's production of "The Ring Cycle (Parts 1 and 2)" uses '80's wrestling as the lightning rod through which to channel the epic deities of Wagner's "Ring" cycle with a sense of unadulterated fun. Sue Kessler is the managing director and curator of The Bushwick Starr, the venue for the spandexed and drop-waisted melee. She says that the production is effectively too legit to quit: "A lot of theater companies spoof off of sports or pop culture references, but these guys did something really smart. They took wrestling very seriously, and they're actually doing it." Though it can be debated exactly how much actual wrestling is going on in any 1980's style wrestling ring, Wagner's gods make perfect sense as grimacing, flexing, creatures of melodrama. When Act Two introduces the Kraft singles and Miracle Whip dinners of '80's economic desolation, it's clear the play doesn't just live in a land of air guitar and power ballads. Along with the raucous night of theater, audiences can cash in on the cool factor of putting their fingers to the off-the-radar artistic pulse beating in Bushwick. After all, heading to the Bushwick Starr can't hurt—the Metropolitan Opera's version of Wagner is much more expensive and sold out.
Here's when you can still see the play: Thursday 10/28 through Saturday 10/30 at 8:00 P.M.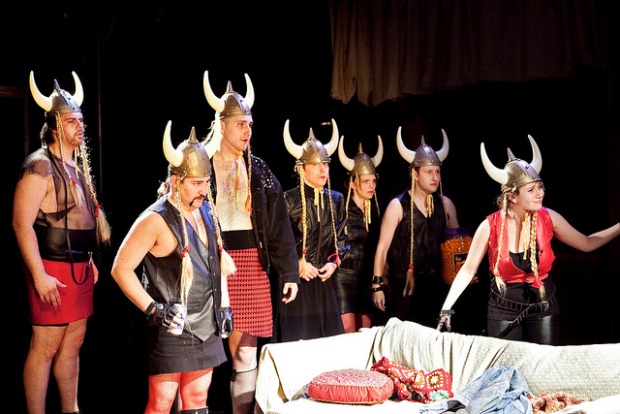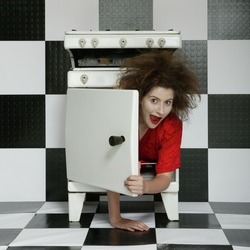 Wish I Had a Sylvia Plath Though Sylvia Plath's "The Bell Jar" might be tucked under the arm or pillow of nearly every morose high school student, the incarnation of the book's main character, Ethyl Greenwood, in this one-woman play isn't afraid to laugh. With her head in the oven and poised to kill herself (just as Plath tragically did a week after the book was published in real life), "Wish I Had a Sylvia Plath" takes place in Plath's last 10 seconds of life. Elisabeth Gray, who plays the 10 characters and—in Plath's own style—wrote the play under a pseudonym, wasn't a Plath fan until she started reading the author's recently published journals. Because Plath has a few poems kicking around in anthologies, Gray says that Plath is often misunderstood. "She's been proclaimed as this damaged housewife, the trophy wife of everything that can go wrong between men and women," she says. "There is actually much more than that. There is a great deal of fun." Flavorpill and Culturebot contributor Alyssa Alpine says the show was an unexpected pleasure. "There is a zany housewife quality to it," Alpine says. "It takes on the familiar theme of the repressed woman who is an artist and has difficulty reconciling creative ambitions with being a wife and a mother." But she adds that in the battery of shows she sees, "I Want My Own Sylvia Plath" possesses a biting wit that stands out. With her head in the oven and the show closing this weekend, you might want to see the play before its last 10 seconds of life are over.
Here's when you can still see the play: Wednesday 10/27 (Plath's birthday) at 1:00 P.M. and 7:30 P.M., Thursday 10/28 and Friday 10/29 at 8:30 P.M., Saturday 10/30 at 2:30 P.M. and 8:30 P.M., Sunday 10/31 3:30 P.M.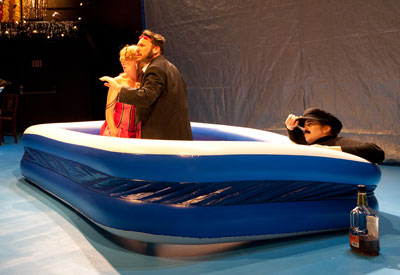 (oh my god I am so) THIRST(y) Mixed media dramaturgy is where the Little Lord theater company feels most at home, which means that everything and nothing are simultaneously sacred. In "oh my god I am so) THIRST(y)," Eugene O'Neill's early play, "Thirst," becomes the universe where plastic sharks, men in drag and an inflatable pool coexist. Michael Levinton sees the play, which he directs and acts in, as a two-pronged approach to O'Neill's text. "It's very colloquial. We are at the same time doing O'Neil's play but we are also commenting on it," he says in a voice tired from a run of high-octane performances. "We are celebrating it but also making fun of it." A meta approach to theater may sound heavy-handed, but one of the show's smart elements is its length. At just under an hour, Levinton says that audience members who aren't digging a part of the show can sit tight and it will change. The play also deals with the madness of characters at sea in a world where racial politics are the elephant in the room. Levinton wants the audience to see, so, go see it!
Here's when you can still see the play: Thursday 10/28 through Saturday 10/30 at 8 P.M.