Beware of Lice this Halloween
Watch out this Halloween! Not of ghosts and goblins, but of something far more sinister. Before you swap wigs, hats or masks, consider that they could be carrying an undesirable treat. Lice.
"Now is the lice season," says Dalya Harel, self-proclaimed 'Lice Buster.' "Most people have lice now, most kids in school. Some of the schools don't check. So, Halloween and Thanksgiving, Hurray! I'm ready for work."
Born in Israel, Harel currently lives in Borough Park, Brooklyn. A mother of nine, she's been picking lice out of heads for over 20 years. At first it was out of necessity, now it's for work. She can't count how many patients she sees a week, but it's certainly thousands per year. Sometimes Harel doesn't close up shop until after 1 a.m. But for her, lice is no cause for panic.
"It's a compliment to have lice," says Harel, "And you should be very proud when you have them. You know you're very friendly. You only get lice from people you love. The more you love the peoples, then you can have a chance to get lice from them. Try to send the louse to your enemy. You can never do that."
On the wall of Harel's office hangs a sizeable picture frame. In it are a few wise perceptions written in children's handwriting about the nature of lice. Waiting to see Harel, six year-old Ella Leonard read them aloud:
"Lice are smart. They can add eggs to you. They can multiple quickly. They can divide you from your family. Be smarter than them!"
Ella also adds lice are itchy and annoying. And for parents, there's nothing nice about finding lice at home. Jim Demarco, of Park Slope, is the father of a 4-year-old who brought home a surprise this pumpkin season.
"My daughter's school had an outbreak," Demarco says, "including the teacher. And I know way too much about lice than I'd ever wanted to know."
Try as you may to prevent them, lice are a fact of life in cities. Mary Vines, PTA co-president of P.S. 107 in Brooklyn, says that's hard news to working parents.
"The [Department of] Education policy is that if you have live bugs, you have to go home," recites Vines. "But if you only have nits, which are the eggs, you can stay in school."
As harsh as this may sound to some parents, the current NYC Department of Education (DOE) lice policy -- instituted in 2007 -- is far more accommodating than their previous, long-standing "no nit" policy, which excluded students from found to have any trace of lice eggs on their head from school. The change was long overdue for many, considering lice eggs can't move and, therefore, are not contagious. A common misconception is that lice jump from person to person. In fact, they can only crawl once they've hatched, and they're very slow at that.
So just how widespread is lice? Is it on the rise or decline? It is hard to gauge. The DOE and Department of Health don't keep records because they don't consider lice a disease. They also don't mandate regular lice checks in public schools. They say this on their Web sites:
"Routine inspections in schools have not been shown to reduce the number of students with live lice. Studies have shown that school-wide screenings for nits are time consuming, costly, and ineffective. Nits are not equivalent to head lice and should not result in school exclusion or a school-wide surveillance initiative."
The National Pediculosis Association (NPA), a non-profit organization serving the public since 1983, begs to differ. The organization is outspoken about the need to promote head lice prevention, as it contributes to the over-all health and wellbeing of communities. The NPA also advocates a universal "no nit" policy stating, "Pediculosis represents one of the most common communicable childhood diseases and whether or not we understand how this has evolved, it is important to acknowledge head lice as a problem when raising or caring for children."
So what do you do if you have to go home? If it's your first time contracting lice, getting the right information can be the hardest part. Most turn to the drugstore they know best and buy expensive over-the-counter lice kits that some say don't work. Liz Ann Doherty, a school nurse at an independent school in New York, explains why these products are ineffective.
"If the child has had this case for seven days and the louse has already laid the eggs," says Doherty, "you're gonna kill the live louse, but you still have eggs that are gonna hatch in seven days. The product won't do anything for that."
Also, many of these products contain dangerous pesticides and may cause serious side-effects. Doherty, along with most lice experts, recommends combing lice out the old fashioned way, a task that certainly can be daunting—especially if you've never done it before.
For those who question their lice combing skills, a visit to Harel's office might be worth the peace of mind. She charges between $100 and $200 per head, a steep fee, for sure, but one that comes with her personal guarantee. And this Halloween, she's bracing herself for the onslaught.
Is there a silver bullet in the fight against head lice? Harel swears her weapon of choice will do the trick, "I recommend everyone to put garlic extract in their hair, in order not to get the lice."
It turns out, garlic may just stop more than vampires this October 31.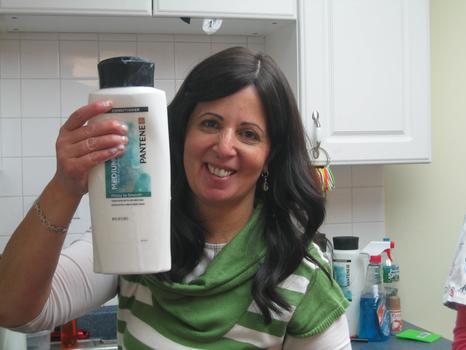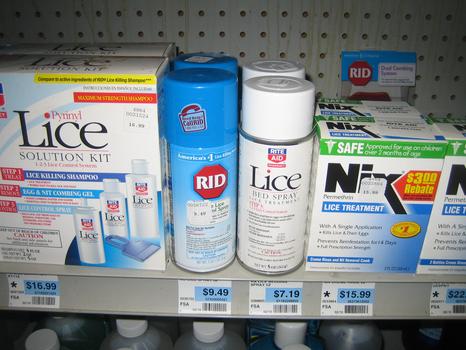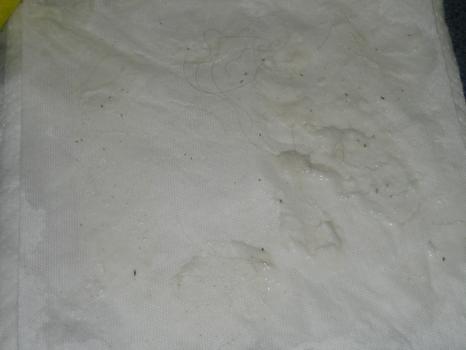 of