A Very Special Election: City Council District 28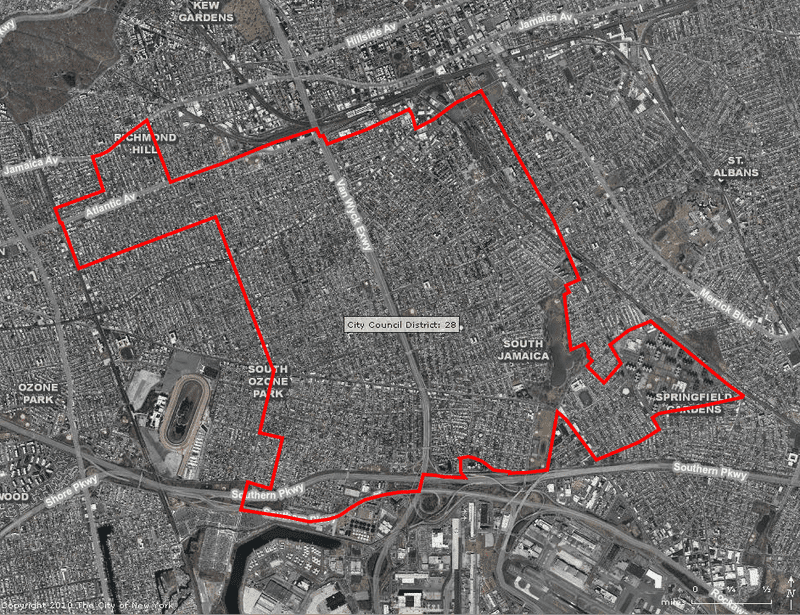 On the national and state level, this political season has been rich enough in terms of outlier candidates and weird political shenanigans, but the local race in City Council District 28 (Queens) also has a cast of characters worth noting. They're all running in the non-partisian special election for City Council Member on November 2, due to the death of Councilman Thomas White, Jr. this August.
The seven people competing to represent this diverse district in southern Queens, which touches the neighborhoods of South Jamaica, South Ozone Park, and Richmond Hill, represent a microcosm of the new New York politics.

Nicole Paultre-Bell is among the candidates. She's a political novice whose well-known name has a bittersweet ring. She was the fiancé of Sean Bell, who was shot and killed by New York police officers in 2006. Paultre-Bell has no political background but she has certainly been in the public spotlight. She says anti-violence measures and safer streets are important issues to her. She also is campaigning on support for small businesses, and recently got an endorsement from the Retail, Wholesale and Department Store Union.
Also in the running is former City Councilman, Allen Jennings, who's had his share of controversy (he was censured for sexual harassment while in the Council), and former political aide to State Sen. Shirley Huntley, Ruben Wills, who is vying for his first elected position. Wills was looking like the favorite to some, but last week he was the subject of anonymous mud-slinging—flyers appeared in the district that called him a 'deadbeat dad' for being behind on his child support payments. Wills says he only recently found out about the existence of a teenage daughter, and the allegations are unfair.

Harpreet Singh Toor is also a candidate, and hopes to be the first Sikh to be elected to the City Council. An immigrant from India, Toor represents a rapidly growing South Asian presence in this part of Queens. Toor says that education is the most important issue in Council District 28, and that he would bring more than 25 years of community activism to the job. But some reporters, like Karen Clements in The Examiner, doubt the ability of a turban-wearing Sikh candidate who is often mistaken for a Muslim to win in an increasingly charged political and religious environment. The NY Post also reports that Toor allegedly owes $70,000 to collection companies. Toor's campaign manager says the debt was incurred in health care costs, while the candidate was caring for his ailing wife.
The elected Council Member will serve through 2011 and will have an opportunity to run for reelection next fall.