Do You Know What New York's Speed Limit Is?
"Many New Yorkers do not even know what the speed limit is," said New York City Transportation Commissioner Janette Sadik-Khan. Speaking today at the intersection where Broadway, Amsterdam Avenue and West 71st Street meet in a notorious "bow-tie" configuration, she said that the city and the New York Police Department are kicking off an enforcement campaign designed to make the streets safer for pedestrians, bicyclists and drivers.
The city will be running advertisements, commercials and radio spots that aim to educate New Yorkers about the importance of sticking to the speed limit. You can see examples of the commercials here.
"The speed limit is 30 miles per hour, and it's 30 for a reason," said Sadik-Khan. "If you are a pedestrian and you are hit by a car at 40 miles per hour, there's a 70 percent chance that you will die. If you're a pedestrian hit by a car at 30 miles per hour, there's an 80 percent chance that you will live."
She said that pedestrians accounted for 52 percent of traffic fatalities from 2005 to 2009, and that Manhattan has four times as many pedestrian deaths as the other boroughs. Overall, however, according to department data last year saw the fewest traffic fatalities in New York City history.
The NYPD recently received a $150,000 grant from the governor's Traffic Safety Committee, which it will use to increase enforcement of moving violations. And it's not just speeders who are being targeted.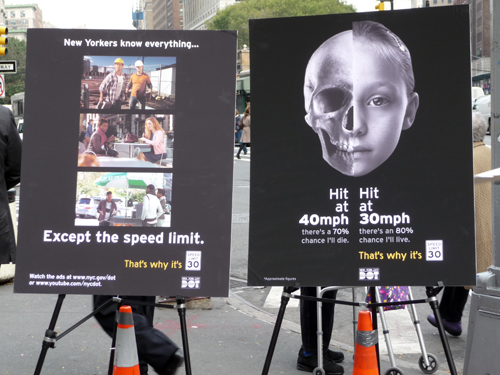 "We have over 2,000 police officers trained in bicycle patrol," said NYPD Commissioner Raymond Kelly. "They received a three-day course on bicycle safety, and also how -- and what -- to enforce." They will be ticketing bicyclists who go through red lights, ride on the sidewalk, or ride against the traffic. But Kelly said that ticketing a biker isn't always easy.
"Bicyclists move along at a pretty good clip, particularly if the officer is by him or herself, it's difficult to do," he said."A lot of bicycle enforcement requires a team effort -- someone to observe, someone to stop. Just because you see a violation doesn't mean you can necessarily issue a summons for it."
So far this year he said that the NYPD has issued over 800,000 summonses for moving violations, while 26,000 of those went to bicyclists. And 22,000 of those bicyclists were riding on the sidewalk. The NYPD and the DOT have identified ten precincts in Manhattan and Brooklyn that they said see a significant amount of injuries involving cyclists. "We'll be looking at those primarily, but not exclusively," Kelly said.
The DOT is also installing pedestrian countdown clocks in 1,500 intersections across the city. The Broadway/Amsterdam/71st Street area clocks were formally unveiled today. These new walk signs are just the first in a series of efforts that are designed to make that intersection safer. Future plans include installing new pedestrian areas, extending medians to create safer pedestrian islands in the middle of the avenues and straightening out traffic lanes so that the roadway is clearer for drivers and pedestrians. The commissioner said there were no plans to eliminate traffic lanes or parking spaces. "We're really improving the roadway geometry of a really chaotic intersection," Sadik-Khan said. Other high-crash intersections that the DOT intends to look at are on Canal Street, 57th Street and 125th Street.