Read some recipes from Mark Bittman's new cookbook: The Food Matters Cookbook. 
Grilled Turkey Hash with Red Wine Glaze
Makes: 4 servings Time: About 1 hour
Potatoes and turkey are a good classic combo any time of the year, and this rich hash is a lot easier to prepare than Thanksgiving dinner. With the quick and full-flavored red wine glaze, it's more interesting too. And if it's not grill- ing season, you can always broil the turkey or use leftovers instead.
1 cup red wine
2 garlic cloves, crushed
3 sprigs fresh thyme, or 1 teaspoon dried
4 large all-purpose potatoes (like Yukon Gold), peeled and cut lengthwise into 1⁄2-inch slices
1 turkey thigh (about 1 pound) 1 red onion, halved Olive oil as needed Salt and black pepper
1⁄4 cup chopped fresh parsley, for garnish
1. Put the wine, garlic, and thyme in a saucepan over medium-high heat. Bring the mixture to a boil, then adjust the heat so that it bubbles gently. Cook until the wine is reduced to a syrup, 15 to 20 minutes.
2. Meanwhile, prepare a grill to medium-high heat and put the rack about 4 inches from the fire; keep one part of the grill fairly cool for indirect cook- ing.
3. Drizzle the potatoes, turkey, and onion with oil and sprinkle with salt and pepper. Put everything on the cool side of the grill with the turkey skin side up. Cover the grill and cook, turning the pieces once or twice, until the pota- toes are tender and the turkey is no longer pink, 25 to 30 minutes. Uncover the grill and move the potatoes and onion so they stay warm but don't burn. Put the turkey over the hotter part of the fire and grill, turning occasion- ally, until it is browned on both sides and cooked through, 10 to 15 minutes more. (You can prepare everything up to this point a day ahead of time; just gently reheat the vegetables, turkey, and red wine glaze before assembling.)
4. Pull the turkey meat off the bone and roughly chop the potatoes and onion. Toss everything with the red wine syrup and chopped parsley. Serve hot or at room temperature.
Roasted Turkey Hash with Red Wine Glaze. Use sweet potatoes instead of Yukon Gold, and instead of preparing a grill, heat the oven to 375°F. Cut the potatoes and onion into cubes. Follow the recipe through Step 1. In Step 3 put the vegetables and turkey in a large roasting pan, drizzle with the oil, and season with salt and pepper. Roast, turning occasionally, until the tur- key and vegetables are browned and cooked through, 45 to 50 minutes. Pick up the recipe again at Step 4.
---
Plum Chicken Salad
Makes: 4 servings Time: 30 minutes with leftover cooked chicken
Firm plums are perfect here, but chicken tastes good with almost any fruit, so if plums aren't available, try peaches, apples, pears, berries, or even tropical fruit. You can vary the nuts too (check out the variation).
About 8 ounces fresh plums, pitted and thinly sliced 2 tablespoons balsamic vinegar 3⁄4 cup chopped almonds Salt and black pepper
1 tablespoon chopped fresh oregano, or 1 teaspoon dried 1⁄4 cup olive oil 2 celery stalks, thinly sliced 1⁄2 red onion, chopped
8 ounces roasted or grilled boneless, skinless chicken, chopped or shred- ded (about 2 cups)
6 cups mixed greens (like mesclun), torn into bite-size pieces
1. Toss the plums with the vinegar in a large salad bowl. Cover and refriger- ate for at least 15 minutes and up to 2 hours.
2. Meanwhile, put the almonds in a dry skillet over medium heat and toast, shaking the pan frequently, until they are aromatic and beginning to darken, 3 to 5 minutes. Remove from the heat and let cool.
3. Sprinkle the plums with salt and pepper and add the oregano, oil, celery, onion, and chicken; toss to combine. Taste and adjust the seasoning if nec- essary. (The salad can be made ahead to this point and refrigerated for up to an hour.) To serve, divide the greens evenly among 4 plates and top each with some of the plum-chicken mixture, or add the greens to the salad bowl and toss everything together. Garnish with the toasted almonds.
Fig Chicken Salad. Substitute fresh figs, quartered, for the plums and use hazelnuts instead of almonds.
---
Noodles with Broccoli, Beef, and Black Tea Sauce
Makes: 4 servings Time: 30 minutes
Black tea adds a deep, smoky flavor to this classic beef and broccoli stir-fry. If you want it even smokier (and meatless), use cubes of smoked tofu instead of the beef.
1 tablespoon black tea leaves (or use a high-quality tea bag) 1 cup boiling water Salt 1 pound broccoli, trimmed
2 tablespoons vegetable oil 8 ounces sirloin, skirt, or other beef steak, sliced as thinly as possible Black pepper 1 tablespoon minced garlic 1 tablespoon minced ginger 1 fresh hot chile (like Thai or serrano), minced 1 bunch scallions, white and green parts separated, all chopped 1 tablespoon soy sauce, plus more for serving, optional 8 ounces rice, buckwheat (soba), or wheat noodles, preferably whole grain
1. Steep the tea leaves in the boiling water for at least 5 minutes, then strain the tea. Bring a large pot of water to a boil and salt it. Core the broccoli and break it into florets; slice the stems into coins about 1⁄4 inch thick.
2. Put 1 tablespoon of the oil in a large, deep skillet over high heat. When it's hot, add the beef to the pan, sprinkle with salt and pepper, and let it sear for a minute or 2; stir and let it cook for another minute. It should be browned outside but still pink inside. Remove from the pan.
3. Add the remaining 1 tablespoon oil to the pan along with the broccoli, garlic, ginger, chile, and scallion whites; cook, stirring, until the broccoli is bright green, glossy, and beginning to brown in spots, about 5 minutes. Return the beef to the pan, stir in the tea and soy sauce, and cook until some of the tea evaporates and the sauce thickens a bit, a minute or 2 longer.
4. Meanwhile, cook the noodles in the boiling water until they're tender but not mushy. Check them frequently: The time will vary from a minute or 2 for thin rice noodles, to 5 minutes for soba, or up to 12 minutes for wide brown rice noodles. When the noodles are done, drain them, reserving some of the cooking liquid. Toss the noodles with the broccoli and beef, adding cooking liquid as necessary to keep everything moist. Taste and adjust the seasoning, garnish with the scallion greens, and serve, passing more soy sauce at the table if you like.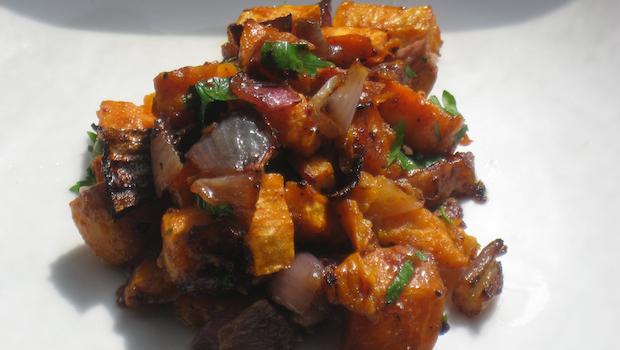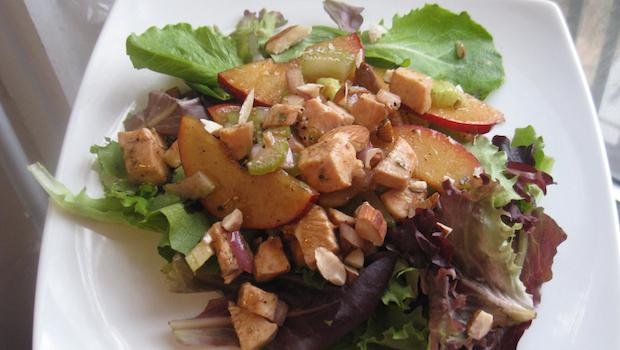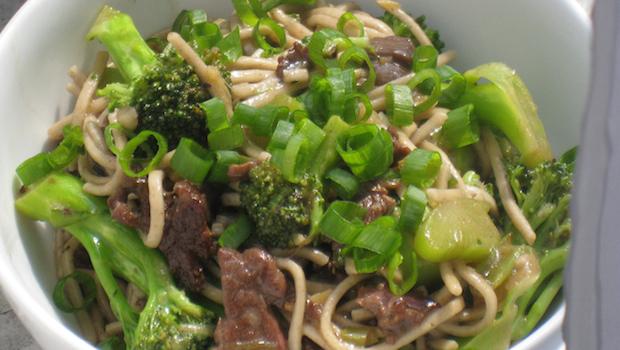 of