Brooklyn Residents, Cyclists Debate Park Slope Bike Lane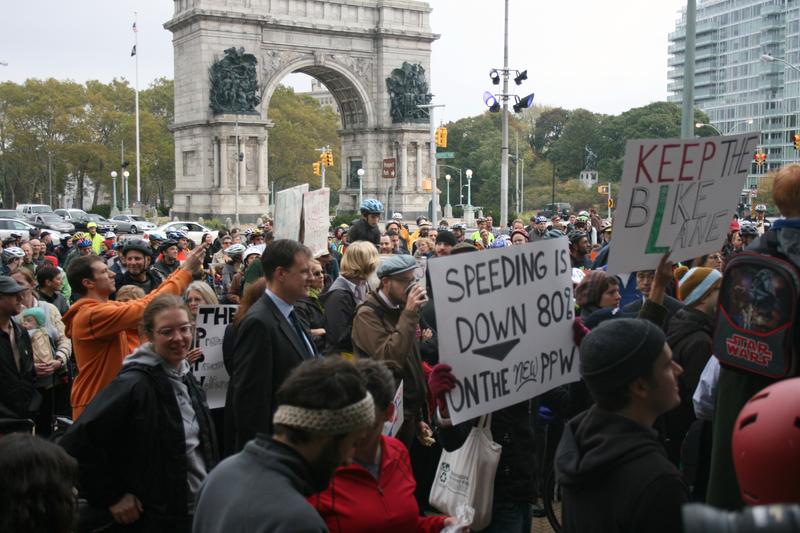 Park Slope residents and cycling advocates led two boisterous rallies on Thursday, over the future of a protected bike lane along Prospect Park West.
More than 100 cyclists and bike lane supporters held a rally at Grand Army Plaza in support of the bike lane. Afterwards, supporters rode and walked two blocks to meet a smaller group of protestors speaking out against the bike lane.
The Department of Transportation created the bike lane this past summer, after the local community board voted for it in the hopes it would protect cyclists and cut down on speeding automobiles. As a result, Prospect Park West's three car lanes became two lanes, and a buffer zone now separates the bike path from a designated parking lane.
On Thursday, the opposing groups crowded alongside the lane holding signs and chanting, while passing cyclists rang bike bells in protest.

Some Park Slope residents believe that the bike lane has made the street more dangerous, since pedestrians now have to cross a two-way bike lane and then a one-way street when leaving Prospect Park. Some residents also say that cyclists do not obey traffic lights along Prospect Park West.

Other concerns include increased congestion and increased parking difficulties due to the decreased number of lanes.

"It's created a lot of traffic on the park. It's affected schools along Prospect Park West where people are unable to drop off their children in a manner they were used to. It's not a good thing for the neighborhood," said Karin Dimiceli, an office manager and Park Slope resident.
The bright green bike path also detracts from the historic district's appearance, said Katrin Rouner, who also lives in the neighborhood.

"The drawbacks in terms of increased traffic safety issues and the cost to the architecture and aesthetics of Park Slope seem to outweigh benefits," she said.

However, cyclists and other supporters said it's not a pedestrian safety issue, since cyclists should still obey traffic lights, and pedestrians simply need to look both ways before crossing. In addition, many believe slower traffic is an improvement for a street known for speeding cars.

"I used to have to ride on Prospect Park West before the bike lane and it was like taking your life in your own hands. It was too fast; the drivers were going way too fast," said Marina Bekkerman, a graphic designer who takes her bike to work.

Perhaps most importantly, the bike lane provides cyclists with much safer commutes, supporters said.

"Whenever I'm on my bike, absolutely I'm very worried about being hit by a car, and it's so nice to have a little stretch of road where I don't have to worry about that," said Charles Yuen, an artist living in Boerum Hill.

The Department of Transportation is currently monitoring the project and hopes to present its findings early next year.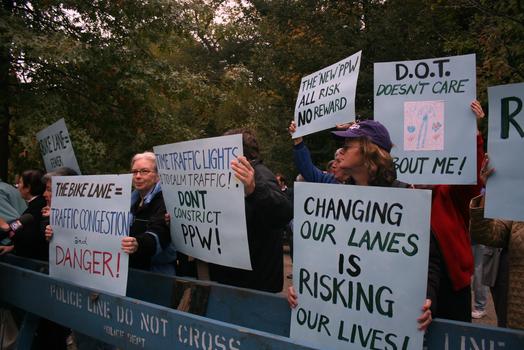 of