The Spin: a Madam's Notes, a Goldwater Democrat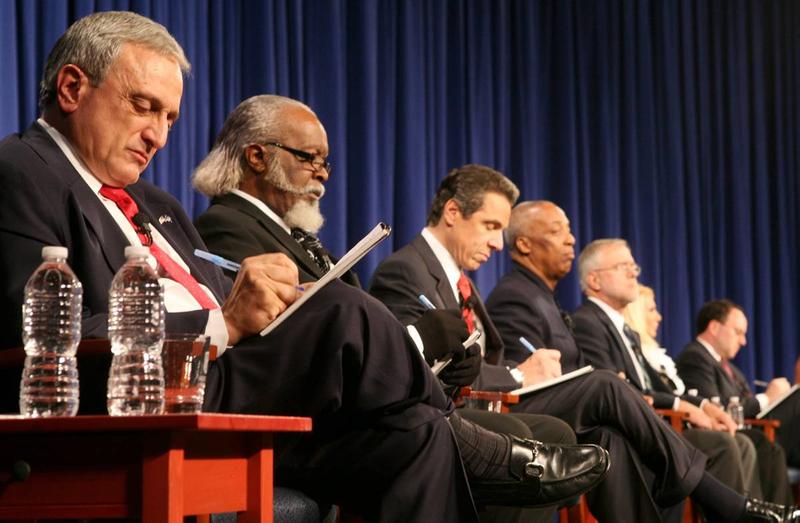 When the candidates left the stage, the real debate began. Democrat Andrew Cuomo and Republican Carl Paladino walked off stage and sent surrogates to spin reporters after the 90-minute debate at Hofstra University.
Reporters were seated in the upper deck of the David S. Mack Sports Complex and did not even have a direct line of view of the stage (a black curtain had been erected, along with several flat screen televisions for viewing).
Once the debate ended, Cuomo and Paladino aides wandered over to reporters, telling them their version of what took place. Also wading into the crowd were the five-minor party candidates themselves.
Self-professed madam-turned-politician Kristin Davis said she may have had some memorable zingers during the debate, but they weren't pre-written.
"We weren't allowed to bring anything on stage, so I didn't have a script," Davis said with a CNN microphone and cameraman trained on her. "I just made some notes so that I could pad myself and make sure everything I wanted to say got out there. Unlike Sarah Palin, I write it down on a piece of paper, not on my hand."
One of Davis' most notable policy positions -- the decriminalization of prostitution -- went unmentioned in the debate. When asked why, Davis seemed unsure.
"There wasn't any specific reason" for its omission, Davis said. "I didn't have a chance to answer that. It wasn't on the agenda."
State Republican Chairman Ed Cox was on hand, telling reporters that for a first-time candidate with far less debate experience than some of the others on stage, Paladino did great.
WNYC also asked Cox about reports that Republican National Committee Chairman Michael Steel reneged on an offer to give $400,000 to the New York Republican Party, out of dissatisfaction with Cox. Cox said he and spoken with Steel earlier that evening and planned to work together on Steel's upcoming trip to the state. When pressed for an answer about the $400,000, Cox said, "The RNC has contributed money. The amounts, I don't know because they're going directly into some of the counties with it to do things." Cox then added, "Money is coming in from other organizations at the same time to support our efforts here for get out the vote."
The real spin of the night came from Paladino's campaign manager, Michael Caputo. He tried to explain to skeptical reporters that Paladino's refusal to even utter Cuomo's name was not a drastic change in strategy. Reporters asked if Paladino's non-confrontation approach to the debate was in response to the criticism he faced after questioning Cuomo's manhood, "cajones" and fidelity.
"It was a chance to come out and talk about Carl's platform for New York," Caputo said. "It wasn't the time to talk about how bad Andrew Cuomo is on the issues."
"What people saw tonight is the real Carl Paladino. Not the Carl Paladino who's been attacked a reporter in a hallway. Not the Carl Paladino whose daughter was stalked by a reporter. Not the Carl Paladino who is being defined by Andrew Cuomo," he said.
Caputo added, "This is an opportunity for Carl to speak without a media filter."
Republican operative Roger Stone, who has advised Paladino, said, "I think he's in a rebuilding process. He really needed to reintroduce himself to voters and get back to the basics of his message."
Stone said Paladino "took a detour pertaining to social issues that I don't think are on the forefront of most voters minds," referring to Paladino's statement to Orthodox Jews about children being "brainwashed" into accepting homosexuality as normal.
Stone did pay a back-handed compliment to Democrat Andrew Cuomo, saying his fiscally-conservative agenda made him sound like a someone from another party.
"He did sound very, very Republican tonight," Stone said of Cuomo. "In fact, I would go so far as to say his platform on his Web site is a pretty right-wing platform. I really like it," said Stone, who got his start working for President Richard Nixon. "I had no idea he was a neo-conservative."
When asked to explain the Republican strands in Cuomo's agenda, Stone referred to Cuomo's plans to reduce state spending, cut taxes and shrink the size of the state workforce.
"He sounds more and more like Barry Goldwater every day," Stone said.
The chairman of the state Democratic Party, Jay Jacobs, rejected the notion that Cuomo sounded like a Republican.
"I think you can be a progressive Democrat and retool and refashion government to deliver better and more service without being wasteful," said Jacobs. He then pointed to Bill Clinton as "an example of that new Democrat who refashioned the way you look at government" and "the big spender ended up being George Bush. I don't know what the world is made up these days."