Immigrant Advocacy Groups Work to 'Get Out the Vote'
As Election Day draws closer, immigrant advocacy organizations are ramping up their "get out the vote" campaigns.
Part of that effort is encouraging new citizens to represent those who can't vote at the polls. Juan Carlos Perez, of the organization New Immigrant Community Empowerment, in Queens, says even though the thousands of undocumented immigrants living in the city can't cast ballots, they'll still influence the elections by educating their neighbors about politics.
"We target Latino voters in the area," Perez said. "So they go out to them, they explain to them what the issues are, and how important it is for them to go out and vote."
Perez's organization is part of a statewide campaign, organized by the New York Immigration Coalition, to bring 20,000 new immigrant voters to the polls. Immigrants and their children account for more than 17 percent of registered voters in New York State.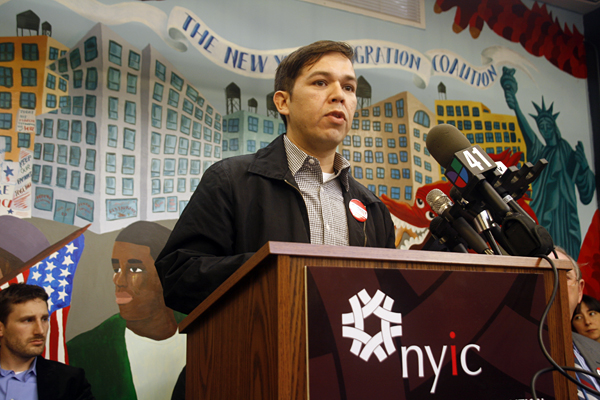 Gonzalo Mercado, Executive Director of the El Centro Community Center on Staten Island, spoke at a 'Get Out The Vote' event at the NY Immigrant Coalition on October 18.
Gonzalo Mercado, Executive Director of El Centro, a community center on Staten Island, says one of the reasons immigrant groups historically have low-turnout in elections is because many need basic education about how to participate in the political process.
"Many of the immigrants that we have on Staten Island, or in any parts of the country, in many cases don't know or haven't seen democracy in action," he said.
Mercado added that the recent spate of bias crimes on Staten Island this year has motivated immigrant groups to be more engaged in the political process and correct negative stereotypes. He's hoping that increased immigrant participation in the electoral process will result in more awareness to immigrant issues like healthcare, affordable housing, and of course, immigration reform.