Where They Stand: The Third Party Candidates for Governor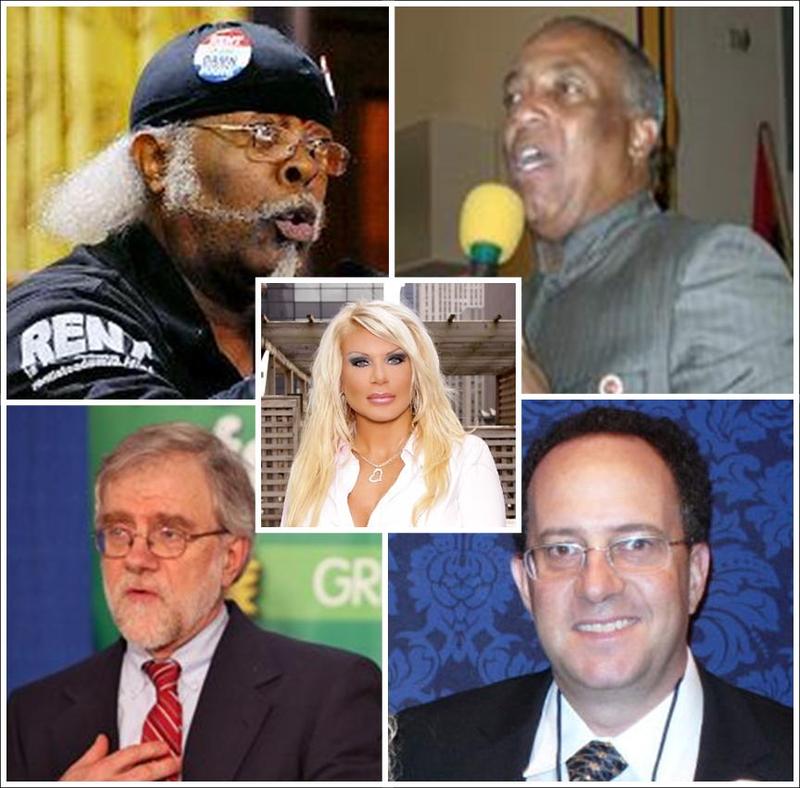 It's A Free Country looks at the positions and priorities of the candidates for New York governor who aren't named Andrew Cuomo or Carl Paladino.

From the Howie Hawkins for Governor website:
against corporate subsidization.
supports revenue sharing with local governments.
would replace the two-party system through proportional representation and strengthened disclosure laws.
supports a living wage.
favors a system of single-payer, community-based healthcare.
against hydrofracking and nuclear energy.
supports free education through graduate school.
opposes privatization of education.
favors the Community Schools model.
would prioritize green retrofits on every residential and commercial building
would ban corporate-owned farms.
would support family farms with price supports, credit, and tax relief and create financial and technical assistance incentives to convert farms to organic.
would support farmer-owned processing and marketing cooperatives and consumer-owned food cooperatives.
proposes a moratorium on foreclosures, with the state bank refinancing loans.
against subsidies for private developers.
would invest in public housing and enforce home rule on rent control laws.
wants to repeal the Taylor Law against public workers' right to strike and to end the exclusion of farmworkers from the state's fair labor laws.
supports public school teachers' due process tenure and seniority rights.
against drug prohibition, advocates legalization, regulation and taxation of drugs, starting with marijuana, and access to treatment.
supports the right of women to access all reproductive services, including abortion.
supports marriage equality.
against NY National Guard involvement in overseas wars and would remove the predator drones from Hancock Air Base.
supports full funding of public defenders.
against the death penalty and opposes the incarceration of nonviolent offenders.
would move land use planning authority to elected metropolitan/regional planning boards in order to end sprawl and protect environmental resources. 
would create transit-linked, pedestrian-friendly neighborhoods of mixed homes, shops, jobs, schools, parks, and civic buildings.
would refuse unfunded state mandates and create a state takeover of Medicaid costs.
would change the state tax structure to reduce local sales and property taxes. 
would support municipal charter reforms.
advocates a "City Care" program to roll back rents, supported by government grants, which he predicts will generate $3-6 billion in under six months, and would give landlord/tenant court judges access to a defendant's personal information, including rental payments, phone number, and dental care, as well as information regarding the landlord's violation record, registration status, and the rent paid by the previous renter.
advocates a "tenant bill of rights".
does not have stated positions on issues besides rent  - his website proclaims "there is nothing else to talk about."
advocates a cap on bureaucrat pay at $100,000 per year, and a pension cap of $75,000.
would end spending on "economic development" and lower taxes. This includes ending the Environmental Facilities Corporation, New York State Stem Cell and Innovation Fund Corporation, and spending on the World Trade Center redevelopment.
would put all pay raises for political figures to voter referendums.
would cut spending and eliminate nearly all the other taxes besides personal income tax, sales tax, and corporate tax.
supports eliminating pain and suffering damages in most lawsuits except in cases of gross negligence.
supports the Second Amendment, including the right to carry a concealed weapon.
would defend everyone's home  business or house of worship from eminent domain abuse.
would shift traffic enforcement attention from empty stretches of highway to busy intersections, areas with high pedestrian/car interaction, and other dangerous places.
supports drug policy reform to take the profit out of the market for illegal drugs, while focusing on keeping drugs out of schools and protecting children.