Reigning Cats and Dogs: 'Meet the Breeds' at the Jacob Javits Center
New York City prides itself on diversity—its rich ethnic tapestry, its international visitors, its confluence of cultures. This past weekend, those traits were celebrated with a twist—or perhaps we should say, a tail. Each year, the American Kennel Club (AKC) and the Cat Fanciers Association team up to create "Meet the Breeds," a combination expo, trade fair and petting zoo. It is designed to introduce the public to nearly 200 recognized breeds of dogs and cats, some with histories as old as recorded civilization.
For this purpose, the vast Javits Center rotunda is divided up into stations for each breed of dog and cat. These are then lavishly decorated by local breed club volunteers to reflect each animal's origins, function, characteristics and culture.
In addition to these "sets," each booth features its stars—actual dogs and cats acting as ambassadors who are eager to be touched, fed, and photographed. Their human factotums (frequently costumed) are there to provide useful facts ("drools," "loyal," "prey driven," "good with kids") and effusive endorsements.
In the center of the floor, a series of entertaining demonstrations introduces the audience to agility trials (for dogs and cats); obedience (not for cats!); and reenactments of U.S Customs and Border Protection searches, so you know exactly what that winsome beagle is sniffing for at the airport. (Customs deploys 23 canine teams at J.F.K. alone.) Trained search dogs can distinguish as many as 80 different scents. I feel a reality show coming on: "Iron Nose."
Old Loves, New Friends
Favorite breeds, such as Golden Retrievers, Bulldogs and Poodles were greeting their public at the Javits Center, but the AKC also sees the weekend as a chance to introduce newly accredited breeds, such as the Mexican Xoloitzcuintli. (The booth featured a pronunciation crib sheet for these delicate crepe-y dogs, which date back to Aztec times—it's Shoh-loh-eets-kweent-lee). Another AKC newcomer was the flamboyant Leonberger. As the name suggests, these striking coppery dogs were bred by royalty to resemble lions. And some dogs were right outside the box: "Paul Newman," a rare white Bassett not recognized by the AKC., gave a whole new meaning to the term "publicity hound." He has his own business card, which states that he is available for print, TV, and film interviews.
Expos like these are a vendor's paradise, and visitors come away staggering under loads of pet food samples and brochures for merchandise and services.  Pets are recession proof, which may explain start-ups like Pet Airways, which offers coast-to-coast, door-to-door courier service, and Petbook Diaries.com, a sort of Facebook for pets, as well as booths offering jewelry, apparel, artwork, spa treatments, and dog and cat beds that look as if they've been designed by Isamu Noguchi.
There was even an eye-catching booth for pet sitting service, Beg 'n' Bark, that trains its staff in pet C.P.R. (eye-catching in that a "wounded" cat lay at the base of the display table, and on it a synthetic rubber dog was the C.P.R. demo model.) Staff member Jenna Whitelaw demonstrated for me: 
Animals are at the heart of many charitable organizations and services—as both victims and saviors—and many were in evidence at the Javits Center. The easy winner for the most jaw-dropping display was Rescue Ink, a huge booth that sported hot-rod like trim, and was manned (well, mostly) by biker dudes with a lot—a lot—of tattoos. It turns out this is not just guerilla branding; these knights in shining leather are the genuine article, "real street guys from Ozone Park Queens," with "turbulent pasts," according to spokesman Joe Panz. The group, which ranges from nine to 14 members (Panz and member "Johnny O" liken themselves to a Navy Seal unit), intervene in cases of animal abuse. Think "Goodfellas" meets the The Humane Society. They want to let people know that "you can be a tough guy and still do the right thing." They also still speak in tough-guy code. How do they deal with abusers? "We educate them," notes Johnny O. "Our presence tends to give you a moment of pause," says Panz. Their mascot at the Javits? A tiny Maltese in a motorcycle vest.
For all the sheer fun of it (where else can you see a suburban matron dressed as Queen Elizabeth II to match her Corgi, or a breed of hairless cat that looks like papier mache; or an Hungarian Kuvasz swarmed by six-year olds?) "Meet the Breeds" has a serious mission—it wants you to meet them now, so you don't discard them later.
Let's face it, many people acquire pets the same way they go on blind dates, or place "Personals" ads—with a couple specifics (must have hair; non-smoker) and a lot of cloudy hopes. Events like this help people to learn which dog, or which cat, should or could become a lifelong member of your family. That's not to say romance doesn't enter into it. So, I asked a number of breed representatives to describe their breed as a potential date. Here are some examples. (Listen to the link above for more; the musical bed is from Peter Schickele's "A Litter of Perfectly Healthy Puppies Raised on Fried Pancakes," from Thurber's Dogs).
Kathy deLuca, Neopolitan Mastiff: "A big, drooly lover."
Eilenn Flanagan, Irish Wolfhound: "The old saying is, 'gentle when stroked, fierce when provoked.'"
Karen Vanderbilt, Spinone Italiano: "A perfect companion in the woods."
Joe Diaz, German Short-haired pointer: "Zesty."
Eileen Becker, Dandie Dinmont Terrier: "The dog that has it all."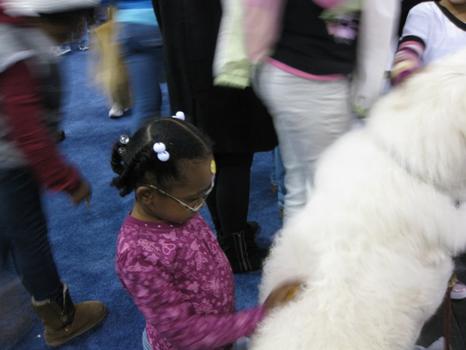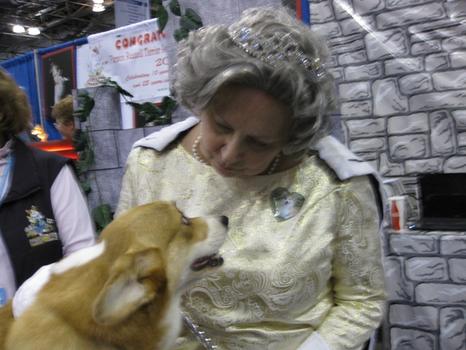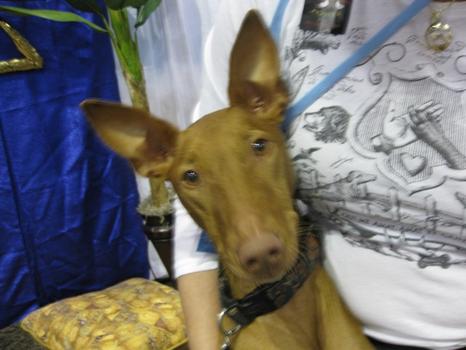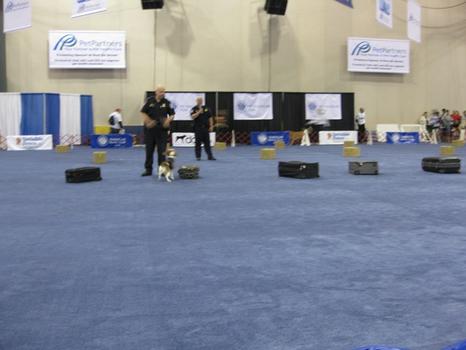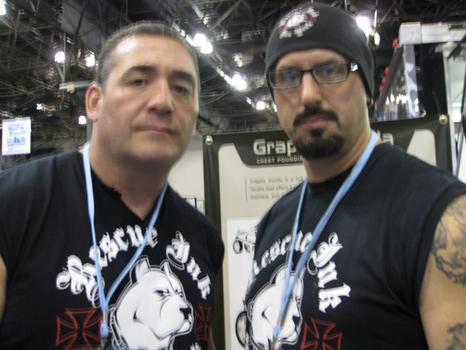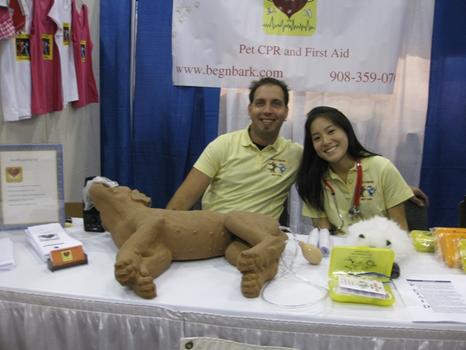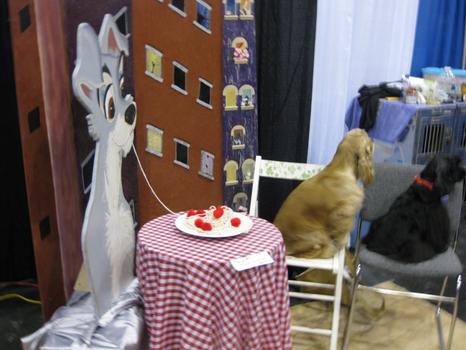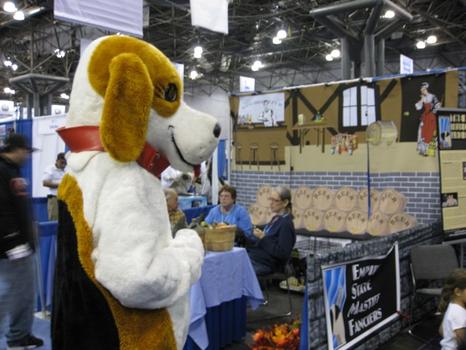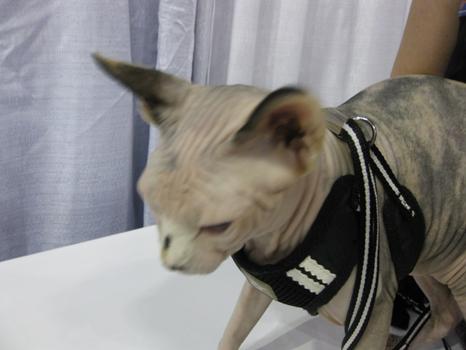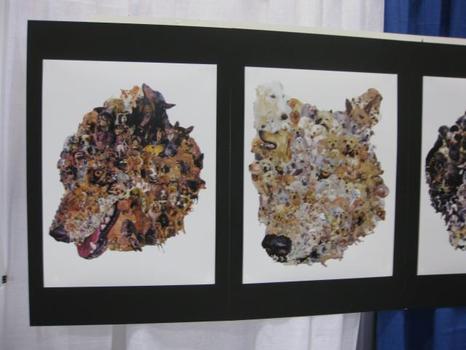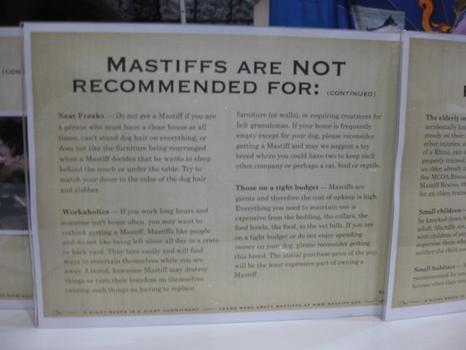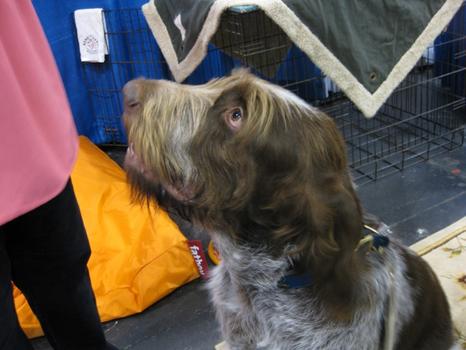 of