Talk to Me: Lost and Found at Happy Ending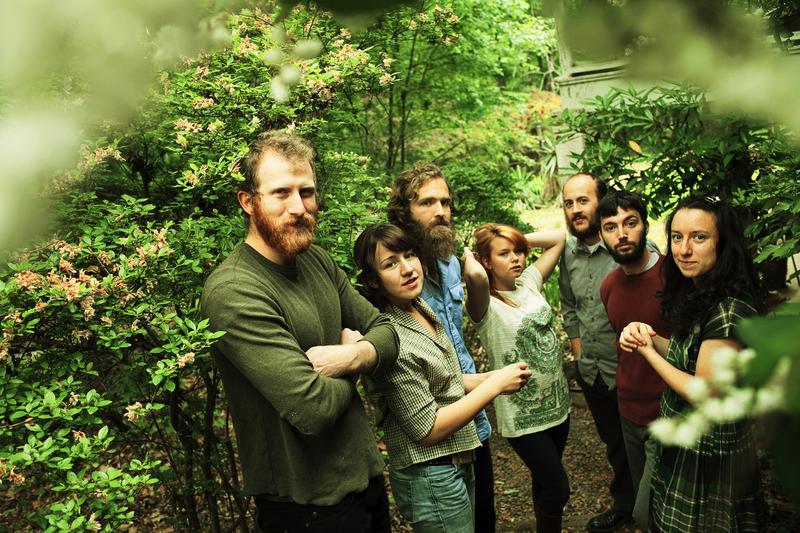 Israel, China, and Afghanistan figured in works presented at the Happy Ending Music and Reading series at Joe's Pub on October 6th. 
But these far-flung tales were also about rites of passage for three young characters: a girl watching her family unit disintegrate in Mary-Beth Hughes' "Israel," a young boy coming to terms with a maimed parent in an excerpt from Brock Clarke's novel, "Exley," and a girl soldier in China's Red Army in Yiyun Li's "Kindness."
Happy Ending host Amanda Stern requires her authors to "take a risk on stage," and Li's gambit—to dress as her own character and step back into her own past—somehow enhanced the drama of her present: she was among the winners of the MacArthur "Genius" grants awarded earlier this month.
The evening's musical guest was Lost in the Trees, a self-styled folk orchestra from North Carolina that filled the tiny stage at Joe's Pub with an impressive array of instruments—chamber music kicked up a notch. The orchestra's fragile, eerie, edgy sound is reminiscent of some of the works by the Penguin Café Orchestra.
For an excerpt from the evening, click on the player above.
Bot Mots
Mary-Beth Hughes, author of "Israel," on hands: "Dr. Dan Oveto was the most famous hand surgeon in Israel. He told us that hands were more fragile than butterflies."
Brock Clark, author of "Exley," on hospitals: "[The hall] was crowded, full of people who seemed normal enough except for one or two things that made them much different. It was like walking through a mall in a foreign country. I was happy to have a guide."
Yiyun Li, author of "Kindness," on being a soldier: "I have noticed that people, once put into the army, become two different species of animals…"